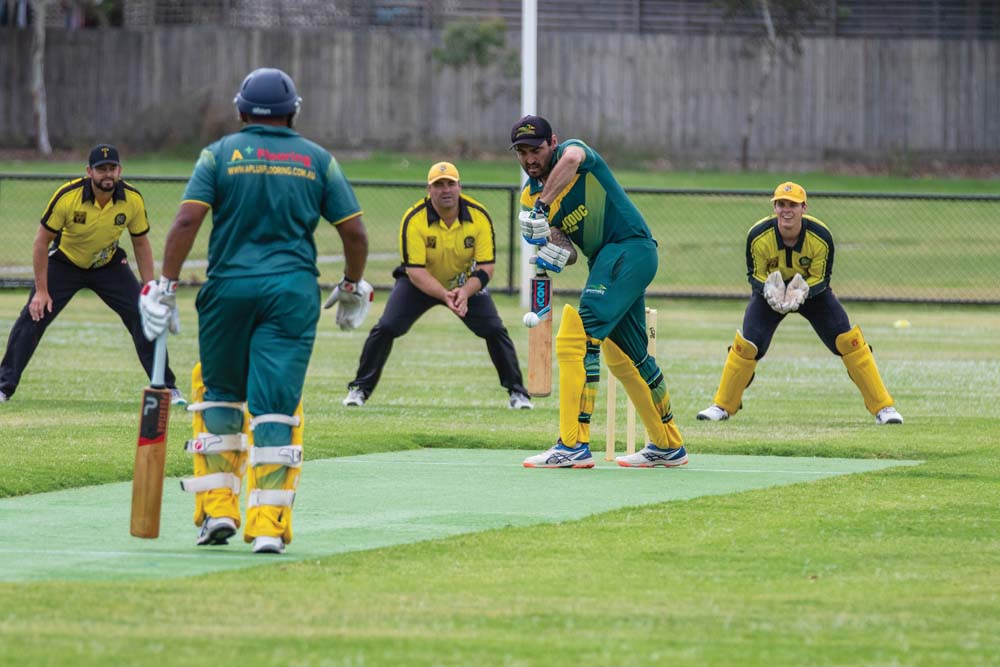 CRICKET
PENINSULA
PINES have thumped Somerville to take home the Peninsula Jack Peacock Cup.
Somerville were sent in to bat first in the twenty over competition decider. They only scored 83 runs, leaving the door wide open for Pines to grab the win.
Harley Parker was Pines' best bowler, taking 4/16 off his four overs.
Pines made quick work of their run chase. Openers Damien Lawrence and Ricky Ramsdale combined for 48 runs to put victory within reach.
Pines eventually hit the winning runs and claimed the trophy with seven overs to spare.
DISTRICT
A SUPER over decided the winner of Rosebud and Carrum's thrilling Jack Peacock Cup final on Sunday.
Rosebud chose to bat first and got things started on the right foot. Openers Scott Hayes and Jess Hawkins combined for an opening stand of 51.
Wickets soon started to come for Carrum, and the runs began to dry up. Number five batsman Billy Quigley hit 37 not out off 28 deliveries to give his side some late runs, but he didn't get much support from his partners.
Rosebud finished their 20 overs at 7/144.
Carrum opener Mark Cooper was in a run scoring mood. He smashed 69 off 59 deliveries. Jake D'Atri combined with him for a big partnership. He scored 47 runs of his own.
Rosebud were struggling to take wickets, but were kept in the game by Carrum's run rate.
At the end of Carrum's 20 overs the side was at 3/144. Both sides had finished level, sending the game into a super over.
Scott Hayes proved the hero for Rosebud, smashing 14 runs off 5 deliveries. Carrum would need to score 17 runs to win.
Carrum could only score eight runs off their super over. After an epic clash, Rosebud were crowned the District Jack Peacock Cup champions for 2021.
SUB DISTRICT
A CATASTROPHIC top order collapse proved costly for Balnarring on Sunday, as they fell short in the Jack Peacock Cup final against Carrum Downs.
Carrum Downs got things started with the bat. Opener Brad Lockhart was their best performer, hitting 46 runs to set his side up well.
Although no other Carrum Downs batsman went on to score a big total, they still managed to put together a decent final score of 8/123.
Balnarring's run chase got off to a nightmare start, with opener Jackson Hannah and first drop batsman Mark Walles both dismissed by wicketkeeper Lockhart. Number four batsman Brenton Taylor followed shortly after when he was run out for just eight runs.
A late showing from Brett Milham helped steady the ship, but his knock of 45 was not enough to drag his side to victory.
Carrum Downs were crowned Sub District Jack Peacock Cup winners – a 10 run victory handing them the crown.
PROVINCIAL
A BRILLIANT half century from Tom Hussey helped Langwarrin secure the Jack Peacock Cup in the Provincial division on Sunday.
Langwarrin played Sorrento at Baxter Park. Sorrento were sent in to bat first and scored 134 runs off their 20 overs.
Jayde Herrick was a standout for Langwarrin, taking 3/15 off his four overs.
Hussey proved the anchor of Langwarrin's run chase. He held his ground despite losing a few batting partners along the way.
Hussey hit eight boundaries on his way to a final score of 62 not out.
Langwarrin hit the winning runs with eight balls left to play and four wickets in hand. They were crowned the champions of the twenty over competition.
SENIOR DIVISION
AFTER last week's snap lockdown, the MPCA announced that Round 12 of senior division cricket would be a washout.
"The MPCA Board based on guidance from the Senior Pennant and recent correspondence with Cricket Victoria, the decisions have taken into account the potential for further disruption to take place due to Covid-19 outbreaks and potential circuit breaker lockdowns or worse, which may ultimately affect the finals being played again for the second time, it was felt that it was important to try to protect the finals series as much as we could by getting the home and away season fixture as it stands under way and also in some ways over as quickly as possible," the MPCA said in a statement on Facebook.
"These are frustrating and very difficult times due to the uncertainty around further lockdowns being imposed and their unknown duration hence the following decisions were decided upon. (…) Round 12 will be treated as a wash out round and 6 points will be awarded to each team. Round 13 will be played this coming weekend, 20 February as fixtured."
Carrum's Shaun Foster was the best performer across Round 13 MPCA games on Saturday, He scored an unbeaten 134.
Pines were the big winners in the Peninsula division, scoring a 10 wicket win over Main Ridge. Pines were joined on the winner's list by Flinders, Moorooduc, and Long Island.
Rosebud, Dromana, Crib Point, and Carrum were the winners in the District competition. In Sub District cricket, Balnarring, Rye, Mt Martha, Tootgarook, and Carrum Downs were victorious. Baden Powell, Sorrento, Red Hill, and Peninsula OB all took home the points in their Provincial division games.