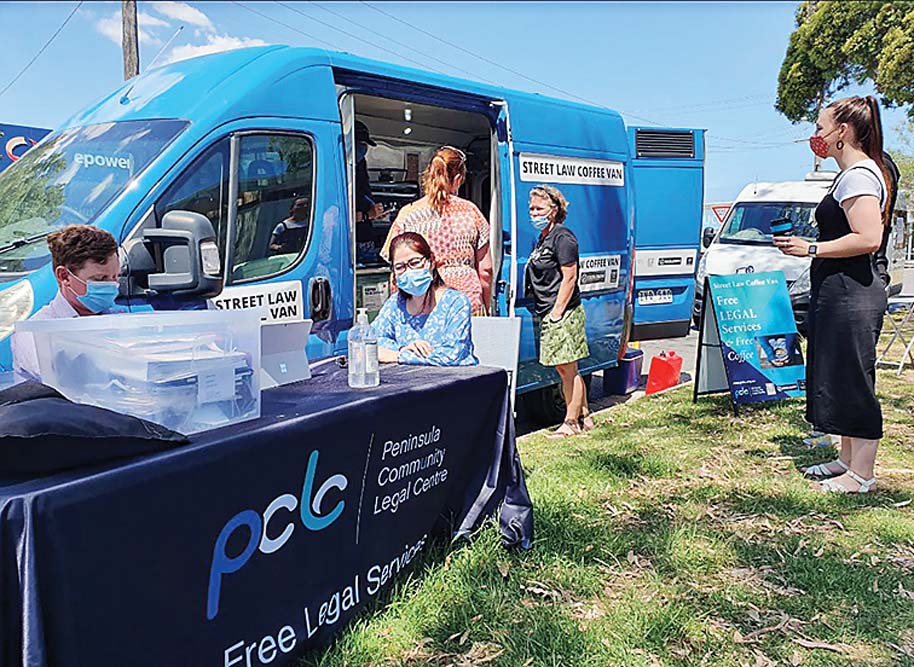 COMBINING lawyers and a coffee fix is an ideal way to boost access to legal advice for Mornington Peninsula residents.
With this in mind, Peninsula Community Legal Centre has begun hitting the streets to provide free legal assistance with their Street Law Coffee Van in partnership with White Lion and Social Engine.
This pop-up coffee van and legal service team visits locations ranging from emergency food relief centres and showers for the homeless to weekend markets and the car park at Bunnings.
Its primary goal is to talk to people wherever they are in the community, making speaking to a lawyer as easy and accessible as possible. People can get a free legal "health check" and then follow up as needed with a PCLC lawyer or other local services via referrals.
"Our Street Law Van flips the usual arrangement where a lawyer sits in an office and waits for clients to come to them," community engagement officer Kirsten Young said.
"This assertive outreach approach was particularly valuable during COVID restrictions and meant we could assist people wherever they were, particularly those who were struggling to access traditional support services."
The van also provides training and employment opportunities to young people wanting to become baristas.
CEO Jackie Galloway believes the future of community legal services lies in their ability to meet people where they work and live. That means partnering with health and community services and outreach initiatives like the coffee van.
"Peninsula CLC is taking our expertise to the streets of the peninsula and south-east so more people can get legal help more easily," she said. "This complements our traditional appointments, legal clinics and legal education activities."
For free legal advice or to find out the coffee van's schedule contact the Peninsula Community Legal Centre on 9783 3600 or visit pclc.org.au
First published in the Southern Peninsula News – 9 March 2021