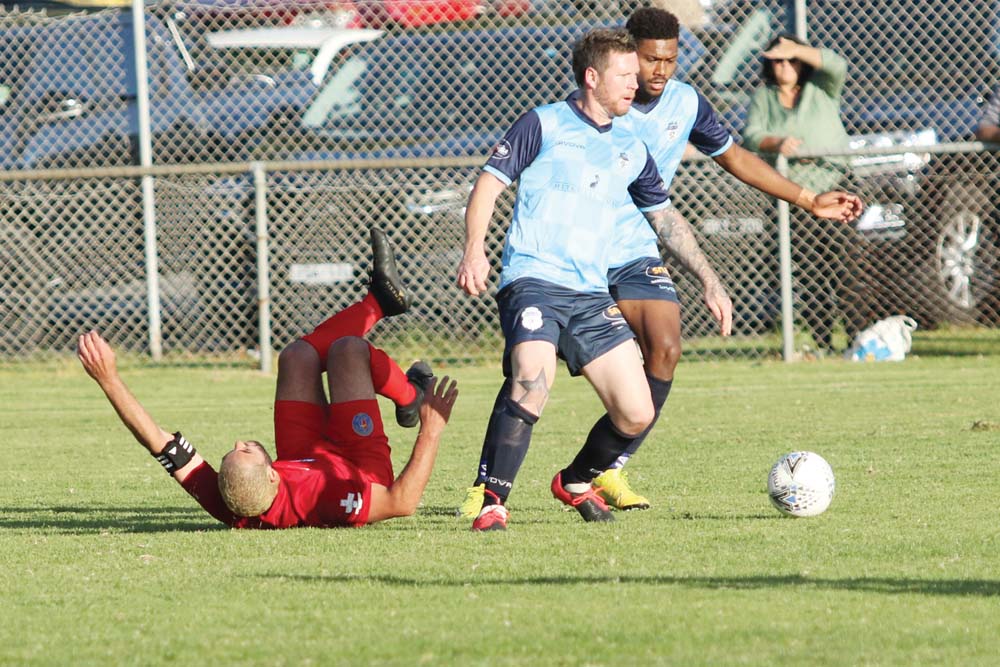 SOCCER
FRANKSTON Pines overcame the spirited resistance of fellow State 3 outfit Hampton East Brighton in a riveting FFA Cup tie on Saturday.
This was a contest from go to whoa and although the final whistle signalled a 2-0 win for Pines their opponents left no-one in doubt about their promotion credentials.
In just over 90 minutes a rivalry was born and Hampton East Brighton represents a clear threat to the lofty ambitions of the men from Monterey.
Had Pines not prevailed there would have been much discussion around the contest's most controversial moment.
In the 15th minute Pines' star Tito Vodowaqa exploded into action leaving opponents in his wake.
Hampton East Brighton keeper Sebastian Chenkov-Shaw charged just outside his area and as Vodowaqa lobbed the ball over the keeper's head and prepared to run past him heading into the unguarded goal Chenkov-Shaw deliberately handled.
It seemed a no brainer that the keeper would be sent off but referee Cheng Hoo chose to brandish a yellow card instead.
Both sides had chances to break the deadlock but that moment eventually arrived 10 minutes into the second half.
The one player on the pitch who attacked Jordan Avraham's curling free kick on the left with real intent was Simon Webster and he got a faint headed touch which left Chenkov-Shaw stranded.
Vodowaqa received some consolation for being denied in the first half when he robbed a defender in the 64th minute and ran off the ball eventually getting it back and striking it past Chenkov-Shaw from the edge of the box for the clincher.
While much of the hype around Pines has understandably centred on the club's Fijian internationals there is a lot of ability and experience in the squad.
The Webster twins, Scott and Simon, are good examples.
It was as if time stood still as these 38-year-olds were back on their old stomping ground (no pun intended) and looking as mobile as ever.
Simon Webster was running as hard at the end of the contest as he was at the beginning even twice vacating his central defensive role in the last 10 minutes and momentarily slotting into a central striker's role.
The Websters' contribution doesn't simply centre on their inherited ability to read the play. They add steel to the unit and a competitive edge.
Avraham is revelling in his midfield role, Joe O'Connor is comfortable with his back to goal and is strong enough to shield the ball and prove an effective target while Max Boulton is starting to recapture match fitness and sharpness after his long lay-off.
Pines went into the clash without injured duo Cedric Benza (knee) who is another fortnight away and Alex Roberts (foot) while Matthew Hames has gone to Keysborough.
In the other Cup tie last weekend featuring a local club (Somerville had a bye) Seaford United lost 4-1 away to East Kew and coach Peter Schwellinger was forced to take off Blake Hicks and Dylan Waugh as precautionary measures in a physical and sometimes spiteful clash.
Substitute Mitch Hawkins scored for Seaford.
Schwellinger should learn this week of the full extent of the ankle injury suffered by midfielder Jack Carter the previous week against Baxter but he expects Carter to join Matthias Schwellinger (broken leg) and Mitch Lander (hamstring) on the sidelines.
Langwarrin, Mornington, Peninsula Strikers and Skye United join Pines and Somerville in the next round of the Cup to be drawn this week.
In NPL2 news Langwarrin signed Rogan McGeorge from Casey Comets and Jeremy Min Fa from Malvern City last week.
Midfielder McGeorge, 29, is a former Cambridge United player whose first season in Melbourne was with Altona City in 2018.
Min Fa, 25, is a former Springvale White Eagles player and can play in either full back roles.
In State 5 news Rosebud's hunt for a new senior coach ended last week when the club announced that it had agreed terms with striker Mark Pagliarulo who will be assisted by Gab Alonzo.
No sooner had "Pags" accepted the role than he plunged headlong into a recruitment drive and a shock target is fellow Scot and close friend Dougie Cunnison from State 1 side Keilor Park.
The veteran stopper is a former Arniston Rangers and Penicuik Athletic player who is set to train with Rosebud this week.
Other targets are ex-Seaford player-coach Matty Morris-Thomas, soon to be ex-Pines player Callum Richardson (who scored for Rosebud against Skye in a friendly), Jarryd McMinimee (Somerville), Louis Griffiths (Somerville), Ashley Scholes (Somerville) and Ryan Monk (ex-Rosebud Heart).
Former Baxter keeper Francis Beck, Brandon Monk and teenage Mornington keeper Sean Benz are other possible signings.
Cory Osorio was uncertain whether or not to play this year but after last week's appointment he has agreed to stay.
Former Rosebud Heart and Somerville star Carlo Cardoso is a long shot given the travel involved but "Pags" remains keen to sign the experienced midfielder.
State 5 rivals Aspendale Stingrays have signed midfielder Taylor Davison from Chelsea, central defender Nick Carter from Kingston City, midfielder Michael Antic from Dandenong City and striker Guilherme Ribeiro who returns to the club after a stint at Berwick City.
Last week's friendlies yielded a mixed bag of results for local clubs.
On Thursday Langwarrin lost 3-2 away to Box Hill United while Mount Martha drew 3-3 with HMAS Cerberus in difficult conditions after a heavy downpour at Civic Reserve.
Langy's scorers were George Howard and Damir Stoilovic.
Mount Martha was 2-0 down after five minutes but hit back through goals from Ale Giordano, Kyle Burich and a last-minute pile driver from Bayside Argonauts debutant Neal Byrne.
On Friday Chelsea's friendly at home against Sandringham had to be abandoned while Rosebud lost 4-1 at home to Skye United.
A Piers Brelsford second half goal had put Chelsea ahead when home team captain Connor Scott fell awkwardly and had to be taken to hospital where it was confirmed that he'd suffered a fractured and dislocated elbow.
Rosebud led after 20 minutes when Richardson broke onto a superb Scholes through ball and lobbed advancing Skye keeper Jonathan Crook.
Skye levelled from a Mitch Blake penalty 10 minutes later and the sides went in 1-1 at the break.
Rosebud had defended well in the first half but couldn't keep its higher league opponent at bay in the second period with Mark O'Connor, Blake and Travis Ernsdoerfer rounding off the scoreline.
On Saturday the match between Casey Panthers and Somerville Eagles was called off at half-time with Somerville leading 4-2.
A first half incident saw players on the Casey Panthers bench run onto the pitch after Somerville's keeper had been sent off for retaliation.
Somerville's scorers were Davey Jones (3) and Sam Brick.
Results of other friendlies on Saturday: Mornington 3 (Josh Hine 2, Matt Harrington) Caroline Springs George Cross 1, Peninsula Strikers 2 (Aaran Currie, Ben Doree) Malvern City 4, Mount Martha 0 Keysborough 3.
In other news referee stocks in Victoria are understood to be at their lowest level in years with over 200 less match officials registering than at the same period last year.
Peninsula numbers are reportedly down by around 70 and the areas of competition expected to be most affected are community juniors and lower State League divisions.
Football Victoria referees manager Luke Brennan was contacted last Tuesday seeking confirmation of the numbers but failed to respond.
This week's FFA Cup ties:
SATURDAY: Langwarrin v Brighton (Lawton Park, 3pm), Mornington v Monash Uni (Dallas Brooks Park, 2pm), Peninsula Strikers v Heatherton Utd (Centenary Park, 1.45pm), Watsonia Heights v Skye Utd (Gabonia Avenue Reserve, 3pm), Rowville Eagles v Frankston Pines (Egan Lee Reserve, 3pm), Somerville Eagles v Preston Lions (Centenary Park, 4.30pm).
This week's friendlies:
THURSDAY: Lyndale Utd v Chelsea (Lyndale Secondary College, 6.30pm & 8.30pm).
SATURDAY: Baxter v Kings Domain (Baxter Park, 1pm & 3pm), Seaford Utd v Aspendale Stingrays (North Seaford Reserve, 1pm & 3pm), Mount Martha v Old Melburnians (Civic Reserve, 1pm & 3pm), Rosebud v Dingley Stars (Olympic Park, 1pm & 3pm).