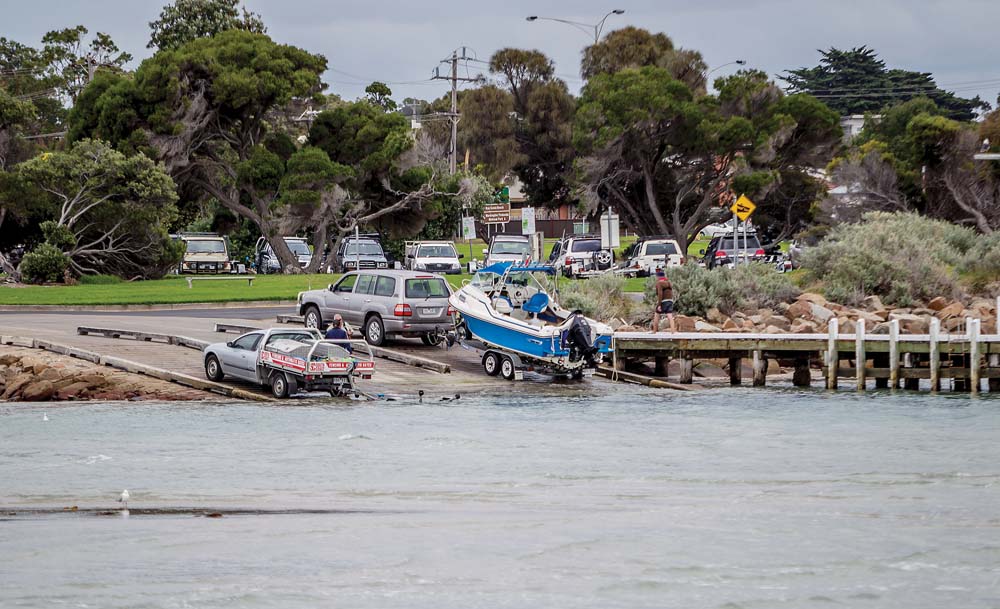 THE state government is being urged to hurry up its takeover of managing Mornington Peninsula's boat launching ramps.
It is believed the state of the boat ramps was high on the agenda during a recent meeting between Fishing and Boating Minister Melissa Horne and shire CEO John Baker.
In the lead-up to the 2018 election the state government promised to "embark on the biggest reforms to the way that boating infrastructure is managed that Victoria has ever seen [by] fixing boat ramps, abolishing boat ramp parking and launching fees, and reforming boat ramp management in Port Phillip and Western Port".
The plan was outlined in the pre-election handbook: Labor's plan for fishing and boating 2018.
The handbook says $27 million would be spent on fishing, with money collected from boat licence and registration fees to be spent on improving facilities and safety for boaters and abolish boat ramp parking and launching fees. ("Spring takeover for boat ramps" The News 3/6/19).
But the high-profile Futurefish Foundation has accused the shire and management committees of neglecting the ramps in both bays.
Director David Kramer describes the situation as "disrespectful to the thousands of boat owners crying out for improved facilities after decades of neglect".
"Boaters and fishers visiting the Mornington Peninsula contribute significant tourism dollars to the local economy, and yet the assets that attract their visits are neglected to such a level that people are not going boating on busy days now," Mr Kramer said.
He said there were "problems with every boat ramp" from Dromana to Sorrento.
Mr Kramer said the channel at Tootgarook was only dredged once a year "leaving the boat ramp unusable during the prime winter and spring calamari season".
"The channel needs to be dredged twice a year and become an all-year-round-usable ramp," he said.
Tootgarook also needed a car park along the foreshore to "get the cars and trailers off the side of Point Nepean road".
Anecdotal evidence supports Mr Kramer's claim that a lack of boat and trailer parking at the Tootgarook – as well as the congestion on the ramp – is causing problems.
"Up to six boats and trailers are parking up Burdett Street near the state school," a boater told The News.
A lack of enforcement meant that single cars were parking in boat trailer bays at Rye.
"On a busy day, launching of boats exceeds the number of car and trailer car parks, resulting in cars and trailers parking on grassed areas," Mr Kramer said.
"Yet, on a busy day, often more than 50 car parks are taken up by single cars."
The Rye channel also needed monitoring and dredging, Mr Kramer said. "On very low tides, larger boats are unable to use the channel."
He said the Tyrone boat ramp, channel and launch area needed dredging. "Several years ago, the committee of management thought it was a good idea to run the bay walking trail right through the car park on the south side of Point Nepean road," he said.
Mr Kramer saoid Tyrone had become the only boat ramp car park in Australia that offered only parallel parking. It is an absolute joke to expect drivers to parallel-park with a trailer on. The bay trail must be realigned and angle parking reintroduced."
Dredging was also needed at Sorrento where "one third of the tie up area is unusable due to the sand build up".
"The Andrews government made an election commitment to make boating better during this term of government and they have set up a Better Boating Fund [generating] $30 million annually for all this maintenance and improvements," Mr Kramer said.
"They just can't get the council or the committees of management to do the work."
A member of the minister's Boating Strategy Roundtable Group, Mr Kramer believes the ramps need to be managed by one authority that will "show proper care for the facilities and get them to a condition that meets boaters' expectations".
"On 1 February, Better Boating Victoria was moved under the Victorian Fisheries Authorities control," he said. "The VFA has a strong record for getting things done, and fishing in Victoria has never been better.
"Now it is time for boat ramps to take the same path."
Mornington Peninsula Shire was contacted for comment.
RYE boat ramp is one of many in Port Phillip and Western Port that Futurefish Foundation director David Kramer says are being neglected.
First published in the Southern Peninsula News – 9 March 2021