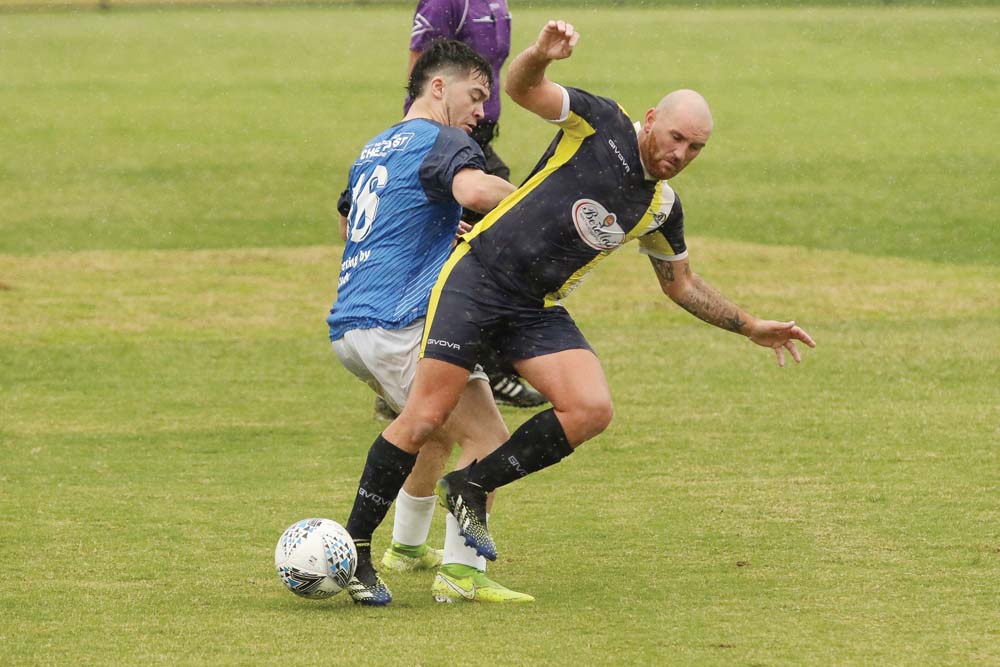 SOCCER
LANGWARRIN, Mornington, Peninsula Strikers and Frankston Pines are the only local clubs remaining in the 2021 FFA Cup after last Saturday's matches.
Langwarrin had to rely on a Wayne Wallace header in extra time to see off the threat of Brighton at Lawton Park after scores were tied at 1-1 at the end of normal time.
Sammy Orritt had scored for Langy in the first half.
Last week Langwarrin announced the capture of Shayan Alinejad from Dandenong City.
The 31-year-old former Melbourne Knights, Oakleigh Cannons and Bulleen player has been on the radar of Langy head coach Scott Miller since late 2019.
"Shayan's experience and versatility will not only add further quality to the squad but it gives us greater options from a tactical perspective," Miller said.
"We'll have to wait and see if the squad is complete but competition for places is high and we are really happy with our current situation."
Mornington suffered a shock setback in its Cup clash with Monash Uni at Dallas Brooks Park when the visitors struck in the second minute but by half-time had hit back for a 3-1 lead eventually running out a convincing 6-1 victor.
Mornington's goals came from Josh Hine (4) and a Matty Harrington double.
Peninsula Strikers put Heatherton United out of the Cup with a 3-0 win at Centenary Park in the first match of a double header last weekend.
Heatherton started well and Strikers keeper Robbie Acs was the more active of the two custodians in the first 25 minutes.
That changed with a slick counter from Strikers as Nick Simmons sent livewire Ben Doree on his way and his low shot was too powerful for Heatherton keeper Senad Ahmetovic.
Doree was a handful throughout and to call his part in the second goal an assist is not to do justice to it.
He jinked and dribbled past three defenders inside the box and made them look second rate.
When Ahmetovic confronted him at the near post Doree rolled the ball across goal for half-time substitute Jai Power to tap in from point blank range.
Another substitute topped off the performance with a 92nd minute goal.
Dakota Mcallan received the ball inside the box after a neat exchange between Ahmad Suleiman and Shane Tagliaferro and suddenly he'd spun clear of his marker and shot low to Ahmetovic's right.
Somerville Eagles lost 8-0 to Preston Lions in the second match at Centenary.
A blowout was anticipated given that Preston plays in NPL3 and the local outfit in State 4 but Somerville frustrated its rival for much of the first half.
It took Preston until the 16th minute to open the scoring with a scrappy goal from Karl Baricevic following a goalmouth scramble and James Poole made it 2-0 in the 25th minute after following up Guen Ho Kim's shot which was parried by Eagles keeper Cameron Parsons.
Although the floodgates opened in the second half Somerville defended bravely in the first period and even created chances with the best falling to Naseer Muhammad but he failed to finish.
It took a 90th minute goal to send Skye United out of the Cup following a 3-2 away loss to Watsonia Heights.
Skye had gone into the contest buoyed by the signings of former Oakleigh Cannons, Northcote, Dandenong City and Dandenong Thunder midfielder Dean Piemonte, attacking midfielder Dejan Radojicic from Mornington and former Langwarrin defender Brett Heskins.
The club also enticed 37-year-old striker Caleb Nicholes to return after retiring from competitive football at the end of the 2018 season.
Neither Piemonte nor Heskins featured in the Cup tie but Nicholes scored Skye's second goal after coming off the bench in the second half.
Marcus Anastasiou had given Skye a 1-0 lead in the 8th minute but two Luke Owen goals had the home side in front at the interval.
Nicholes levelled after controlling a Jason Nowakowski cross on his chest and slotting home into the bottom corner and just when extra time seemed certain substitute Henry Bentley made it 3-2.
Skye almost levelled in the last minute when Mark O'Connor's free kick struck the bar but Jack Gallagher's header from the rebound failed to hit the target.
Frankston Pines sent Rowville Eagles out of the Cup with a resounding 6-0 win at Egan Lee Reserve.
Pines went 3-0 up in eight minutes with goals from CJ Hodgson (2) and Hamraz Zenoozi.
Jordan Avraham was sent off in the 18th minute after being fouled and retaliating and four minutes later Pines keeper Aeseli Batikasa was forced off with a strained abdominal muscle and replaced by Jarrod Nardino.
Rowville's Ruben Ichim received a straight red later in the half and second half goals from Simon Webster, Max Boulton and Alex Roberts put Rowville out of its misery.
Results of friendly matches: Lyndale Utd 2 Chelsea 1 (Max Timuska-Carr), Seaford Utd 1 (Dylan Waugh pen.) Aspendale Stingrays 1 (Justin Lampert), Baxter 3 (Nat Daher, Luke Grant 2 including pen.) King's Domain 2, Mount Martha 3 (Ale Giordano 2, Ethan Sanderson) Old Melbournians 5, Rosebud 1 (Craig White pen.) Dingley Stars 3.
The league season kicks off this weekend and here are the senior squads of local clubs (the previous club of new registrations appears in brackets):
ASPENDALE STINGRAYS
GOALKEEPERS: Matthew Self, Joshua Mravljak. DEFENDERS: Ryan Maokhamphiou, Noah Berends, Peter Dimopoulos, Adrian Pace, Blake Rosenberg, Thomas Lonsing, Nick Carter (Kingston City). MIDFIELDERS: Sam Timuska-Carr, James Macnab, Michael Antic (Dandenong City), Taylor Davison (Chelsea). FORWARDS: Ben Garside Weinert, Kenan Nuhanovic, Hayden Nuhanovic (Endeavour Utd ), Ugur Erdem (Tullamarine).
BAXTER
GOALKEEPERS: James Foster. DEFENDERS: Izaak Barr, Dan Disseldorp, Matt McDermott, Liam Duff (Seaford Utd), Simon Riam (Sandown Lions), Daniel Fernandez (Skye), Kieran Grant (Mornington), Charlie Hunt (Mornington). MIDFIELDERS: Lewis Gibson, Niko Juric, Luke Grant (Mornington), Robbie O'Toole (Mornington), Jack Buttery (Peninsula Strikers). FORWARDS: Nathan Yole, Charlie O'Connell (Mornington), Nat Daher, Lawrence Komba, Ben Meiklem (Somerville Eagles).
CHELSEA
GOALKEEPERS: Rhys Davies, Calum McLauchlan, Tom Carter. DEFENDERS: Luke D'Alessandro, Tom Flavelle, Chris Neumann, Sam Dunn, Danny Graham (Yarra Jets), Chris Muir, Franco Mazzeo (Chisholm United). MIDFIELDERS: Connor Scott, Max Timuska-Carr, Nathan Boccari, Ryan Scott, Dylan Scott (Mornington). FORWARDS: Piers Brelsford, Will Ong, Vinnie Van Dyk, Daniel Vella, Adrian Lotca, Abdul Mohamad.
FRANKSTON PINES
GOALKEEPERS: Aeseli Batikasa, Jarrod Nardino. DEFENDERS: Penni Tuigulagula, Cedric Benza, Christian Malgioglio, Kevin Brown, Franco Vanni (Knox City), Simon Webster (Doveton), Max Boulton (Casey Comets), Kameel Khan (South Melbourne), Laban Stringer (Peninsula Strikers). MIDFIELDERS: Savenaca Baledrokadroka, Joe O'Connor, Jordan Avraham (Langwarrin), Scott Webster (Seaford). FORWARDS: CJ Hodgson, Tito Vodawaqa, Lachlan McMinimee, Hamraz Zenoozi (Langwarrin), Alex Roberts (Brandon Park).
LANGWARRIN
GOALKEEPERS: Fraser MacLaren, Faraz Zenoozi. DEFENDERS: Vojo Milojevic (Springvale White Eagles), Marcus Holmes (Springvale White Eagles), Jeremy Min Fa (Malvern City), Luke Burgess, Jamie Cumming, Jaiden Madafferi, Boris Ovcin. MIDFIELDERS: Shayan Alinejad (Dandenong City), Rogan McGeorge (Casey Comets), Jonathan Hardy (Dandenong City), Alex Kubenko (Springvale White Eagles), Wayne Wallace, Callum Goulding, James George. FORWARDS: Isaiah Joseph (Springvale White Eagles), Damir Stoilovic, George Howard, John Maclean, Tom Youngs, Sam Orritt.
MORNINGTON
GOALKEEPERS: Taylor Davidson. DEFENDERS: Joshua Heaton, Steve Elliott, Mark Vangeli (Mannington Utd Blues), Lachlan Hogben, Andy McIntyre, Andrew Goff, Charlie Gunning. MIDFIELDERS: Craig Smart, Sam Scott, Luke Goulding (Langwarrin), Kyron Kerr, Ethan Goulding, Thanasi Matziaris (Langwarrin). FORWARDS: Josh Hine, Milos Lujic (Port Melbourne), Wayne Gordon, Matt Harrington, Campbell Steedman (Bulleen), Zach Hutchison.
MOUNT MARTHA
GOALKEEPERS: Alex Klaver, Jack Poole. DEFENDERS: Blane Dickerson (Mornington), Connor Gibbs, Howie Anderson, Jack Morgan (Hampton Park), Josh Smith, Neal Byrne (Bayside Argonauts). MIDFIELDERS: Ale Giordano, David Oswald, Ethan Sanderson, Finley Smith, Jett Higgin, Kiel Burich (Seaford United). FORWARDS: Connor Mooney, Jack Edwards (unattached), Tom Faska (Peninsula Strikers).
PENINSULA STRIKERS
GOALKEEPERS: Robbie Acs, Connor Phillips, Nick Scialpi. DEFENDERS: Cody Storton-French, Danny Black, Darcy Purcell, Josh De Baize (St Kilda), Lachie Mitchell, Marcelo Rojas, Michael Nugent, Samuel Luxford, Tuách Ter, Tom Hawkins. MIDFIELDERS: Alex Whyte, Abbas Yaqobi, Callum Bradbury, Calvin Delaney, Daniel Brooks, Jonny Guthrie, Junior Mota, Keenan Kerr, Nick Simmons (Frankston Pines), Ahmad Suleiman (Hampton Park). FORWARDS: Aaran Currie, Ben Doree, Chris Mara (Adelaide Cobras), Dakota Mcallan, Jai Power, Riley Anderton (Southern United, NZ), Shane Tagliaferro.
ROSEBUD
GOALKEEPERS: Chris Ogu-Chinonso, Francis Beck (Baxter). DEFENDERS: Callum Norton, Owen McDougall, Eric Manhanong (Somerville), Stef Papaluca, Beau Sharpe, Brandon Monk (Mornington), Luke Redpath. MIDFIELDERS: Billy Gowans, Callum Richardson (Frankston Pines), Ryan Monk, Jarryd McMinimee (Somerville Eagles), Cory Osorio, Craig White (unattached). FORWARDS: Chris Parry, Mark Pagliarulo (Somerville Eagles).
SEAFORD UTD
GOALKEEPERS: Hayden Hicks (Rosebud), Justin Holland, Mory Hassan. DEFENDERS: Tristan Stass, Matthias Schwellinger, Jeremy Schwellinger, Dean Snoxell, Adam Martin, Tom Hogan, Kevin Derry. Tom Pollock. MIDFIELDERS: Kane Ireson, Josh Simmons, Jack Carter, Tom Simmons (Mornington), Blake Hicks (Rosebud), Jamie Baxter. FORWARDS: Conor McFall, Dylan Waugh, Mitch Hawkins (Hampton Park), Mitch Lander.
SKYE UTD
GOALKEEPERS: Jonathan Crook, Callum Hope, Travis Mitchell. DEFENDERS: Billy Painting, Daniel Walsh, Mohamad EL Hassan, Brett Heskins (Langwarrin), Johnny Andrinopoulos, Michael Rovinson, Neji Hyuga (unattached). MIDFIELDERS: Marcus Collier, Mark O Connor, Jack Gallagher, Alex Rojas, Dean Piemonte (Kingston City). STRIKERS: Mitch Blake, Travis Ernsdoerfer, Caleb Nicholes, Michael Turner, Dejan Radojicic (Mornington), Jason Nowakowski, Marcus Anastasiou, Daniel Attard.
SOMERVILLE EAGLES
GOALKEEPERS: Nathan Brown, Michael Nicholson (HMAS Cerberus), Cameron Parsons. DEFENDERS: Sam Beadle, Sam Brick (unattached), Stephen Curd, Michael Easton, Jarryd Lymer, Tapiwa Muduwa (Seaford United), Bryce Ruthven (Weston Molonglo, ACT), Ashley Scholes, Sean Scully, Adam Steele (Mount Martha). MIDFIELDERS: Michael Clark, Andrew Cook (Seaford United), Damian Finnegan, Jakob Gurney (Peninsula Strikers), Shay Hewlett (HMAS Cerberus), Stephen McInerheney (unattached), Jack Wyer (Baxter). FORWARDS: Patrick Acha (unattached), David Greening, Nathan Grimshaw, Davey Jones (Mount Eliza), Zach Karolidis (Mornington), Naseer Abdullah Muhammad, Nazif Mohammad.
This weekend's round 1 fixtures:
FRIDAY, 8.30pm: Chelsea v FC Noble Hurricanes (Edithvale Recreation Reserve).
SATURDAY, 3pm: Langwarrin v Mannington Utd Blues (Lawton Park), Mornington v South Springvale (Dallas Brooks Park), Mooroolbark v Peninsula Strikers (Esther Park), Baxter v Dandenong South (Baxter Park), Seaford Utd v Endeavour Utd (North Seaford Reserve), Somerville Eagles bye, Mount Martha v White Star Dandenong (Civic Reserve), Knox Utd v Aspendale Stingrays (Park Ridge Reserve), South East Utd v Rosebud (WJ Turner Reserve).
SATURDAY, 7pm: Frankston Pines v Brighton (Carrum Downs Recreation Reserve).
SUNDAY, 8.30pm: North Caulfield v Skye Utd (Knox Regional Football Centre).