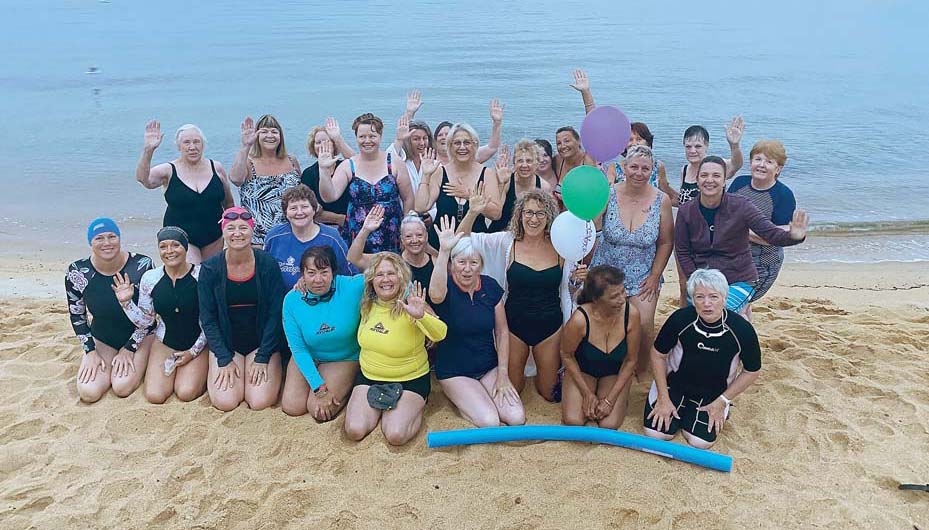 A GROUP of "mermaids" swims regularly at Fishermans Beach, Mornington, to gain the benefits of cold water swimming, increase exercise levels, revel in companionship and simply enjoy the fun of getting together in the water.
Afterwards, of course, they enjoy a coffee and a chat at a nearby cafe.
Mornington Peninsula Mermaids are a group of women of all shapes, sizes, and backgrounds who have swum at 7am on Mondays, Wednesdays and Fridays since early January.
Their aim, however daunting, is to go right through winter.
Organiser Jacky Howgate says the women float, swim (with a "few now challenging themselves by swimming to the first pole and beyond"), and do aqua-aerobics with no pressure, no judgement.
"It is very important to me that every woman feels this is a safe space and I've tried my best to make the group as welcoming and inclusive as possible," Ms Howgate said.
"I have received many messages of thanks and support."
Diagnosed with a benign brain tumour in September 2018, Ms Howgate has spent the past two years on the difficult road to rehabilitation.
"In January, I decided to spend some time each day at the beach as, in the years since I emigrated, it has always been my happy place," she said.
"The next day I joined a small group of ladies at Frankston who were spending 15 minutes in the water each morning.
"The following day I started the group at Mornington; I chose Fishies beach as the water gets deep quite quickly and it is easy to find.
"I posted on a Facebook group and was joined by one other lady. We held hands and walked in together up to our waists and then ducked under water and stayed for 15 minutes, chatting.
"I posted again that evening and gradually more ladies have joined me."
Ms Howgate came up with the name Mornington Peninsula Mermaids and membership has grown.
The group has its own mascot: Maribel. "I am a French teacher and chose the name Maribel as it is of French origin and means 'Star of the Sea' and 'beautiful' which sums up all the mermaids," said Ms Howgate, who has even created a new verb: to 'mermaid'.
Each time they meet she takes a photograph. "This is partly to help me with my memory issues after my surgery, but also as I feel it is important to learn names so that everyone again feels welcome and part of something," she said.
"I also hope to make each mermaid feel empowered and confident enough to stand proudly in her bathers in a photo."
The growing number of mermaids crosses the road after changing in the old toilet block for a coffee and chat at Lilo Cafe. Friendships are forming.
"I've been asked if we will continue into winter," Ms Howgate said. "In days gone by I would have started to worry about the winter months but I've now learnt that it really is best to live in the moment and enjoy the time we have right now at the beach together," she said.
"We aim to stay in for 15 minutes to benefit from the cold water immersion but some days many mermaids stay in for longer."
"[Swimming] has become something of an addiction for many mermaids and, last week, I visited some surf shops trying on wetsuits for the group as many of us are now determined to continue right through."
Knowledge of the group is spreading via Facebook and word of mouth. "Mermaids bring along friends, family – we have some mother/daughter combos – and even as a result of being accosted on the beach by me," she said.
Ms Howgate's brother in the UK sent her a video of himself bare-chested doing snow angels in the snow as a show of support. "He has also begun to research the Wim Hof method of cold water immersion so word has spread even further than I thought," Ms Howgate said.
"Ladies have shared some amazing and personal stories with me already and I'm hoping to collate some into a book of some kind. No doubt that many ladies are feeling the benefits to their mental and physical health and have reported having a real 'spring in their step' for the rest of the day.
"Last week I met a lady in a cafe in Mornington who asked if I was the mermaid lady – she recognised me by my hair."
To add to the fun, Ms Howgate recently bought a mermaid dress-up outfit and wore it to the beach.
The swim on International Women's Day (Monday 8 March) had a special flavour: "I took coloured balloons to the beach and we were photographed holding up our hands in support of the Choose to challenge theme," Ms Howgate said.
"We had about 30 mermaids in the water and, later, 25 of us shared breakfast. "It was very humbling and moving to see ladies who were, until recently, relative strangers, chatting away so animatedly and welcoming yet more new mermaids."