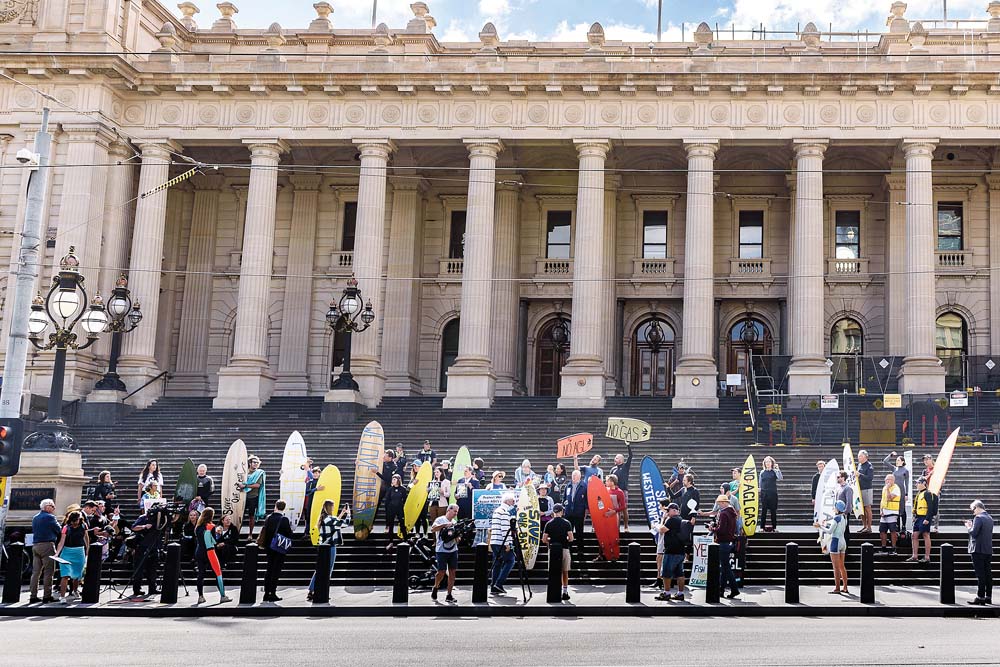 DRESS codes and parliamentary protocols were wiped out last Wednesday when a wave of demonstrators took their complaints about AGL's plan for an import gas terminal at Crib Point to Spring Street.
It was beachgoers and surfers in wetsuits and board shorts rather than suits and uniformed chauffeurs arriving in government cars that drew attention outside Parliament House.
The protest included the handing over of 3000 postcards addressed to Planning Minister Richard Wynne who is weighing up the power company's plans which also include a 55-kilometre long gas pipeline to Pakenham.
The Wetsuits for Westernport protest follows arguments against the gas terminal being voiced by Mornington Peninsula Shire, the state Opposition, Environment Victoria, Sea Shepherd Australia, Victorian National Parks Association, Surfrider Foundation, Phillip Island Conservation Society, Westernport and Peninsula Protection Council, French Island Community Association and the peninsula-based Save Westernport community group.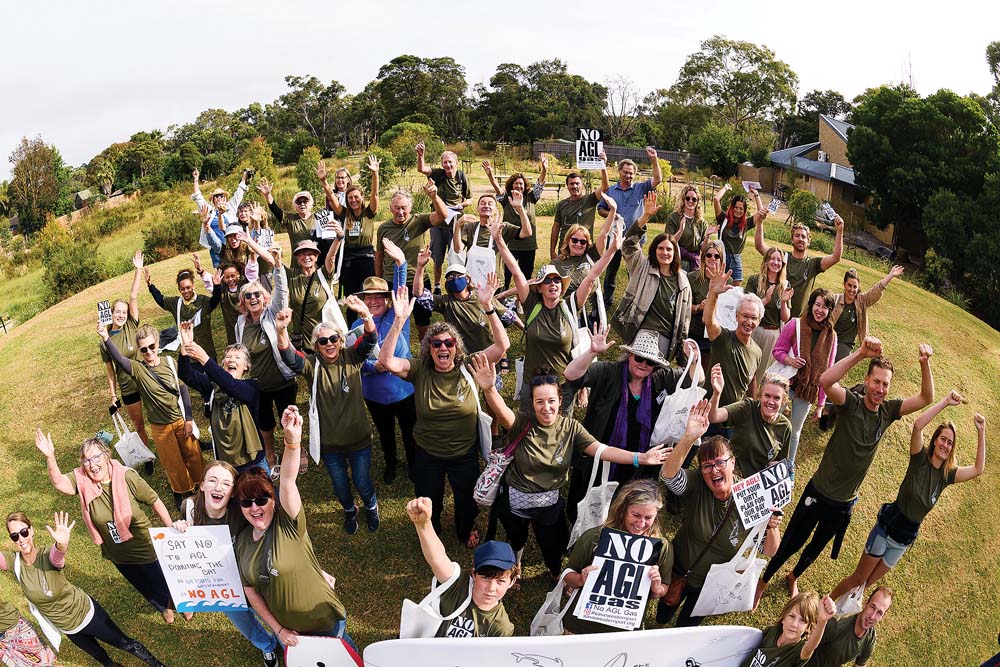 While the line-up was crowded, the message was clear: the state government should say no to AGL.
"To tell people that their livelihood and entire way of life is under threat to ensure domestic gas security when Australia is actually the world's largest gas exporter is bewildering and disgraceful," Surfrider Foundation national campaign director Damien Cole said.
VNPA's nature campaigner Shannon Hurley: "We want Western Port to remain full of wildlife, not full of gas. We already know that AGL's risky gas project has not properly assessed the impacts on marine wildlife from chlorine discharge and associated toxic chemicals, light, underwater noise, and fuel spills. Our wildlife is far too great to risk."
Environment Victoria CEO Jono La Nauze: "Gas is a polluting, leaky fuel and a major cause of the climate crisis. AGL has failed to justify the need for this project when there are better alternatives like switching households from gas to electric appliances."
Save Westernport spokesperson Julia Stockigt: "For three years now residents of the Mornington Peninsula and beyond have been fighting AGL's attempt to use Western Port as their gas factory.
"The Andrews government knows that no social licence exists for AGL to degrade and exploit our beloved marine environment to install new fossil fuel infrastructure in the iconic wetlands of the bay."
"Our communities have rejected AGL's needless proposal, and we'll continue to fight it at every stage."
For the record
THE Victorian National Parks Association is running BioBlitz: What's Wild in Westernport, encouraging people to  photograph and record their sightings of marine and coastal life in Western Port over the weekend 19-21 March. Details: vnpa.org.au