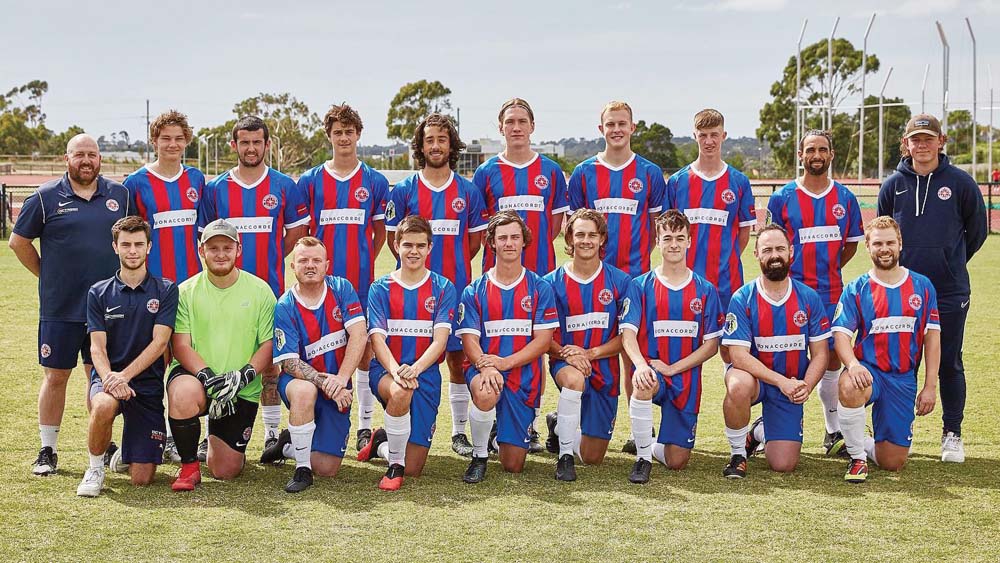 SOCCER
AN OUTSTANDING defensive display from Langwarrin underpinned its spirited 2-1 win over Manningham United Blues in their NPL2 clash at Lawton Park on Saturday.
The home team had just gone 2-0 up in the first half when left back Jaiden Madafferi was sent off in controversial circumstances.
Langy was in rampant mood early on and within three minutes Tom Youngs had sent Sammy Orritt clear on the left.
Orritt's composed finish gave advancing Manningham keeper Stefan Taleski no chance.
Straight from the restart Langy keeper Fraser Maclaren was forced to spread himself and block Franc Carafa's attempt with a leg.
Damir Stoilovic broke on the left in the 28th minute and his low firmly hit cross to the far post would have set up Orritt but Manningham left back Dylan Bresolin got there first only to turn the ball into his own net.
At this stage it looked as if Langy could run away with the contest but before the restart Madafferi had got in the face of an opponent who claimed he was punched.
Referee Aleksandar Liber consulted with his young assistants then sent off Madafferi to the bemused reaction of many spectators and the shared bewilderment of the player and the Langwarrin bench.
This changed the direction of the contest especially in the second half but Manningham hadn't counted on a disciplined and concerted effort by every Langy player to pressure the ball and close down opponents particularly inside Langy's defensive half.
Manningham's only effective response came via a Billy Romas free kick in the 68th minute and for the last 10 minutes home team fans cheered every challenge and every effort to keep the visitors at bay.
Mornington kicked off its State 1 campaign with a come-from-behind win at Dallas Brooks Park on Saturday.
South Springvale led with a converted penalty from Thomas Simos in the 41st minute but a Josh Hine penalty three minutes into the second half made it 1-1 and star striker Milos Lujic got the winner in the 88th minute.
A stunning reaction save from Taylor Davidson in injury time secured the points for the home side.
In State 2 Peninsula Strikers lost 2-1 away to Mooroolbark on Saturday while Skye United won 4-0 against North Caulfield at Knox Regional Football Centre on Sunday night.
Strikers led at half-time through a Ben Doree goal in the 16th minute but Ross Clark equalised in the 70th minute and Liam Seaye's winner came from the penalty spot with five minutes of normal time remaining.
Big Caleb Nicholes gave Skye a 1-0 half-time lead and doubled his tally in the 61st minute before Skye captain Marcus Collier and Mitch Blake scored in the last 20 minutes to seal the deal.
Frankston Pines started what it hopes to be a successful State 3 campaign with a 2-0 win at Carrum Downs Recreation Reserve against Brighton on Saturday evening.
The visitors' confidence was sky high after pushing Langwarrin the previous week in an FFA Cup tie but Pines bossed much of this contest and took the lead when Pines midfielder Savenaca Baledrokadroka was involved in a slick interpassing exchange and finished it off by stroking the ball past advancing Brighton keeper Gabriel Alfaro in the 35th minute.
Baledrokadroka played a pivotal role in the second goal in the 92nd minute when he chested down on the right then turned and struck a low ball across the face of goal for substitute Kevin Brown who finished from close range.
In State 4 Chelsea celebrated its new lights at Edithvale Recreation Reserve on Friday with a thumping 5-1 win over FC Noble Hurricanes.
Max Timuska-Carr and Dylan Scott gave Chelsea a 2-0 half-time lead and although Anthony Tang made it 2-1 seven minutes into the second half Piers Brelsford restored the two-goal cushion and late goals to William Ong and Timuska-Carr sent the home team to the top of the league table.
An undermanned Baxter outfit beat Dandenong South 2-0 at Baxter Park on Saturday.
Ben Meiklem capped an excellent run down the left in the 15th minute when he chipped Dandy South keeper Eroll Lumani and four minutes into the second half Luke Grant put Daniel Fernandes through and he calmly slotted it past Lumani to make it 2-0.
Charlie O'Connell, Josh Wood and Jack Buttery are expected to come into the matchday squad for Baxter's home clash with FC Noble Hurricanes this weekend.
Wood is expected to sign this week and is a former Altona Magic, Southern Stars, Strikers and Pines player who can be used in a wide right position or in behind the central striker.
Harry McCartney reports that Seaford United and Endeavour United shared the points at North Seaford Reserve on Saturday.
There were only two goals in this contest but there could have been many more.
Dylan Waugh broke into a one on one and finished well to put Seaford ahead but a controversial equaliser in the 37th minute was the contest's main talking point.
Seaford coach Peter Schwellinger claims that the visitor's linesman (no official linesmen were supplied) was well behind play when a cross bounced on top of the Seaford crossbar and was headed on the rebound by Endeavour's Maqsod Mansuri.
"Their linesman was well behind the play and signalled for a goal even though the ball did not even touch the line with two of our defenders and our keeper behind the ball yet the referee awarded a goal," Schwellinger said.
Endeavour had the better of the second half but couldn't grab the winner.
Seaford was without Tom Hogan due to a groin injury and Adam Martin and Waugh had to come off in the second half.
Tristan Stass was back and had a fine game as did young Mitch Hawkins.
Somerville Eagles had a bye but will play their league opener against Seaford this weekend.
In State 5 Rosebud drew 2-2 at Olympic Park against South East United, Mount Martha drew 2-2 with White Star Dandenong at Civic Reserve while the Knox United clash with Aspendale Stingrays was postponed.
Aspendale claimed that once Knox indicated it did not have a ground available the local side offered to host the fixture but Knox refused.
Seven minutes into Rosebud's game defender Owen McDougall fell awkwardly and was taken to hospital with a suspected broken collarbone.
Chris Parry was fouled by South East United keeper Nicholas Ambor in the 18th minute and Rosebud player-coach Mark Pagliarulo converted from the spot.
Munib Mohamed levelled for the visitors in the 35th minute but three minutes later Stef Papaluca sent Parry through to put the home side 2-1 up.
Parry hit the bar twice in the second half but the points were shared thanks to a Denis Karac penalty in the 79th minute.
Mount Martha led White Star 1-0 at the interval through a Tom Faska goal in the 18th minute but the visitors took a 2-1 lead in the second period only for a Kiel Burich penalty in the 81st minute to earn a share of the spoils.
This weekend's round 2 fixtures:
FRIDAY, 8.30pm: Frankston Pines v Elwood City (Carrum Downs Recreation Reserve).
SATURDAY, 3pm: Langwarrin v Northcote City (Lawton Park), Warragul Utd v Mornington (Trafalgar Recreation Reserve), Peninsula Strikers v Doncaster Rovers (Centenary Park), Old Scotch v Skye Utd (HA Smith Reserve), Somerville Eagles v Seaford Utd (Tyabb Central Reserve), Baxter v FC Noble Hurricanes (Baxter Park), Endeavour Utd v Chelsea (Reema Reserve), South East Utd v Aspendale Stingrays (WJ Turner Reserve), Bunyip District v Mount Martha (Bunyip Recreation Reserve).
SATURDAY, 8.30pm: Rosebud v Hampton Park Utd (Olympic Park).