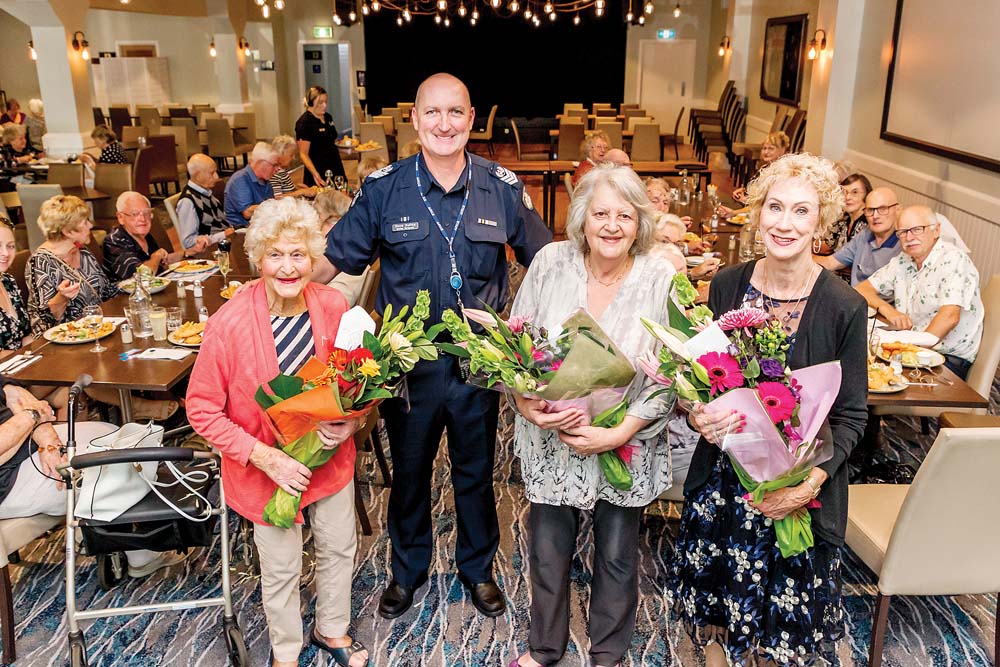 THE 25th anniversary of Rosebud Senior Citizens Register was marked with a lunch at the Rye RSL last week.
Guests of honour Marie Parkinson, Elaine Mansell and Lynne Lith were presented with flowers to mark their long service to the organisation, which secretary Joyce Beckwith describes as "unique".
Ms Parkinson, along with Elaine Wallbridge, is a joint coordinator, Ms Mansell is a long-serving treasurer and Ms Lith manages the client list.
"We are the oldest register in Victoria and possibly Australia," Ms Beckwith said.
"Our coordinators use our experience to advise those starting other registers."
Rosebud police station officer-in-charge Senior Sergeant Robert Levier began the register in 1995 after learning that the area was home to more than 10,500 residents aged over 60.
Ms Beckwith, who became secretary on joining prior to 2000, said while the register was a police initiative, it was best run by a secretary, treasurer and committee of eight volunteers.
"We have 30 volunteers, some of whom drive our car and visit clients and others who make telephone calls from Rosebud police station on a monthly basis," she said. "Our clients really appreciate our calls and the contact they provide."
The register aims to ease the fears of elderly residents of being victims of crime by promoting its "confident and secure living" strategy.
"Those who are frightened receive reassurance that they are cared for by the police and assisted by the friendly voice of the volunteer," Ms Beckwith said.
The service is free, and registration is voluntary. Members receive an information newsletter three times a year. "They love the jokes that are included," she said.
Simple things mean a lot to their clients. Ms Beckwith said her husband, Bill, was especially good at conducting home security checks while two other committee members install key safes in clients' homes.
Excursions to places of interest take clients to nurseries, farms, sailing ships, as well as aircraft and ambulance museums.
The register  operates with the support of Rosebud and Rye Rotary and Lions clubs and the Bendigo Bank.
The Rosebud register covers the area from Mount Martha to Portsea and across to Western Port.
Mornington and Hastings police stations have their own registers and cover the remainder of the peninsula.
First published in the Southern Peninsula News – 23 March 2021