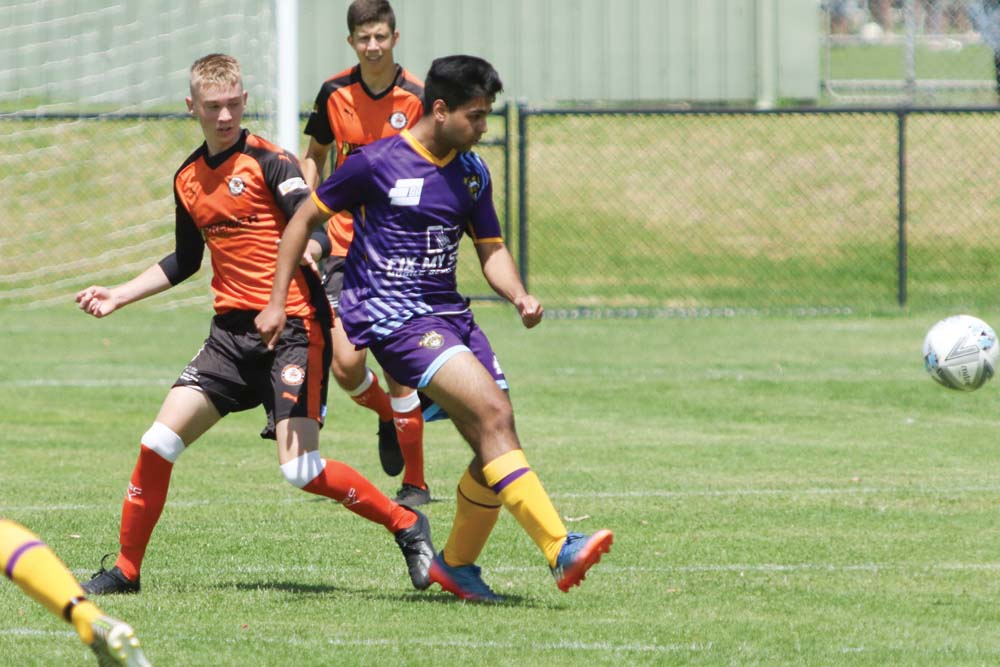 SOCCER
TEENAGE midfield sensation Ethan Goulding marked his senior debut with a goal in Mornington's 5-0 rout of Warragul United last weekend.
The 16-year-old former Melbourne City junior scored in the 41st minute to give the visitors to Warragul's Baxter Park a 3-0 half-time lead.
Josh Hine opened the scoring in the third minute following a corner which was headed on by Josh Heaton and Hine was at the far post to tuck it away.
Milos Lujic increased the lead in the 39th minute after getting on the end of a Hine shot and Ethan Goulding smashed home the third at the back post but injured himself in the process.
He was subbed at half-time but the Goulding family wasn't finished with Warragul yet.
Older brother Luke made it 4-0 in the 72nd minute after a good build up and substitute Campbell Steedman rounded off a fine day for Adam Jamieson's table-topping outfit with a goal in the 84th minute.
In NPL2 Langwarrin had its second straight win when it beat Northcote 2-1 at Lawton Park on Saturday.
All three goals came in the second half with the opener involving a slick interchange between George Howard, Wayne Wallace and Tom Youngs with Youngs slotting the ball past advancing Northcote keeper Phillip Petrovski in the 63rd minute.
Damir Stoilovic gave Langy a two-goal cushion in the 86th minute when he tucked away Isaiah Joseph's low cross from the left at the second attempt.
Anthony Rizk scored from the penalty spot in the first minute of time added for Northcote's sole reply.
In State 2 Nick Scialpi reports that Peninsula Strikers went down 3-2 at home to Doncaster Rovers last weekend after Ben Doree had given the local side a 5th-minute lead.
A Jason Hart header in the 51st minute made it 1-1 and a Shane Tagliaferro own goal in the 66th minute put the visitors ahead.
Aaran Currie equalised in the 71st minute running onto a Tagliaferro ball over the top but Doncaster grabbed the winner in the 93rd minute when Hart was presented with a tap-in after a break on the left.
Skye United went down 3-0 away to Old Scotch last weekend.
Skye's Daniel Wash was red carded in the 42nd minute after receiving a second caution.
In State 3 Frankston Pines continued a winning start to a season of high expectation when it defeated Elwood City 4-1 at Carrum Downs Recreation Reserve on Friday night.
CJ Hodgson would have given Pines the lead in the 2nd minute had Elwood keeper Ben Paris not effected a remarkable reaction save.
Elwood should have taken the lead three minutes later when Anthony Moran broke on the right but his far post cross was blasted over by the incoming Cam Neales.
Elwood was matching its more favoured opponent throughout the first period but Scott Webster broke the deadlock in the 43rd minute.
A Christian Malgioglio corner wasn't properly punched clear by Paris and Webster headed home.
A few minutes into the second half Hamraz Zenoozi was forced off with an ankle injury.
His replacement Alex Roberts had a major impact as did quicksilver Fijian striker Tito Vodawaqa who revelled in the freedom of the wide left role vacated by Zenoozi.
Vodawaqa gave Pines breathing space in the 60th minute when he motored clear and finished in style.
Roberts had sent in some tantalising balls from the right and in the 65th minute we saw another string to his bow when he rose well to head home Hodgson's curling corner from the left.
Suddenly it was 3-0 and Pines were in cruise control.
Gino Defeo came off the Elwood bench in the 80th minute and six minutes later made it 3-1 but Vodawaqa ended any thoughts of a late miracle for the visitors by breaking clear on the left in the 93rd minute and again slotting the ball past the helpless Paris.
In State 4 Seaford United won a crazy local derby with a 5-3 victory over Somerville Eagles at Tyabb Central Reserve on Saturday.
Peter Schwellinger's side stunned the home team with a five-goal first half.
A Dylan Waugh hat-trick and a Mitch Hawkins double set up what loomed as a hiding for Dave Greening's men but Somerville hit back in the second period and goals from Stephen McInerheney, Ash Scholes and Greening had Seaford on the back foot.
"That first half was inexcusable and inexplicable but fair play to Seaford they punished us for every little mistake," Greening said.
"But barring some questionable refereeing and linesman decisions we could have snatched a point."
Baxter lost 3-1 at home to FC Noble Hurricanes while Chelsea lost 2-0 away to Endeavour United.
Baxter was abysmal against a side with only one change from the starting line-up hammered 5-1 the previous week by Chelsea.
Four minutes in and Robbie O'Toole was forced off through injury and replaced by Jack Buttery.
Fifteen minutes in and Netra Chheng was allowed to break forward from just inside his attacking half and although Baxter keeper James Foster did well to parry Chheng's first attempt Chheng's second try was knocked in from close range by Anthony Tang.
Chheng proceeded to taunt, tease and burst forward at every opportunity and Baxter was powerless to stop him.
The home side's passing was dreadful and a Ben Meiklem nutmeg was pretty much all that its fans had to cheer in the second half.
By the time referee Dragoslav Mirkovic put them out of their misery a mazy run and fine finish from Adilson Andrade De Melo and a low deflected strike from Chheng had settled this one.
Luke Grant's late penalty was little consolation for Baxter.
In State 5 Aspendale Stingrays was the only local side to grab all three points thanks to a 2-1 away win against South East United.
Rosebud lost 1-0 at home to Hampton Park United while Mount Martha went down 3-1 away to Bunyip District with Kiel Burich scoring for Mount Martha.
Michael Antic, Taylor Davison, Ugur Erdem and Hayden Nuhanovic finally made their league debuts for the Stingrays after what should have been the club's opening round of the season the previous week was postponed.
Kenan Nuhanovic put the visitors 1-0 up in the 54th minute following a Justin Lampert cross but South East levelled via a Denis Karac header 10 minutes later.
James Macnab got the winner from the penalty spot in the 72nd minute after Kenan Nuhanovic was brought down.
There are no league fixtures this holiday weekend so the focus switches to the FFA Cup with four local sides remaining in the Victorian section of the national competition.
This week's FFA Cup matches:
THURSDAY: Frankston Pines v Epping City (Carrum Downs Recreation Reserve, 8pm).
FRIDAY: Whittlesea Utd v Langwarrin (Mosaic Reserve, 5pm).
SATURDAY: Peninsula Strikers v North Geelong Warriors (Centenary Park, 2pm), Box Hill Utd v Mornington (Wembley Park, 3.15pm).