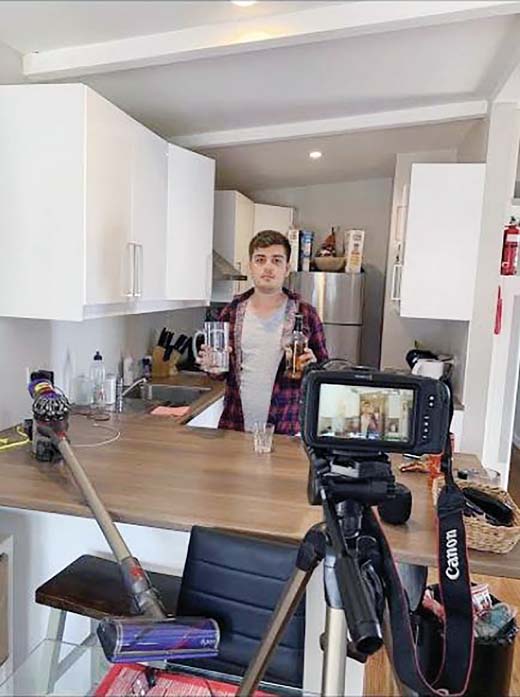 THREE mates who grew up together and attended the same schools on the Mornington Peninsula have combined their passion for the media and product placement with their own witty podcasts.
Kyle Wright, Trent Reardon and Daniel Gray over the past eight years have used their own production company, Bacon Squash, to make movies and provide web content with the help of mates Nick Hollowood and Johnathon Cadd. Their latest film An Australian werewolf in Melbourne' premiered last weekend.
"Basically, what gave us the idea to do the podcast was to create something where we can promote local businesses and what we like as well as having a platform to discuss local topics, our interests/hobbies and pop culture or current events," Wright said.
"We love doing it all ourselves: from filming, writing, directing, editing and acting, and afterwards we host a premiere where we get a projector and a red carpet and have 50-60 of our friends and family come and see it.
"It's really a small community that we've created. We have done that for a while and have a real passion for that sort of thing.
"We've talked about doing a podcast for a few years and realised we could do it because it is quite hard to find genuine talk shows and genuine radio shows where the hosts are such good friends."
A background in media helped the mates, who all live at Mornington, because they "all know how to edit and know how to talk".
"We thought it was a perfect thing for us to try, and we love doing it," Reardon said.
"We tied this podcast together with the common theme of trying a new local beverage every week to help promote local businesses but besides that the show is very broad and open. It is supposed to feel like you are joining in and listening to a conversation with a group of mates."
There's no money in the venture "other than free beer", Gray admitted. "This project is a labour of love and, just like our other media projects, we do it because we love to do it.
"It's a hobby we all share and don't intend making money from it. We just love to do it and we make things we'd want to listen to. It's always an added bonus when we hear that others enjoy it as well."
The mates say they would love to grow their audience and presence on the peninsula. "We want to promote local businesses as well as our brand and continue to deliver content in a variety of ways, including the podcast as well as our movies and web series," Wright said.
Their day jobs differ. Wright coordinates before and after-school care at a primary school and has a background in cooking. He just completed his teaching degree and wants to pursue that later this year.
Reardon is a manager at Woolworths and Gray just completed his Certificate IV in healthcare. Their goal is to grow their audience. "We love what we do and want to share it with more people," Wright said.
"The peninsula is our home and we are all locals. We want to grow our presence as well as promote businesses in the area. We've been producing content for quite some time and we are passionate about it; we'd love to share it with more people."
The trio's work is on Instagram: @bevbudspodcast and Facebook: @bevbudspodcast 
First published in the Southern Peninsula News – 20 April 2021