VOLUNTEER Marine Rescue Mornington will farewell one of its longest serving and most dedicated members when Timothy Warner hangs up his wet weather gear this week.
The 73-year-old spent 41 years serving the community, often on wet, cold nights and in raging seas, always regarding it as "an honour" to help protect those in danger on Port Phillip.
Mr Warner joined VMR Mornington (formerly Mornington Community Bay Rescue Service) in 1980 and has been involved in "several thousand rescues" in that time.
An interest in the service began when he was "10 or 11"."I was riding my bike with a mate along the foreshore one stormy night when we saw a red flare fired from a long way out," Mr Warner said.
"We went up to get the local copper and he followed us down but we couldn't see anything. I don't know what happened or if the person out there drowned or not, but it has always played on my mind."
Over the years he remembered watching local fishermen the Hutchins brothers tow disabled boats back to the safety of the harbour.
Mr Warner was born at the Mornington Bush Nursing Hospital (now The Bays). He owned a music shop in Main Street for many years.
He said the catalyst for the launch of the modern rescue service in 1980 began with the drowning of Paul Darbyshire, while out fishing. The incident led to Mornington police arranging a public meeting at Mornington racecourse where the gap in rescue service capabilities was identified between Frankston and Safety Beach.
About 120 people attended the meeting and a steering committee, including an enthusiastic Mr Warner.
The name Darbyshire has been linked to the service ever since, with three VMR boats named in his honour over the years.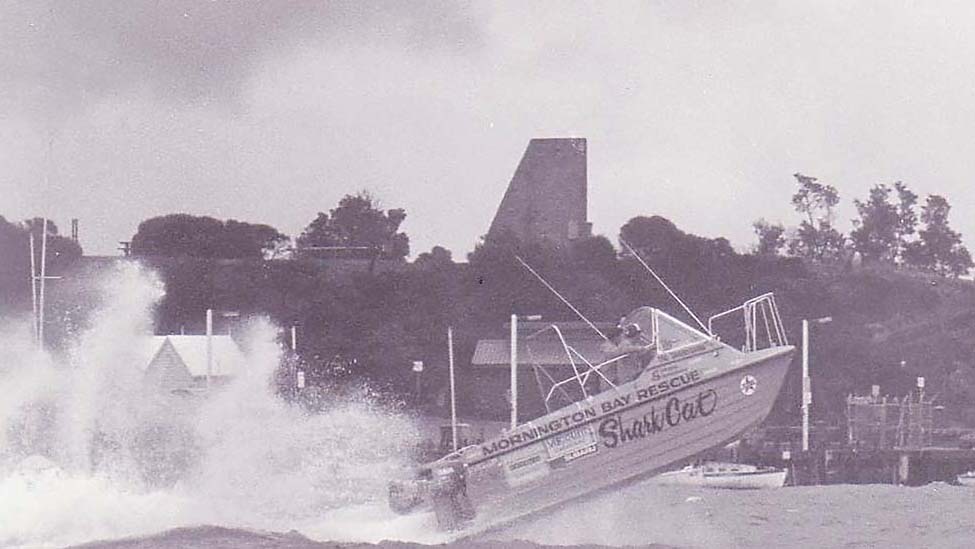 "The bay can be a very dangerous place," Mr Warner said. "The waves are all wind-driven and it can change in half an hour from a hot, still day with gentle easterlies to a raging cold southerly with two-and-a-half metre waves. People often underestimate its dangers."
Since its beginning, Mr Warner has been Mornington VMR unit's president, secretary, committee member, training officer and first-aid officer.
One of many rescues he directed was on 10 November 2006. Last week current VMR president Neil Cooper recalled: "As the skipper of VMR Mornington's primary rescue boat AK1, Tim showed great skill and experience in directing the crew of the rescue vessel to 'make safe' an overturned boat with a man trapped inside. "The first rescue vessel on the scene, Tim secured the vessel and ensured the casualty was kept safe until search and rescue divers were able to successfully remove him. He then transferred the man to waiting paramedics.
"This is just one example of many where the dedication of this community-focused volunteer may have contributed to a person returning to their family."
While a love of the sea may have brought Mr Warner to the service it is his dedication to the safety of local mariners and the community that has been an inspiration to younger members over many years, Mr Cooper said.
He was awarded the National Medal in 2005 and the Emergency Services Medal in 2008 for his "outstanding contribution to the community". Another honour was being named a Paul Harris Fellow by Mount Martha Rotary.
"He is extremely proud of this award, as few people outside Rotary receive it," Mr Cooper said. "Serving as a member of Volunteer Marine Rescue has never been a chore for Tim: in his words, 'It has always been an honour'.
"Tim has decided it is time to hang up his wet weather gear for the last time and, while this will be a huge loss to us, the legacy of the exemplary service he leaves behind will be remembered and emulated for many decades."
Mr Warner will continue in land-based support roles, such as community education, social media and in mentoring new members.
VMR crews will hold a function at the Royal Hotel, Mornington, Saturday night 22 May, to honour the long-serving member and say: "Good job, well done".