DESPITE being one of the Mornington Peninsula's premier sporting clubs the Hastings Football Netball Club is doing it tough.
The club, formed in 1897 as Hastings Football Club and playing in the Mornington Peninsula Nepean Football League, says it cannot afford to maintain its grounds which are in a "poor state" in wet weather and provide suitable change rooms for all its teams – especially in a COVID-19-affected environment.
The club believes it is not being given help by Mornington Peninsula Shire Council because the social club – the Hastings Club – supposedly provides it with income from poker machines. The shire says its policy is not to support gambling venues.
The football netball club, with its home ground at the Thomas Barclay oval, says it does not receive any income from the social club. It says an entry in the Hastings Club's annual report of $53,597 supposedly going to the sports club is the value of in-kind support – not cash – that the club contributes.
"We have not had any income from the social club since 2017 so, in effect, we are being punished [by the council] for something for which we get no reward," Hastings Football Netball Club president John Coventry says.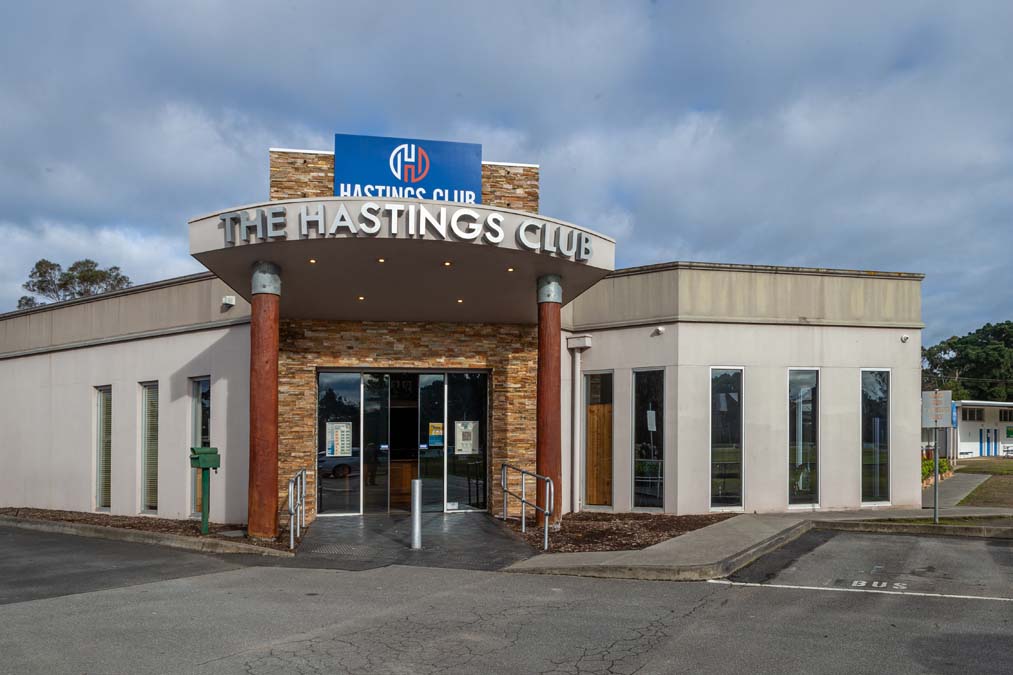 Mr Coventry said the football and netball clubs were "certainly not advocates for gambling" but were clubs "trying to provide the best facilities we can to encourage juniors to play sport".
"We have had no work done on the change rooms and the grounds are in poor condition. We feel neglected and we are battling on our own with no support."
Hastings Football Netball Club treasurer and Hastings Club board member Kevin Miles said it was a "farcical idea that the football netball club is rolling in money".
He said income of $7000 to $9000 a month dried up after 2016 as habits changed and costs soared.
Mr Miles said pokies did not generate income like they used to. They were $1 to play with the 12 per cent "profit" being split three ways. The club previously received four per cent, but that figure had been cut to about 1.35 per cent by increased costs. The club paid wages to 30 people.
Under its charter the social club also contributes to other groups, such as schools, book clubs, or a Probus club, which get a set amount, often paid in-kind, such as the use of a meeting room.
Mr Miles said there was little left for the sporting clubs.
One of the three foundation football clubs on the peninsula, along with Mornington and Frankston, Hastings feels like a poor relation despite 120-odd years of sporting success, including 21 premierships and an honour board of past champions that includes VFL legend the late John Coleman.
But that does not seem to carry much weight with the council, which recently provided new change rooms and shelters at both Crib Point and Tyabb football netball clubs. ("Pavilion with the lot" The News 13/7/21). Mornington Football Netball Club recently had a "massive rebuild".
Cerberus Ward's Cr Lisa Dixon, who would not discuss the Hastings Football Netball Club's plight, said when opening the revamped Crib Point facilities that the shire was "working to provide inclusive, accessible and functional … sporting facilities suitable for our clubs and the broader community".
Hastings Cricket Club treasurer and life member of the Hastings Football Club Ted Gent said talks with the shire seeking financial help over the past nine years had fallen on deaf ears.
"We have been told that while [the social club] has pokies we will not get any help except for maintenance issues," he said.
"When we requested even portable huts we were told they had been allocated elsewhere, so our netballers still have nowhere to change except in the public toilets.
"When we ask about providing coaches' shelters [the shire has said] over the past few years that there is no money in the budget."
Mr Gent said shire officers "regularly mislead us with information about basic maintenance issues regarding water not draining away".
"They inspect it when it has not rained for four weeks and then say there is no problem," he said.
"They tell us they are fixing issues, such as drainage, and when we inquire about the progress they say, it's in next year's budget.
"Yet, the club's rent has increased from $4000 to $16,000, with the cricket, football and junior football clubs also all paying rates."
Mr Gent and Mr Coventry describe the club's female change facilities as a disgrace. "There are no rooms or even shelter for the netballers [other than a donated shipping container]," they said. "There are no showers for the girls' football teams except in the men's change rooms and we have to lock the doors to stop people walking in on them."
Despite the shire installing a new canteen in 2018/19 summer, the club's drainage problems "have been going on for many years", the men say.
"Our club is being discriminated against by the shire because 50 years ago the founding members of the social club had the foresight to plan ahead to improve the club and [in 1991] install gaming machines," Mr Gent said.
"Many other clubs would be in the same position as we are if the state government had let clubs have pokies instead of pubs."
Mr Gent praised the social club for "paying well over the required minimum contribution to the whole community through various clubs/organisations".
The shire's acting manager infrastructure services, Tom Haines-Sutherland confirmed the council "has a policy of not supporting gambling venues".
"But this does not impact the support we offer Hastings Football Club to address maintenance issues related to the sports grounds," he said.
"Like many ovals on the peninsula, the Thomas Barclay oval has some drainage issues when we have heavy rainfall.
"Our officers recently inspected the oval and our drainage team has offered to complete an investigation into the oval's drainage system. Depending on the results, they may recommend upgrading the drainage system or other works and preparing a budget submission to the council's capital works program for funding consideration."