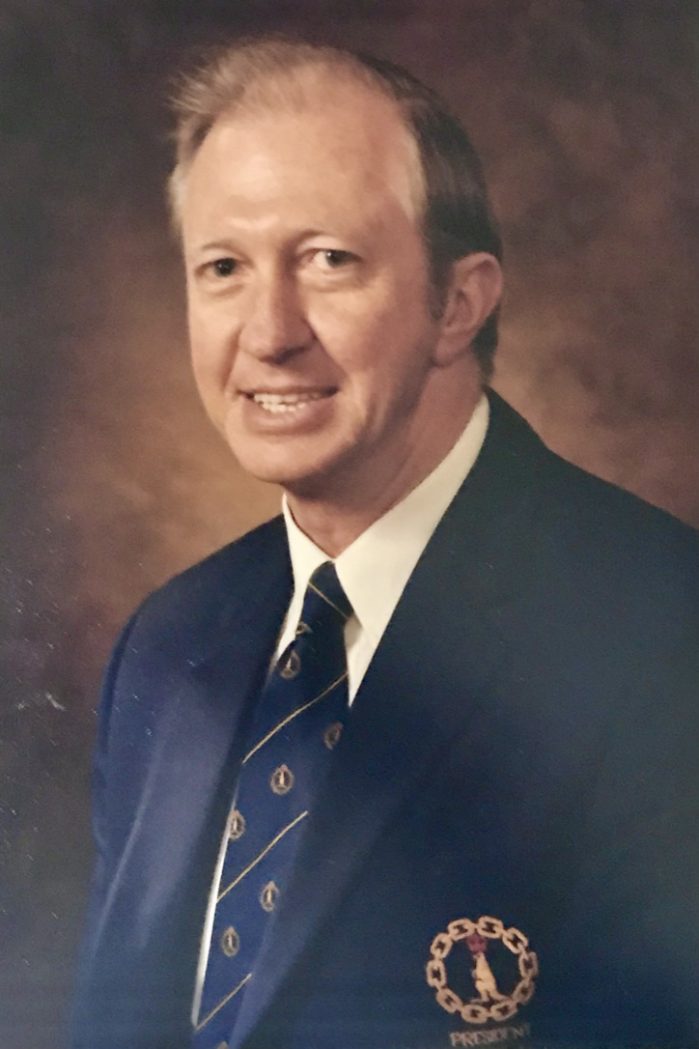 OBITUARY
Leslie John Martyn
26 January 1932 – 31 August 2021
Well known sporting identity and businessman Les Martyn died at Cabrini Hospital on 31 August after a long illness. He was a much-loved husband of Denise (deceased) and father/father-in-law of Stuart & Carolyn, Paul & Angela, and Graeme & Angela. Les was a grandfather of Emily, Catherine, Georgina, Matthew, Jack and Grace. Because of existing restrictions, attendance at the funeral service, held on 9 September, was limited to family members. The eulogy was given by Les' sons Stuart, Paul and Graeme and this obituary is based on their comments.
***
Les Martyn was the fifth of nine children born to Charlie and Clara Martyn and was raised in a rented, single-fronted house in Kensington. It was a time of economic and social hardship and from the age of eight Les would sell papers in both the morning and evening to supplement the family income. While times may have been tough, the family shared a loving home that provided a safe, humour-rich and caring environment.
Lifelong friendships were formed with many of the lads of the local area, a tribute to Les' interest in people and love of storytelling. He excelled at school and on the sporting field. Les was dux of his final year at primary school, winning a scholarship to Christian Brothers' College, North Melbourne, where he again excelled.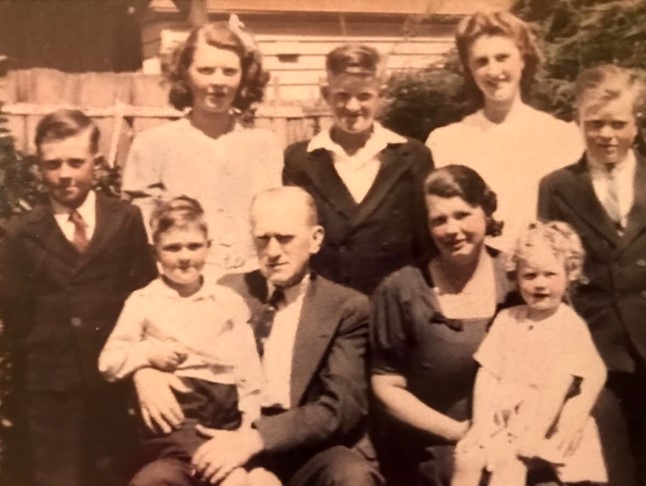 Although not the most talented footballer, Les captained the senior team at CBC and then the local YCW to several premierships. While some of his teammates, including his older brother Bryan, went on to play VFL with North Melbourne, Les was the natural leader and mentor of the teams. (In fact Bryan won the club best-and-fairest award with North Melbourne in 1957.)
During these formative years Les developed a number of qualities that he would display for the rest of his life: respect for others, fairness and patience. He well understood the importance of family and the need to help others. He was a staunch advocate of thorough preparation – no matter the task – and he knew that hard work would be rewarded.
When he was 16 Les commenced work as a clerk with the Commonwealth Bank and while with that organization he completed a degree in accounting. In 1956 he met, and subsequently courted, Denise Mullins who was the sister of his workmate, Tom. The romance between Les and Denise culminated in their marriage at St. Patrick's Cathedral in February, 1960.
Meanwhile, Les had left the bank and embarked on what proved to be a short but very successful career with Cool Drive Consolidated Industries – an auto accessory manufacturer. This enabled him to build the 'dream' family home at Vine Street, Heidelberg. By 1966 the family had grown to five with the addition of Stuart, Paul and Graeme. Denise's mother was also accommodated and next door a new home was purchased for Les' parents, Charlie and Clara. Les appreciated the importance of family and was always considerate of their needs.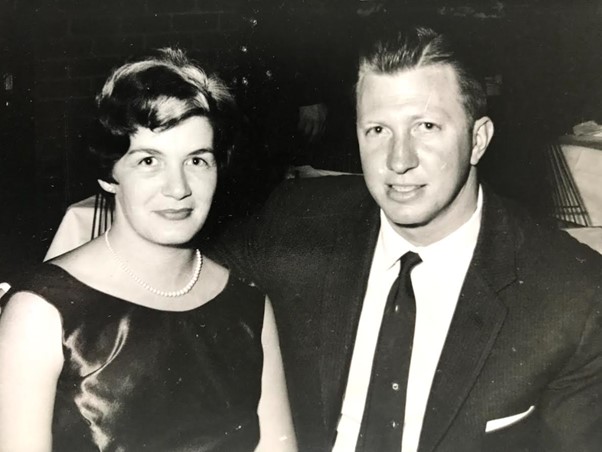 In 1956, when Melbourne hosted the Olympic Games, Les attended as an official. Little did he know that he would attend so many more! Les had an older brother who had an interest in wrestling and, during his junior football years, Les would accompany him to the gym to lift some weights. This aroused his interest in weightlifting and Les won several titles at state level before moving on to coaching. During the summer of 1970 several of Australia's best weightlifters had been selected to compete at an international event but there were insufficient funds available to cover their costs. Les decided to hold a fundraiser in the backyard at Vine Street and, although several hundred attended, a little more money was needed. Les, always able to think on his feet, came up with the solution: raffle off the athletes! Moments later a 'roulette wheel' was established. This saw the slightly inebriated weightlifters, some of whom were of ample proportions, hung upside down from the Hills rotary clothes line and, as it was spun around, the audience 'bet' on the outcome. While the Hills hoist was never quite the same, the event was a huge success and sufficient money was raised.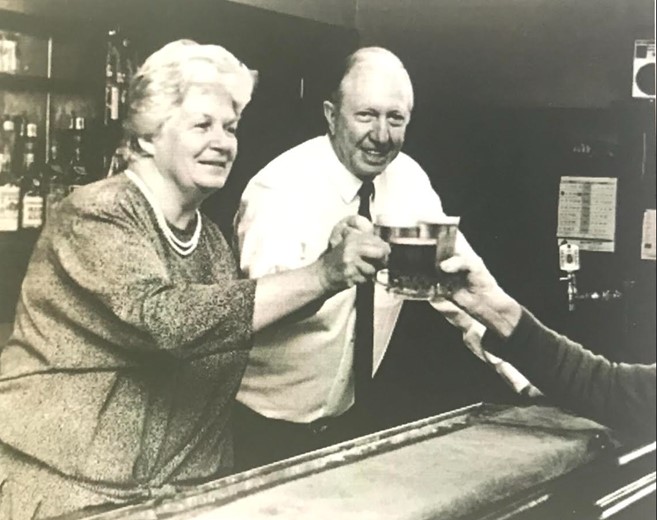 Les was General Manager of Cool Drive Consolidated Industries when it was bought out by Repco. The time had come to move in a new direction. In 1971 he bought the Royal Hotel in Hastings, changed its name to the Westernport, and spent 12 months undertaking a wholesale revamp. Improvements included a 250 seat restaurant (named 'Martys') with an appropriate kitchen, plus a drive-through bottle department. Over the next few years Les expanded further in this field, first by acquiring the Chelsea Hotel and then the Dromana Hotel; both underwent renovations, particularly the Chelsea Hotel, and suitable restaurants were installed (again named 'Martys'). Les still had an unfulfilled ambition: to establish an upmarket seafood restaurant in Hastings. This led to his involvement in the Hastings Marina which was still in the course of construction.
A lasting contribution to the Hastings community was Les' participation in the development of the Hastings Leisure Centre (now rebadged as the Community Hub). Les was President of the committee and considered that the Leisure Centre would help to cater for the sporting needs of those in the community who were sometimes overlooked: children, women and senior citizens.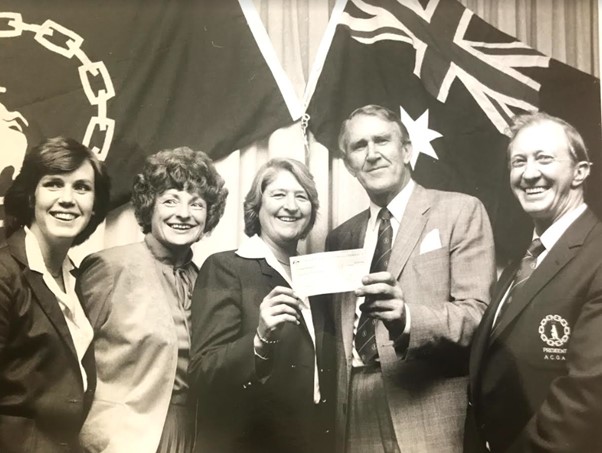 During the late 1980's the economy became rather unstable and 'the recession we had to have' generated an air of uncertainty. This prompted Les to scale down his assets, starting with the Dromana Hotel in 1990 and concluding with the sale of the Westernport Hotel in 1995.
For around 20 years Les and Denise had lived in the 'Tower House', a Frankston landmark with Edna Walling-inspired gardens. This was sold and the couple moved to Safety Beach where Les ran the golf pro shop at the Country Club as well as a gym in the city. Denise passed away in 2009 and in 2014 Les moved to a town house in Frankston. Five years later he moved to an Aged Care facility in Mornington.
Alongside Les' business success as a hotelier was his huge involvement in sports administration. From his experience coaching weightlifters, Les moved on to managing them, starting with the 1966 British Empire Games team. As head of the Australian Weightlifting Federation (1971-1983) he presided over a period that has been described as 'the golden years' of the sport.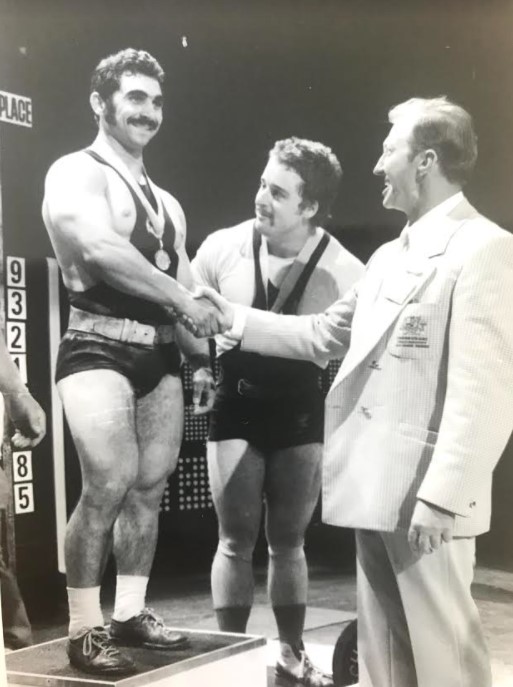 Les was an active participant and advocate for sport which saw him take on leadership roles in various bodies and associations such as the Confederation of Australian Sport and the Australian Commonwealth Games Association of which he was the President from 1979 to 1987. The latter involved being host-nation President for the 1982 Brisbane Games where he achieved considerable success in convincing all African nations which were part of the Commonwealth to attend.
As Les' involvement in international sports administration grew, he and Denise had the opportunity to travel extensively. This often led to exciting and interesting experiences and introduction to a number of dignitaries. They attended black-tie events across the globe, travelling to Russia and China as well as many European and African countries.
A legacy of which Les was particularly proud was his involvement in the establishment of the Australian Institute of Sport (AIS). The Confederation of Australian Sport, with Les as Chairman of the Development Committee, convinced the Fraser government to establish the AIS in Canberra following Australia's poor performance at the Montreal Olympics in 1976. Later, when President of the Confederation of Australian Sport, Les backed the establishment of the Sport Australia Hall of Fame in 1985. He was also responsible for linking all state sports bodies and governments to form a Coaches Association and is credited with establishing the Coaches Accreditation Program.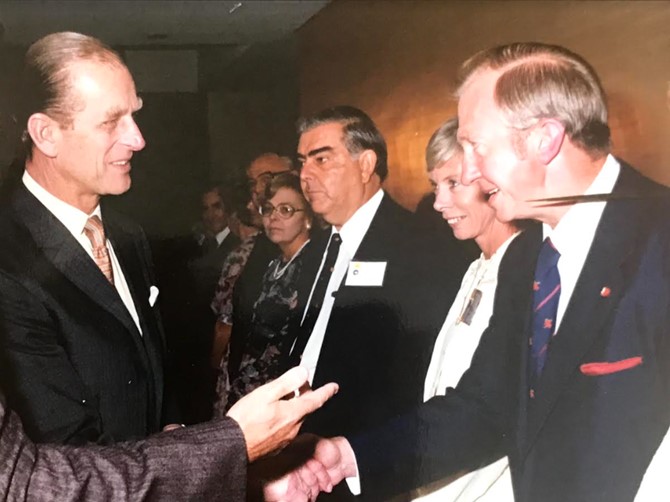 These many achievements notwithstanding, the Brisbane Commonwealth Games were perhaps the highlight of Les' long involvement in the world of international athletics. Apart from the attendance of representatives from African countries at a time when the anti-apartheid movement was disrupting other sports, the overall success of these Games generated enormous pride and enthusiasm across the nation. It was also a very tangible outcome of the work Les had put into developing the depth of sport infrastructure and talent in Australia following the disappointing results Australian teams experienced overseas in the previous decade. The AIS had only been operating for a few years but the groundwork was starting to provide results.
Les' influence wasn't confined to Australian sport as he held highly regarded positions on the boards of various international sporting organizations including Governor of the World Masters Games Association and Member of the International Board of Governors of Sport.
In 2000 he took great pride in being part of the Sydney 2000 Olympic Games torch relay. In retirement, Les' passion for fitness remained and, as he aged, he took up cycling and enjoyed the sport in his later years. At 70 he completed the first of what was to be a number of 'Around the Bay' rides, much to the horror of Denise. He continued with his exercise regime – lifting weights and cycling – well into his 80's.
Following Les' death the Chair of Sport Australia Hall of Fame, John Bertrand AO, posted the following tribute on the Hall of Fame website:
"Les Martyn was one of Australia's most influential sports administrators, and he will be deeply missed. Sport was an integral part of Les' life and his impact on numerous sports was profound; from training and managing Australian weightlifting teams to becoming the President of the Australian Weightlifting Federation, President of the Confederation of Australian Sport and Chairman of the Australian Commonwealth Games Association for nearly a decade.
Les was one of a kind. His passion for sport and life, and his influence on sport in Australia, will be remembered for many years.
We are mourning a great loss and our deepest condolences are with his three sons Stuart, Paul and Graeme and their families."
HONOURS and AWARDS (as per the Sport Australia Hall of Fame website)
Member of the Order of the British Empire (MBE) for services to sport. 1978.
Confederation of Australian Sport Life Member. 1988.
Member, Sport Australia Hall of Fame. 1989.
Australian Sports Medal Recipient. 2000.
Member of the Australian Weightlifting Hall of Fame.
Life Member of the Australian Commonwealth Games Association.
Life Member of the Oceania Weightlifting Federation.
First published in the Southern Peninsula News – 12 October 2021