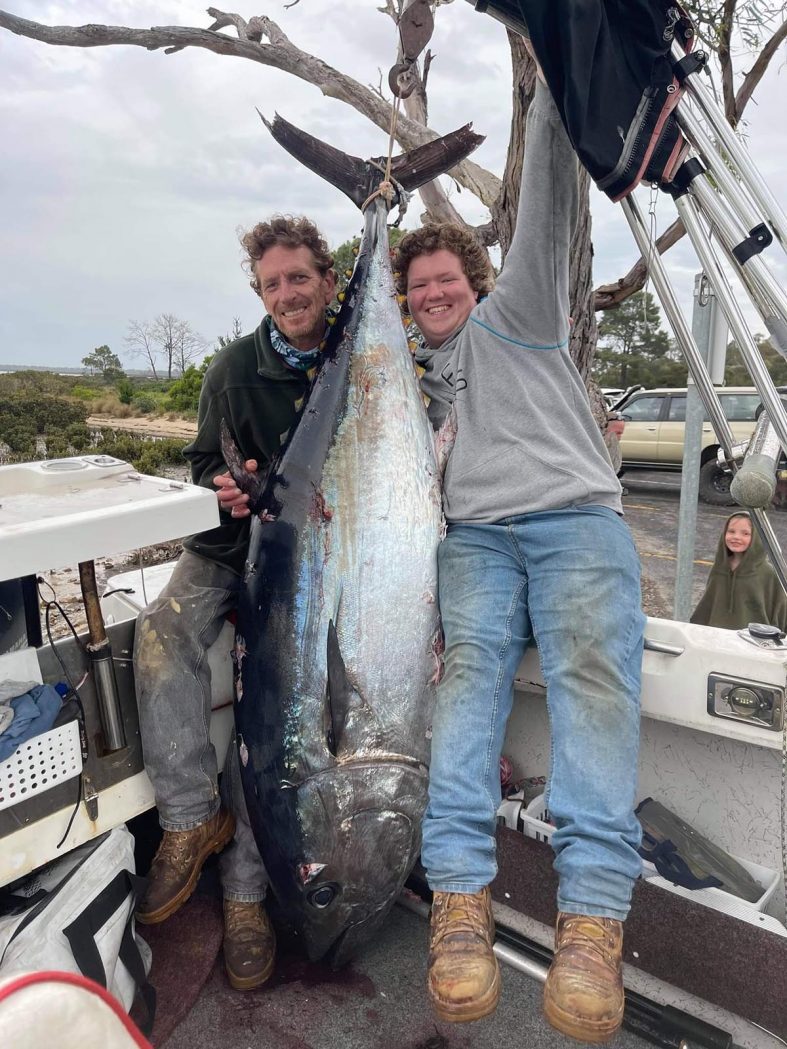 ACHING arms and shoulders next morning proved it had not been a dream – Crib Point resident Phillip Goepel had indeed landed his biggest fish so far.
Out fishing with dad Greg, he had hooked a 141kg bluefin tuna at a depth of 33 metres not far from Seal Rocks, Friday 22 October.
The pair, pictured, had left Stony Point about 10am and cruised the 70-metre line past Cape Schanck towards The Rip and then trolled skirted plastic lures on 37kg breaking strain line back towards Flinders.
In 80 metres of water they were making a beeline towards Seal Rocks when, at a depth of 33 metres, both rods "went off". Mr Goepel said he sacrificed his catch to make sure Phillip's big one did not get away.
Over the next 40 minutes he "drove the boat like a madman" to evade three large seals – all bigger than the tuna – which were eyeing off the struggling fish.
"I've never driven the boat so hard, doing circles, back and forward, making sure I didn't cut the line," he said.
"Even when we got the gaff in it we still had to fight off the seals in a big tug of war."
For Phillip, the catch was one to treasure. The Western Port Secondary College student suffered a brain tumour aged seven in 2015 and the fish is testament to his determination and resilience.
"When I woke up next day my arms, back and shoulders were so sore – but it was so worth it," he said.
Mr Goepel said watching Phillip was "inspirational".
"He put in so much effort and so much blood, sweat and tears to land that fish that I had the greatest dad moment of my life on Friday afternoon," he said.
"To watch his efforts was amazing."
They have shared the fish with friends and family and the rest is filling their fridge and freezer.
"It tastes great," Mr Goepel said.