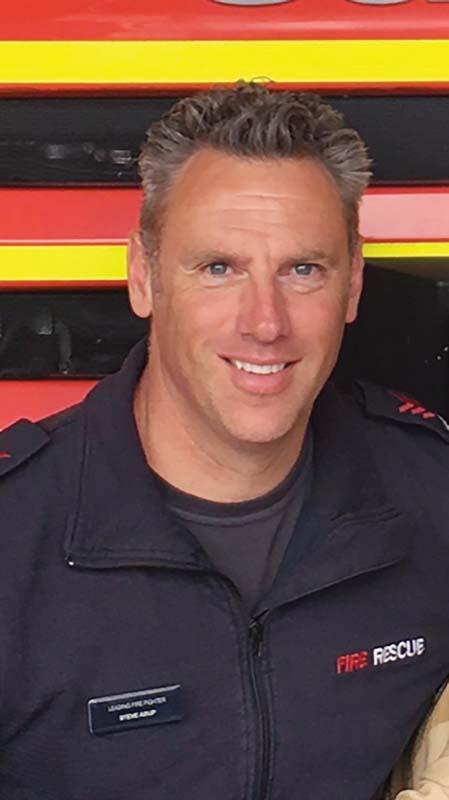 WHEN off-duty firefighter Steve Axup saw a car in a ditch and a woman waving frantically for help in Rosebud last week he immediately did a U-turn and pulled over to help.
On the side of Boneo Road, a 50-year-old Cape Schanck woman was unconscious and in cardiac arrest.
It was at that moment – 10.30am, Wednesday 8 December – that FRV Officer Axup's prompt action probably saved her life.
Quickly dragging the woman from her car while someone called 000, and after asking a bystander to rush to a nearby Bunnings to get a defibrillator, the fireman began performing CPR which pumped blood to her brain, while pounding on her chest to draw air into her lungs.
These actions "basically sustained her life", he said, until Rosebud fire station crews arrived within four minutes to take over the next stage of the woman's recovery.
They used a defibrillator to administer an electric shock to kick-start her heart so that it began a regular rhythm, re-established a pulse, and she began to come around. Ambulance Victoria paramedics arrived soon after and applied more electric shocks before transporting the woman to Frankston Hospital.
The police managed traffic on the busy road.
"It was an instinctive emergency medical response which we are trained to provide," Officer Axup said later, adding that immediate CPR and the shock from the "defib" were crucial in saving a life.
He praised the assistance of members of the public who used a tarpaulin to shelter firemen and their patient from rain while they used the defibrillator and the person who rushed to Bunnings.
The FRV firefighter, who has a holiday house at Blairgowrie, says he could not have come along at a better time: "It was the first time I have had to perform CPR while off-duty and the first time I've been able to administer CPR and then help use a defibrillator to save a life," he said.
It turns out that Officer Axup and his "patient", who has three children and now a pacemaker, have friends in common.
"We spoke for an hour on the phone last night and it was quite an emotional conversation," he said.
"I also spoke to her twin sister as well as her mum for another hour. We hope to catch up in the New Year."
Rye Fire Brigade Captain Eddie Matt forwarded an earlier message the woman had put up on her Facebook page: "Yesterday an off-duty firefighter saved my life," it read. "I was in cardio arrest and he saved me on Boneo Road.
"Does anyone know him? I want to thank him for saving my life.
Still in hospital and will be for a while.
"I am alive because of this wonderful man."
Officer Axup was only too happy to be in the right place at the right time. He is well aware that tragedy was averted by the most favourable of circumstances: a trained firefighter quickly on the scene and a defibrillator in expert hands only minutes away.
"It was not her time to go," he said.
First published in the Southern Peninsula News – 14 December 2021