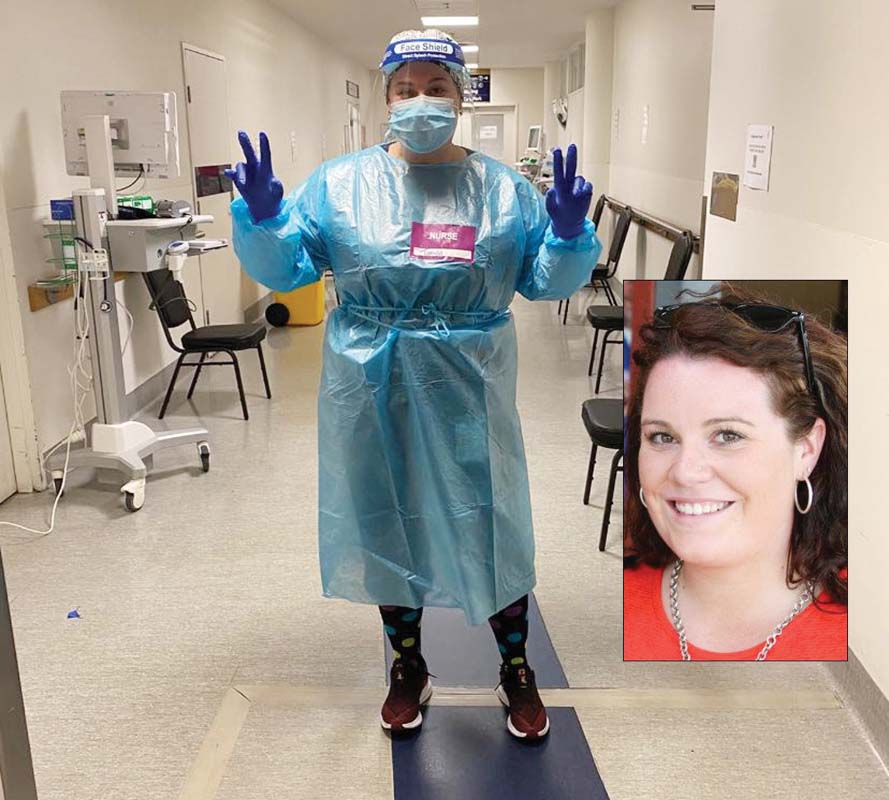 SOCCER
THE panic attacks are less frequent now but anxiety is a regular companion.
Such is the lot of Tanya Wallace, 32, Langwarrin soccer club president and registered nurse who works in emergency at Royal Melbourne Hospital.
Fear and uncertainty are ever present on the pandemic frontline and part of her everyday life.
"The second lockdown in 2020 was the hardest one," she said.
"I couldn't see my mum or my brother for three or four months and we had an outbreak in my hospital and mum (also a nurse) had an outbreak in hers.
"Being forced into not being able to see them was very, very hard and it definitely weighed on my mental health.
"I would go to work and be scared I was going to get COVID.
"I remember getting a call from our infection prevention services telling me that I had looked after a positive patient and they went through all these questions with me.
"That call came in the middle of my work day and I remember getting home that afternoon and was so panicked I couldn't breathe.
"I had to meditate then virtually talk myself down.
"I got a test the next day and it came back negative so I was very fortunate they didn't have to furlough me but every day it really weighed on me – is this the day I'm going to get it?"
Wallace recognised the need for professional help and turned to a psychologist who treated her over the next six months.
It was the first time since 2011 that she dealt with the sudden death of her father who was an icon of soccer at both Langwarrin and throughout the peninsula.
"I think COVID forced me to take a good hard look at myself because I wasn't as busy as I normally would be seeing my family and my friends and going down to the soccer club.
"Suddenly all those outlets had been taken away from me and I couldn't avoid what had happened any more.
"Not only did the psychologist get me through the hard part of not seeing any one and only going to work then going home and having to start again the next day but she made me open up.
"For the first time I was dealing with my best friend dying and changing my entire life when I was just 21 and my mental health is a lot better for dealing with that."
Royal Melbourne is a level 1 trauma centre and was always going to be at the coalface of our pandemic response.
What Wallace has experienced has had a profound effect on her and a major impact on the emergency department.
"Emergency is usually very intense but during the height of COVID we were seeing quite a few deaths which really changes the atmosphere and everyone is just so flat.
"You don't expect that volume of people to die in a week.
"We've never seen anything like that before then you've got to deal with families not being able to come in and say goodbye to their loved ones.
"That really hit me the hardest because I was allowed to have that time with my dad when he passed away so I can only imagine what it must be like watching on a bloody I-pad screen while someone you don't know is holding the hand of your father, your mother, your sister … and as a nurse you've then got to go back to your other three patients.
"I watched my colleagues go through that day-in day-out and helped them when I could but emotionally it absolutely wrecks you."
It also casts doubt over your career choice.
"I think I'm a different nurse now and I think I'm a different person having seen what I've seen.
"We've been doing this for a couple of years now then a new strain comes along – it's like you've got PTSD.
"When we go through the lockdowns your anxiety goes through the roof because you're thinking is this the day we're going to absolutely get smashed with 300 patients and 50 of them are going to die.
"That's the sort of apprehension you have every day you go to work.
"We've been short-staffed and we've essentially been working overtime for two years.
"I'm burnt out and other colleagues are burnt out and it makes you question whether or not this is the profession for you.
"But I just love helping people and that's what keeps me doing it."
Wallace grew up on the peninsula and Lawton Park was a second home so her accession to the role her father had held with such distinction was no surprise.
However finding the time to steer Langwarrin through the turbulence of the past two seasons given her job and living in Melbourne's northern suburbs while also starting a post-graduate course in critical care emergency nursing is nothing short of remarkable.
"I've lived in Glenroy now for almost a year and before that I had two years in Moonee Ponds.
"I guess when COVID first started I felt immense pressure with my father's legacy to the club and to the local game to keep the doors open, to keep it functioning and to look after the members in a climate that was forever changing.
"I lost a lot of sleep. I broke down and cried a lot.
"I still had to motivate 11 people on the committee some of whom were off work or their family was off work and it took a lot not to walk away but really I couldn't leave people to fend for themselves.
"It just wasn't an option.
"I had to rally myself and rally the committee I guess to stay committed to the 600-plus members.
"I couldn't have made it through without the close confidantes, the old guard I guess, that gave me the insight and confidence from my dad that I was doing the right thing and we would get through this and the club would be okay."
And Langwarrin under Wallace has continued on its journey towards the realisation of a vision her father had championed many years ago.
"We've just about completed our lights program and the lights on the main pitch will be fully operational this week.
"That will give us two pitches with floodlighting up to NPL standard."
More grounds and a synthetic pitch remain on the wishlist while Wallace cites the implementation of more cohesiveness in various areas of the club as a priority for 2022.
"I'd like to have a more cohesive committee unit and a more cohesive working environment between my coaches and my technical directors and the key people within the club who are running programs.
"Obviously all of us are not going to be in our roles forever so I'd like us to inspire people within the club to want to join the committee or to want to get involved in a coaching role.
"That's the environment I'd like to have – it's my number one goal this year."
But first things first.
The 10th staging of the annual tournament named in her father's honour and a rallying point for the local game takes place on Saturday at Lawton Park.
Here is the full draw for the 2022 Steve Wallace Cup:
12pm Game 1 Baxter v Mount Martha (main pitch) and Game 2 Rosebud v Somerville (top pitch).
1pm Game 3 Frankston Pines v Seaford United (main pitch) and Game 4 Peninsula Strikers v Skye United (top pitch).
2pm Game 5 Langwarrin v winner of Game 2 (main pitch) and Game 6 Mornington v winner of Game 1 (top pitch).
3pm Semi-final 1 (main pitch) and loser Game 1 v loser Game 2 (top pitch).
4pm Semi-final 2 (main pitch) and loser Game 3 v loser Game 4.
Games will consist of 20-minute halves with a five-minute half-time break.
Drawn games will be decided by a penalty shootout.
Winners of Games 3, 4, 5 and 6 will qualify for the semi-finals and there are no seedings for the semi-finals (an open draw will take place 10 minutes before the first semi-final).
The final kicks off at 5.15pm on the main pitch and the third place play-off which is optional for the teams involved can be played on the top pitch at the same time.
Meanwhile pre-season preparations for many local clubs have been chaotic with coaching staff and players testing positive for COVID-19 and being forced to isolate.
Baxter was particularly hard hit with senior and reserves coaching staff all testing positive recently while only five senior players were available for training last Thursday.
State 4 rival Chelsea fared little better forcing coach Carlo Melino to postpone the start to pre-season training which finally gets underway on Tuesday next week.
In State 3 news Frankston Pines have signed former Malvern City captain Ryan Ratcliffe.
The defender has been in Tasmania for work reasons for the past couple of seasons and in 2020 won Launceston United's best and fairest with 17 votes in 13 games.
Pines take on Peninsula Strikers tonight (Tuesday) at Carrum Downs Recreation Reserve at 6.30pm.
In State 4 Lee Barber's Somerville Eagles are expected this week to announce the signings of left-sided player Adrian Pace from Aspendale Stingrays, striker Guil Riberio (Berwick City and Aspendale Stingrays), goalkeeper Nick Bucello (Ashburton), defender Ash Stokes (returning from Rosebud), midfielder Joel Wade (returning from Rosebud) and the return from long-term injury of Jack Wyer and Ronnie Krishnan.
In State 5 Mount Martha has announced a busy pre-season schedule.
Chris Sanderson's outfit will play Somerville on 29 January, Shepparton South on 5 February, Old Melburnians on 19 February, Drouin Dragons on 26 February and HMAS Cerberus on 15 March.
All games are at Civic Reserve and kick-off times are 1pm (reserves) and 3pm.
On Sunday 13 March Mount Martha will play Mount Eliza at Civic Reserve for the Mental Health Safety Net Cup with the reserves kicking off at 1pm and the senior clash at 3pm.