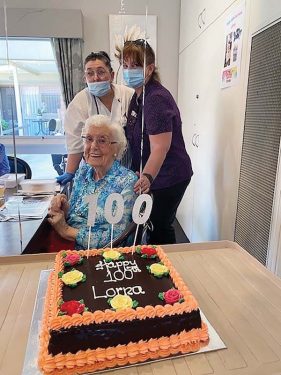 LORNA Grant turned 100 on 18 October last year but, because of a broken wrist resulting from a fall, had to quietly celebrate the milestone in hospital.
A resident of St Johns Retirement Village, Somerville for the past 23 years, the real celebration was delayed until she came back home and COVID restrictions were eased.
But the lateness did not make her birthday lunch – with her requested "party food" – any less enjoyable.
Now living in the village's serviced apartment, Ms Grant was born in Caulfield. She had a bother 18 months older and a sister 10 years older, although both have now died.
She went to MLC Methodist Ladies College before doing a business course in typing.
Ms Grant worked for the Woman's Auxiliary Air Force (WAAF) for three years as a teleprinter operator. She married and had to leave as in those days married women could not be in the WAAF.
The marriage ended after five years, but not before the birth of her daughter, Pam.
Later, while on a "girl's holiday", she met 17-year-old Rob who introduced her to his father, Harold.
The two were married and spent 30 years together before his death.
Ms Grant calls stepson Rob her rock and he still he cares for her and often visits.
She said keeping fit is the secret to a happy, healthy and long life, having played tennis, swimming, golf, and bowling. She now walks daily (with a four-wheel walker) and socialises with other residents.