AN artificial reef being installed off Point Nepean next month will give anglers a spot away from busy shipping lanes to catch yellowtail kingfish.
The reef will have 16 large concrete structures set in clusters of four about 50 metres apart.
"Identical concrete modules have been deployed off the New South Wales coast at Shoalhaven and have proven to be outstanding in attracting Yellowtail Kingfish," Futurefish Foundation director David Kramer said.
"They quickly obtain weed growth and provide a perfect reef in strong tidal waters."
Once in place, the Nepean reef will be the largest artificial reef in Victoria.
Mr Kramer said he had first discussed the reef three years ago with Nepean MP Chris Brayne "to build a reef somewhere down towards Port Phillip heads and a reef that would attract highly prized yellowtail kingfish".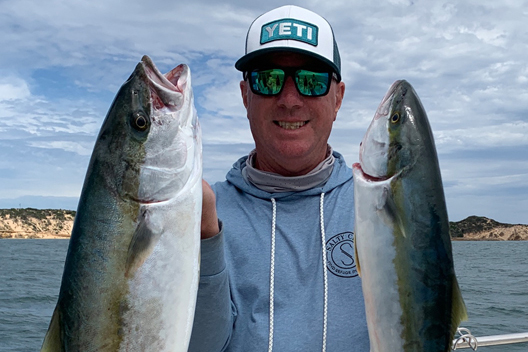 The plan was "coming to fruition … thanks to the state government's $35 million investment in recreational fishing".
"Part of that investment was a commitment to install $2.5 million of new reefs in Port Phillip. The new kingfish reef is the last instalment of the program after three smaller reefs were placed in Corio Bay near Geelong in 2021," Mr Kramer said.
Mr Brayne said that in the past 15 years reefs had been installed off Frankston, Seaford, Chelsea, Aspendale, Altona, Portarlington, Geelong and St Kilda.
"Most of these reefs have enhanced recreational fishing for schnapper after decades of scallop dredging destroyed natural habitat in the bay," Mr Brayne said.
Mr Kramer, a fishing broadcaster, writer and tackle shop owner, said yellowtail kingfish had made "a remarkable return to Port Phillip, particularly in The Rip. However, the most popular place to fish for them is right in the middle of the shipping channel".
"This reef will not take anything away from the great fishing in The Rip, but will provide an alternative place to fish where it is less dangerous and not as busy with shipping."
First published in the Southern Peninsula News – 22 February 2022