OBITUARY
Ronald John David Grant
22 October 1930 – 7 January 2022
By Peter McCullough
WELL known resident of the Western Port area, Ron Grant, passed away at Peninsula Private hospital on 7 January after a short illness. He was 91. Ron's funeral was held at Tobin Brothers, Mt. Martha, on 13 January, followed by a private cremation. His wife, Dorothy, passed away almost three years ago. Ron was the loving father of Jenny & Steve, Jeff and Mal; grandfather of Markham & Erica, Bek & Paul, Sarah, David, Robbie and Jonathon; great grandfather of Henry, Sophie, Amy, Harriet, Spencer, Olivia and Emily. The eulogy at the funeral was delivered by Ron's daughter, Jenny and son, Jeff. Grandson Markham read out tributes from the Tyabb Cricket Club and the Mornington Peninsula Cricket Association. This obituary is based on family observations with additional information on his sporting achievements provided by local sports historians Doug Dyall and Vic Jeremiah.
***
Ron was born in Camberwell in 1930. He was the only son of Tyabb orchardists Ray and Ruby and younger brother of Valda (Cole). Ron and Valda had a loyal and loving relationship which endured for 91 years. Valda's written tribute reflected their friendship:
Ron attended Tyabb Railway Primary School and Frankston High and completed his final years as a boarder at Carey Grammar. After leaving school he worked as an industrial chemist with CSR but after a number of years in the city he returned home to work on the family orchard/nursery farm in Denham Road
It was through farming that he met the young Dorothy Price who was working as a secretary at Tyabb Cool Stores. They married in 1953 and had three children: Jenny (1954), Jeff (1957), and Mal (1961). After living for a time in a small house at the bottom of Denham Road, the family moved further up the road into a new cream brick veneer house on the family farm in 1963. For the children it was an idyllic family life living close to Ron's work with their grandparents nearby. Just a bike ride away was the township of Tyabb, school and family friends. Unfortunately Ron and his father were involved in a serious tractor accident in 1963 which hospitalized Ron for many months. At this difficult time, the family was well supported by the local community.
In 1968 the farm was bought by Lysaghts so the family moved to 'The Axe' on Coolart Road. Ron's parents retired and moved to a new house looking out over Tyabb. Ron re-established the nursery business and lived at this location with Dot, for the rest of their lives. Ron worked solo re establishing the nursery business. Jeff described his father as 'a numbers man'. He had an incredibly disciplined approach which involved tackling every day with a complete understanding of what had to be achieved in the time available. Towards the end of Ron's working career sons, Jeff and Mal returned to work with their father. Each February and into March they would bud 50,000 trees; five weeks meant 10,000 a week or 2,000 a day which was 250 an hour. In Jeff's words, "With me tying tape behind him, never would an afternoon pass without dad quickly budding away from me without warning. Speeding up was my only choice. The reason was always clear. He was constantly counting and analysing the figure. Yes, indeed we were behind the count and needed an extra big hour!"
After retirement Ron continued to work hard helping his children build houses, establish gardens and even building cubby houses.
Ron was a keen fisherman with Karumba, on the Gulf of Carpentaria, and Metung his favourite spots. Every winter Dot and he would head for Karumba, towing the van with the tinny on the car roof! They travelled extensively overseas and, of course, around Australia.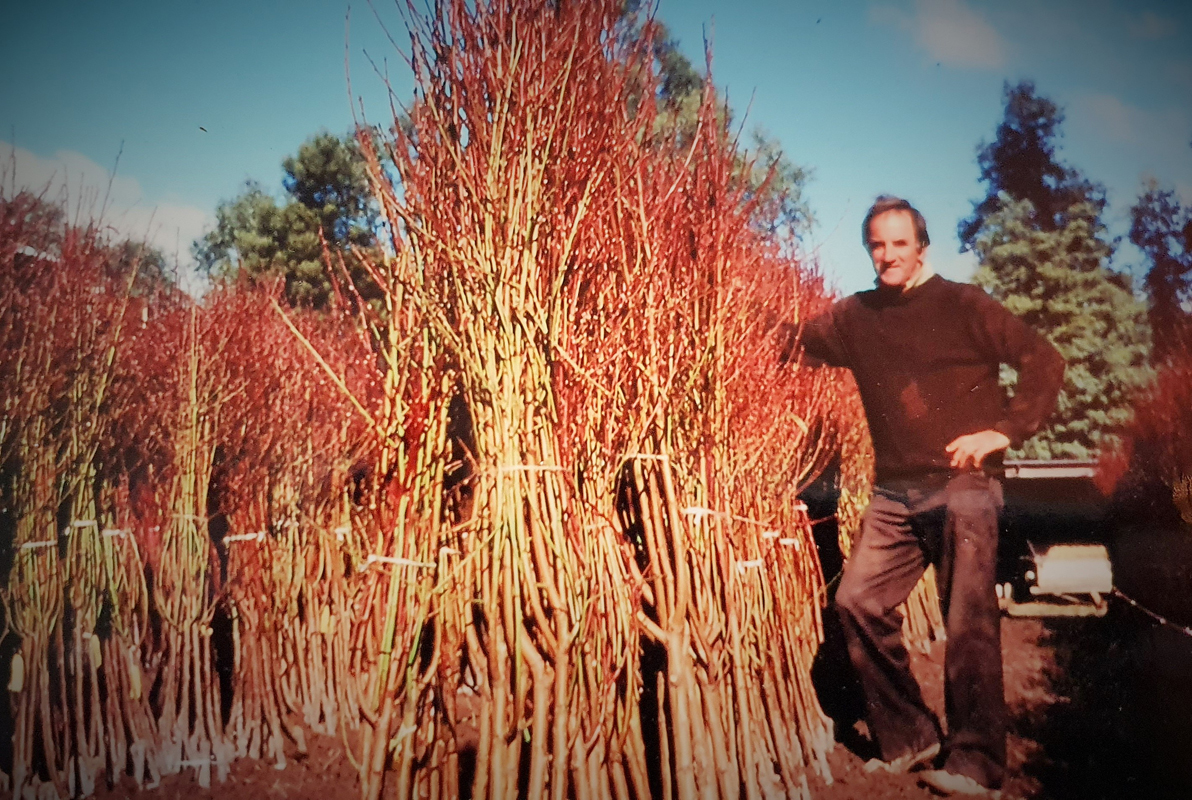 His community involvement began when he was a young father when he was president of the School Council at Tyabb Railway Primary School for a number of years. Ron was heavily involved in many community activities. He worked tirelessly and efficiently with Western Port Lions Club, where he and Dot forged many long lasting friendships. He participated in many events ranging from school quizzes to Western Port triathalons. Ron was on the Board of the Tyabb Co–op and he worked for many years collecting for the Red Cross.
Above all else, Ron loved his children and the families that grew up around them: the six grandchildren and the seven great grandchildren. He continued to take an interest in each and every one of them until the very end. The memories of Ron's last Christmas family celebrations and the pleasure he derived from them will remain forever!
RON THE SPORTSMAN
Cricket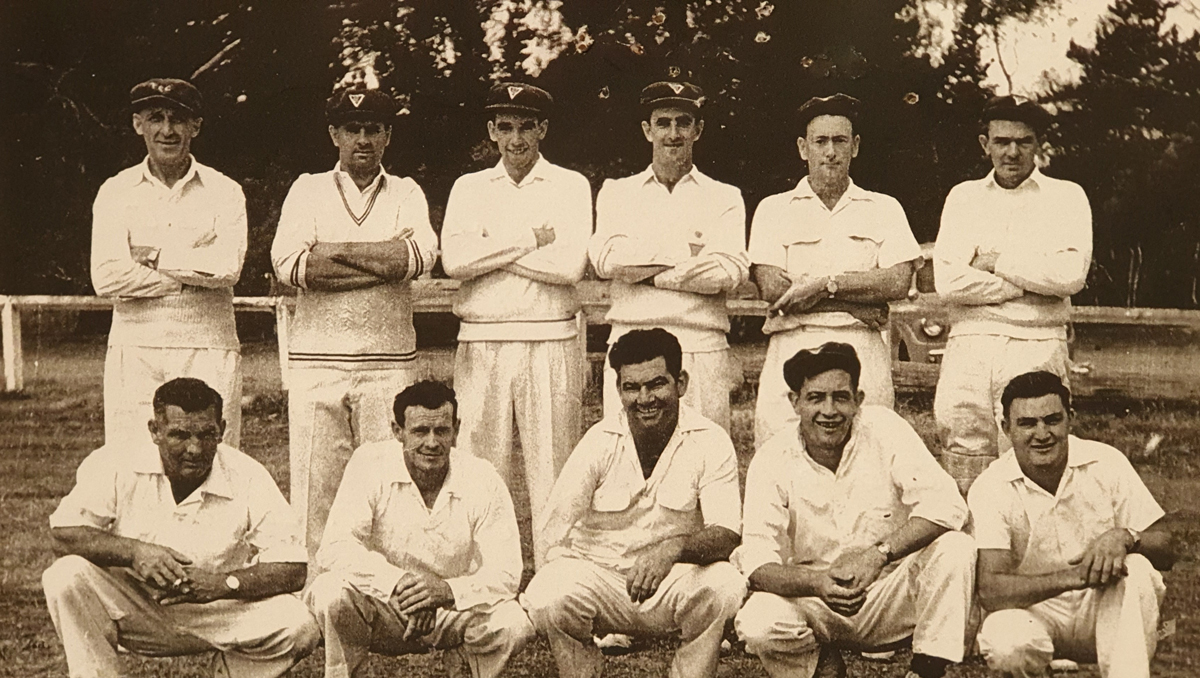 Ron started his cricket career at Tyabb in the 1945/46 season at the tender age of 16. He was still at Frankston High School and became the 229th cricketer to play senior cricket at the club. That season he only played a handful of games but impressed the senior players with his application and athleticism. Over the next few years Ron was at boarding school and was only available to play during the holidays. It was not until then 1949/50 season that he started to make an impact as a batsman and medium paced bowler. In round 5 of that season against a strong French Island team he made his first 50 and shared in a 104 run partnership with Tyabb club champion Laurie Denham (69) that steered the team to victory.
During the 1950/51 season Ron developed into a hard-hitting right-hand batsman and made a total of 222 runs. Very athletic in the field, he was now a regular in the senior XI and could bowl a few handy overs when needed. About this time Ron became a member of the cricket club committee and over the next 20 years filled many roles including President, Secretary, Treasurer and mentor to the younger players. He was awarded Life Membership in 1959.
Then Tyabb team was still made up of many players who had started before World War II but a change came about in season 1955/56 when Ron, still only 25 years old, was made captain of the club. He brought a new approach, introducing many young players to senior ranks: the likes of Geoff Stockton, Colin Clarke, Don Prout, Richard Everist and Richard Francis to name a few. In season 1956/57 Ron was the team's best batsman making 343 runs with a brilliant 84 against Somerville that gave Tyabb a win. He won the club's batting average and the club just missed out on a finals berth.
In the following season Ron missed a number of games and the team slipped back, being relegated to B grade. In 1958/59 Ron resumed the leadership role and again won the batting trophy as the club re-established itself. Things improved further in 1959/60 when Ron, now mature in his game, made 333 runs and Tyabb made the finals for the first time for a number of years. In the semi final against Heatherhill Ron was the star making 66 and, with the assistance of Ken Davidson (67), they secured a berth in the grand final. Ultimately French Island proved too strong although Ron held the Tyabb innings together with a fine 41.
The following season Ron made 292 runs including his first century (119) against Baxter before another loss by just four runs to French Island in the semi final. Another batting trophy came Ron's way in 1961/62 as he had his best year, compiling 617 runs including another century as Tyabb defeated French Island in the semi final, only to lose to Heatherhill in the grand final.
Misfortune occurred in 1963 when Ron was severely injured in a tractor accident. This derailed his cricket career and, although he did make a comeback to senior cricket, his injury made it difficult for him to run. However he became heavily involved in Tyabb junior development and was always around the club mentoring the younger players.
Ron Grant was also involved in pennant and other committees of the Mornington Peninsula Cricket Association and in 1971 he was awarded Life Membership as an appreciation of over 20 years of service including some time as Vice President. The tribute from the MPCA, which was read out at the funeral, stated, inter alia: "He was a strong advocate for juniors playing cricket, not only because it gave the players a sense of belonging to the local community but a grounding for how to work together as a team through communication, sportsmanship and commitment to others."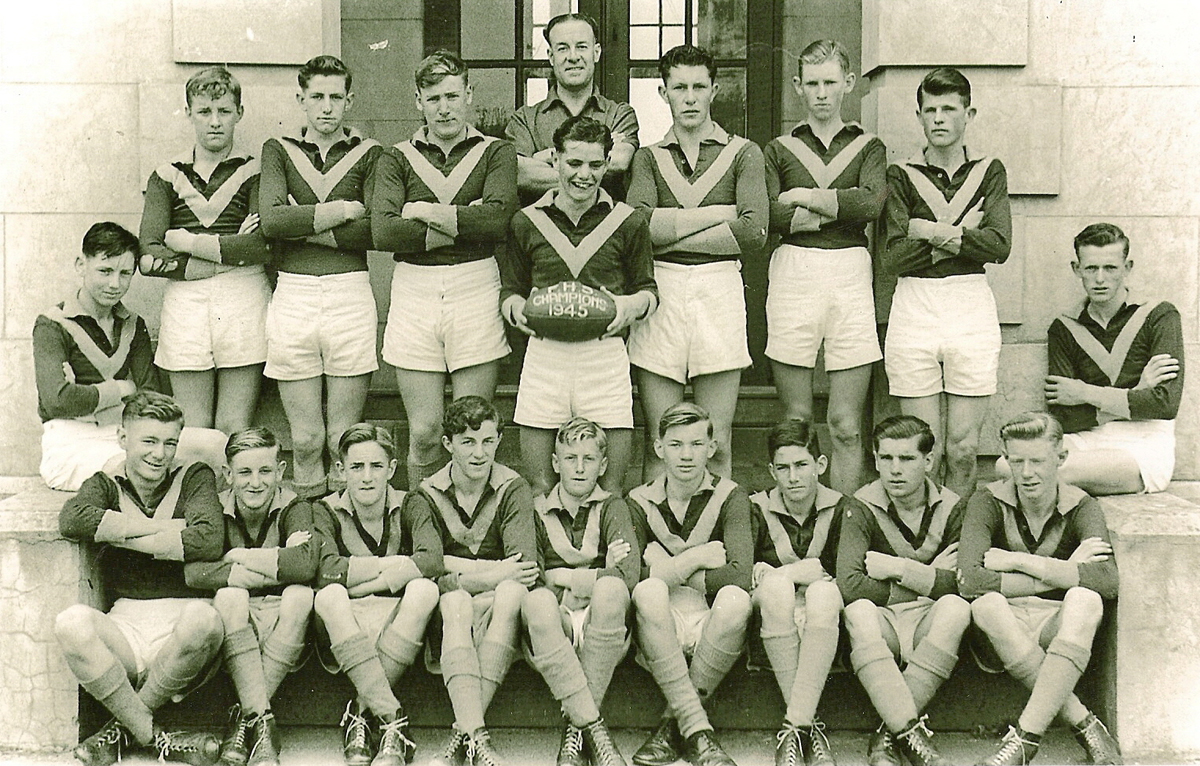 Football
After World War 11 football on the Peninsula returned quite quickly with Tyabb entering a team in 1948 after a short stint as a combined team with Hastings. It was not until 1949 that Ron began his football career; he played all 16 games and kicked 16 goals mainly as a half forward. Tyabb made the C grade finals that year only to lose to Sorrento but Ron gained valuable experience. Season 1950 saw Ron develop quickly to become a key forward; his strong marking and long kicking were assets for the team. He fitted into the strong forward line with veteran Laurie Denham and youngster Don Prout being the main targets. Tyabb, under the guidance of local football legend George Slocombe, had a good year but again missed the finals. Again, Ron scored 16 goals in his 16 games.
Season 1951 came around and the club, impressed by Ron's attitude and team play, made him captain of the club at just 20 years of age. Now playing at centre half forward he excelled, kicking 32 goals in the 16 games. He won the club's best-and-fairest award and also polled well in the League award receiving 14 votes and being placed fourth behind the winner, Colin Wagner.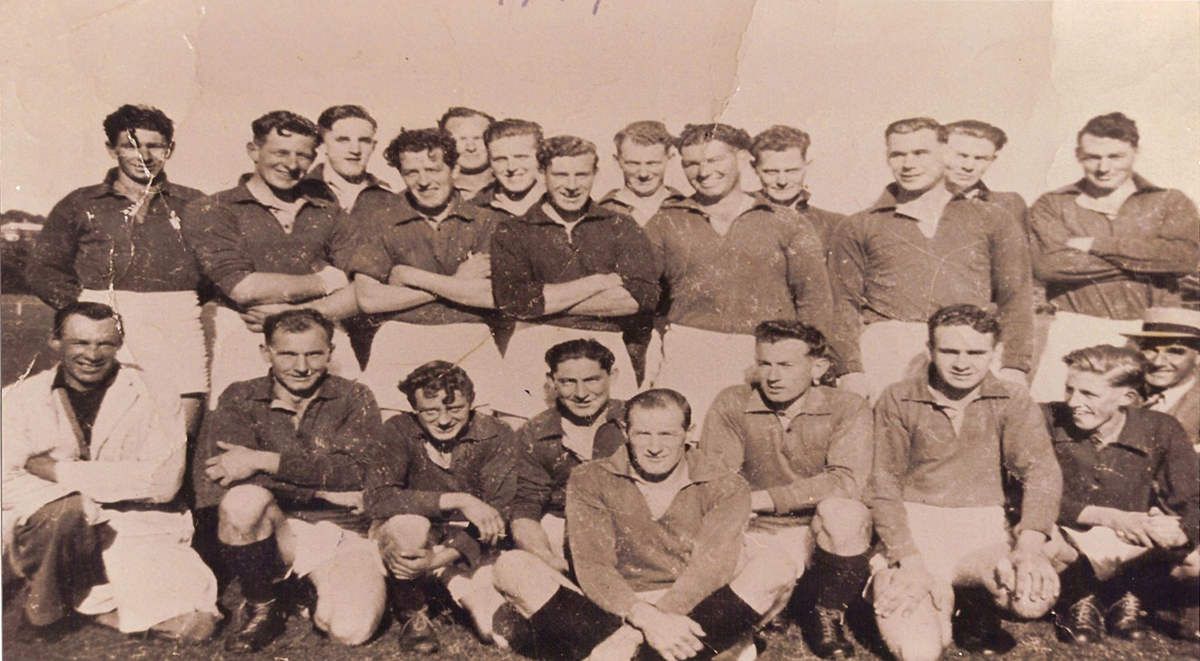 At the end of 1951 George Slocombe returned to Hastings and a number of players followed. Tyabb went into recess. Now in his prime, Ron trained with Collingwood before starting the 1952 season with Hastings. Ron played the first nine games but then missed seven games with a back injury. He returned for the last two games but the back injury brought his football career to an end at the age of 22.
The retirement notwithstanding, Ron did manage to front up for one final game: on Saturday 4 October 1952 a group of Hastings footballers travelled to Rochester to play the home team in acharity match. The Hastings team, Ron included, was bolstered by a few recruits from Essendon. Some of them could be described as handy players as the team list included the names Coleman J., Hutchinson W., Gill J. and several others. Rochester, not to be out-smarted, managed to round up their one group of ring-ins; their team list had a decided Footscray flavour and included names such as Whitten E., Collins J., Ross D., and Henderson H.
Ron remained interested in local football throughout his life. Nominated by the Hastings FC, he served on the Nepean Football League Tribunal for many years. As recently as the last football season, Ron was still attending local matches.