By Keith Platt and Liz Bell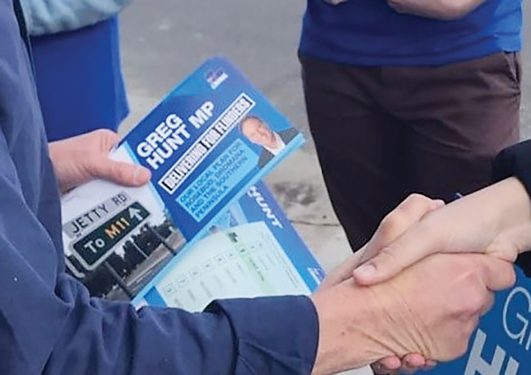 ACCUSATIONS of "laziness" and "inaction" over the failure to begin work on two major Mornington Peninsula road projects have sparked an extraordinary war of words between federal Liberal member for Flinders Greg Hunt and state Labor member for Nepean Chris Brayne.
On Wednesday, Mr Hunt labelled Mr Brayne "the laziest MP in Australia", who he says refuses "to spend federal funds to save lives on our local roads" (Letters Page 38).
"The federal government has had $75 million of funding on the table for three years for the Jetty Road intersection with the Mornington Peninsula Freeway – and $20 million for the Uralla Road and Forest Drive intersections with Nepean Highway in Mount Martha," he said.
"This is money that is ready to go for state projects that will save lives. At the end of the day instead of fighting to get his own team to match these funds and get the Jetty Road project done, Mr Brayne has wasted three years making excuses why his state Labor government is refusing to build the road and has failed to deliver a dollar for the project."
Mr Brayne said on Sunday that the $3.5 million federal government-financed business case for the Jetty Road overpass was due at the end of this month, but the construction money promised by Mr Hunt "has not come through yet".
He expected the business case to show the total cost of the overpass.
Mr Hunt's spring 2019 Flinders Community News newsletter, under a large heading "Delivering for the Mornington Peninsula" and sitting next to a ticked box, stated: "$60 million in federal government funds to construct a full freeway overpass at Jetty Road". There was no mention of a business case or the need for the state government to contribute any money.
The $60m was on a long list of similarly ticked items of "current and recent federal funding commitments [that] sets out our joint priorities". Again, no mention of the state government involvement.
Mr Brayne last week said it had been one of Mr Hunt's May 2019 federal election promises to deliver the Jetty Road project.
In response to Mr Hunt's accusations that he was "lazy" and not fighting hard enough for the road projects, Mr Brayne said "every single resident in Rosebud" knew Mr Hunt had made the overpass an election promise in 2019.
"It was the issue that won him the election,"
Mr Brayne said he would ask the Department of Transport to meet with Mr Hunt "so he can finally provide them with the money required" once the business case identified the total cost of the overpass.
Also in 2020, Mr Hunt said works in Jetty Road, including the overpass, were expected to start in 2022. Other work, including improvements to the dangerous Forest Drive and Uralla Road intersection with Nepean Highway would also begin this year.
Mr Brayne did not respond directly to questions about whether state government money was also needed for the Uralla Road and Forest Drive intersections at Mount Martha, but called out Mr Hunt's record as Health Minister on the "bungled" vaccine rollout and his "complete failure" to ensure aged care residents received "edible food and proper care" as Aged Care Minister.
"When it comes to laziness, Greg couldn't even be bothered doing his job and attending a meeting with [vaccine producer] Pfizer so, to be labelled the worst MP by him, means I must be doing my job properly," he said, referring to a report in The Guardian (8/9/20).
In October 2020, Mornington Peninsula Shire CEO John Baker entered the political fray by saying the two road projects were among a package of "shovel ready" projects that depended on the state government providing more money ("State money a missing link for projects" The News 28/10/20).
"The shire has a $320 million package of shovel ready projects ready to go," Mr Baker said. "These projects respond to genuine needs within our community and will help soften the economic impacts of the COVID-19 pandemic.
"We are keen to work with the federal member for Flinders, Greg Hunt, as well as the state government, on furthering as many of these projects as possible."
First published in the Southern Peninsula News – 8 March 2022