HASTINGS author Frances Henke wrote a trilogy over six years from 2013, but when readers finished the third book they asked her: what happens next?
The prolific author, who has penned more than two dozen titles in a long career, also wanted to know, so she wrote another book.
The Coriolis Effect was published last month, and the trilogy became a quartet and Henke has ideas for a fifth. All four have been bought by the Victorian History Library, a nod to her meticulous historical research.
She calls it the Fair Wind series, named after the first novel, The Other Side of the Wind, which was set in and around Geelong and the Bellarine Peninsula.
The series follows the lives of the Anderson family with newlyweds Edward and Catherine, both talented artists, arriving from England during Victoria's 1850s gold rush. The second book has the Eureka Rebellion as its theme, and number three introduces the only child of the couple, a daughter, and the father's years in the wilderness.
In the latest book, the girl is now an adult and has become one of Australia's leading authors, albeit under a nom de plume. She embarks on a transformational sea voyage.
Henke wrote the book during the pandemic and under duress after two surgeries for a new hip.
She dubs it her second pandemic as she was diagnosed with polio as a girl, her family forced to quarantine in Gippsland. The lockdowns of 2020 and 2021 gave her the chance to research and write, with no visitors allowed, but after falling ill following the first surgery, she was concerned the book would never be finished, that she would forget everything. "Polios don't wake up well from one anaesthetic let alone two," she said.
Added pressure was being "haunted by medical staff in PPE", as had occurred during childhood.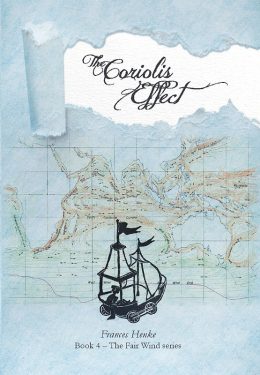 Her short-term memory was affected but she just kept writing and illustrating the book – a skill honed after completing a visual arts diploma at age 65 at Chisholm Frankston, majoring in sculpture and printmaking. "Joy and new confidence returned," she said.
And the title? It's a reference to the book's characters being buffeted by circumstances beyond their control. Because the Earth rotates on its axis, circulating air (including hurricanes/cyclones) is deflected towards the right in the northern hemisphere and to the left in the southern hemisphere. This is the Coriolis Effect.
The book will be launched at 2.30pm on Saturday 23 April at Western Port Craft Expo, Hastings Hub, 1973 Frankston–Flinders Road. After the launch, Henke will lead a discussion on the craft of self-publishing.
The Coriolis Effect, $25. Copies are available at Petersen's Bookshop, Hastings, or through Flying Pony Press website.
Mike Hast (who edited the book)