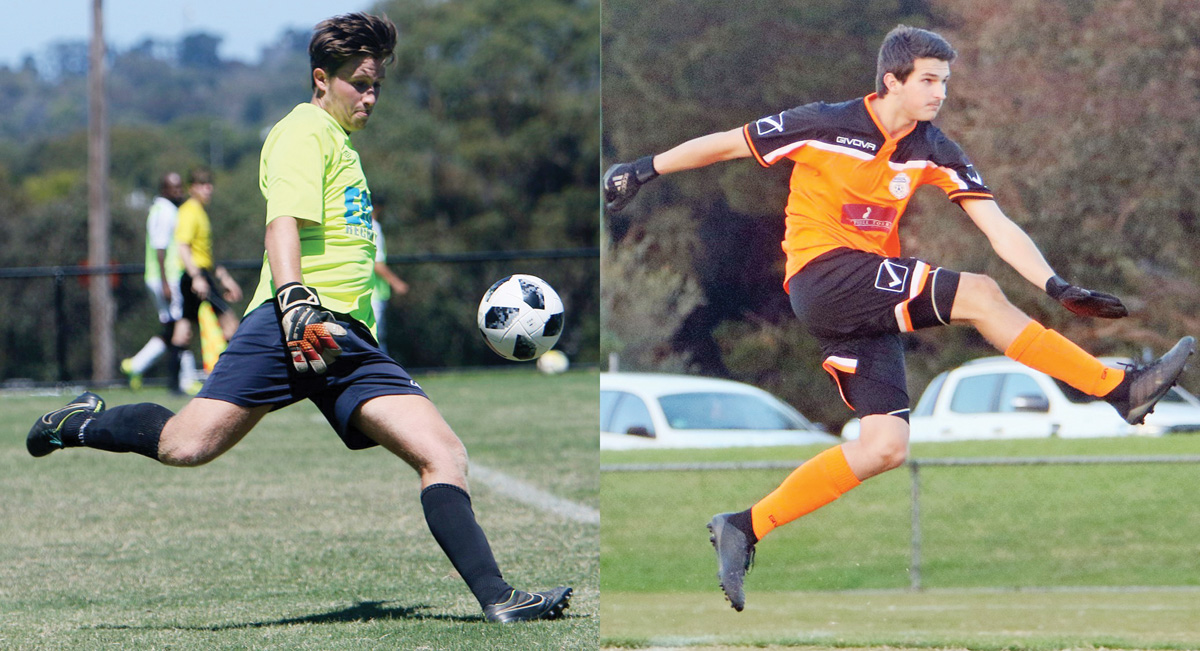 SOCCER
BAXTER shot-stopper James Foster last week re-signed for a sixth straight season and will be officially joined this week by Frankston Pines goalkeeper Jarrod Nardino.
The pair will go head-to-head for the prized No 1 spot in a senior squad reshaped by first-time senior coach Stephen Fisher.
Foster's junior career involved stints at Langwarrin, Caulfield Cobras, Peninsula Strikers and South Eastern Piranhas and his senior clubs have been Langy and Baxter.
His full senior debut for Langwarrin was in the derby cauldron at Dallas Brooks Park against Mornington and the then teenager acquitted himself well.
Now 24 years old he has been a walk-up start as Baxter's first choice throughout his time there but faces competition next season.
"I was 50/50 about not playing again but I'm confident that the new coaching crew will be good for us as a team going forward," Foster said.
That's a reference to Fisher, assistant Hayden Taylor and new goalkeeping coach Chris Jones.
"But I'm not there to be a fringe keeper," Foster added.
Neither is Nardino.
The 25-year-old started as a junior with Mornington then played senior football with Peninsula Strikers, Springvale White Eagles and Pines.
He made five appearances in NPL2 East with White Eagles in 2019 and last season was second choice keeper at Pines.
"I had a good relationship with 'Dos' (Hayden Taylor) so I followed him over (to Baxter) and I liked the way 'Fish' described everything to me and how it was going to work," Nardino said.
"Plus I thought there was more of an opportunity to play senior football week-in week-out.
"It's exciting. I was in the reserves last season and there was no competition there while it was hard to get into Pines first team.
"The one year I had proper competition as senior keeper was at Strikers and it was probably one of the best years I've had."
Foster and Nardino will be under the watchful eye of former South Melbourne and Langwarrin keeper Jones, who is believed to be Baxter's first goalkeeping coach.
Jones was Foster's last goalkeeping coach when the pair were at Langwarrin while Nardino has never met Jones but "has been told all about him."
Jones admits that he couldn't say no to Fisher when first approached and he's keen to start work at Baxter Park.
"It's just really good to see the club move forward and there's a huge buzz around the place with the player signings," Jones said.
"To be honest I haven't seen these guys (Foster and Nardino) play for a while so it's going to be a fresh start and I'm really excited about it.
"Obviously we'll be training really hard and I'm looking forward to seeing what they have to offer."
Current and prospective players will get their chance to listen to and ask questions of the new coaches at a meet-the-coach evening on Thursday at Baxter Park.
One of the attendees will be little known Dylan Murchie, announced this week as a new arrival at Baxter Park.
The 24-year-old played two games in Pines' reserves towards the end of last season and former Pines senior coach Kevin "Squizzy" Taylor describes him as "a bit of a coup for Baxter."
"His movement was good and he's played at a high level," Taylor said.
"He probably would have been in Pines senior squad next year had I been there."
Murchie can play up front or as an attacking midfielder.
He grew up in Pretoria and has played in both his native South Africa and in Spain.
In NPL2 news Langwarrin is actively pursuing a number of signings from other NPL clubs but won't continue its interest in crack striker Alex Fiechtner from Brisbane Lions.
The 23-year-old NPL Queensland Golden Boot winner scored 24 goals in 19 games last season.
Striker Ryan Paczkowski, dumped by Langwarrin before the last match of last season, will return to Lawton Park next year – in the colours of Preston Lions.
The former Mornington, Bentleigh Greens and Oakleigh Cannons player agreed terms with this year's NPL3 champion last week.
Paczkowski's fiancée, Rachel Stirton, already plays for Preston and was the VPL Women's Golden Boot winner this year as her club clinched the championship and Grand Final double and earned a place in the expanded NPL Women's competition for 2023.
Another ex-Langy player – goalkeeper Fraser Maclaren – might also be back in action at Lawton Park as he is believed to have been made a contract offer by relegated NPL club Dandenong City.
In State 1 news Mornington was blindsided by the departure of assistant coach Gerry McDonagh who last week was appointed senior coach of NPL3 club Doveton.
Mornington gaffer Adam Jamieson is meeting with a prospective replacement this week and is expected to shortly announce the club's new reserves coaching set-up after the recent departures of Jason Symonds and Scott Morrison to Peninsula Strikers.
In player news Ziggy Razuki, signed last season from Eastern Lions, has agreed terms for next season.
In State 2 news Frankston Pines has re-signed captain Ryan Ratcliffe, Daniel Taylor and keeper Thomas Hull with more player announcements expected from the Monterey Reserve outfit in coming weeks.
Hull is a clutch signing as rumour linked him with NPL3 and State 1 clubs and given that back-up keeper Nardino has left it was important for new coach Trevor Johnston to retain the big English shot-stopper.