TWENTY seven candidates are contesting for the three state government seats that cover the Mornington Peninsula in the Saturday 26 November election.
There are eight candidates each in the Mornington and Hastings electorates and 11 in Nepean.
In 2018 there were 13 candidates spread across the peninsula's three districts.
The three peninsula seats had for years been regarded as safe Liberal, but that ended in 2018 with Chris Brayne's unexpected win for Labor in Nepean.
Brayne is the only sitting MP seeking re-election following the resignation of Hastings MP Neale Burgess and David Morris being dropped by his own party in Mornington.
After a redistribution of electoral boundaries, Hastings is nominally Labor while, Brayne's hold on Nepean is less than two per cent.
None of the major parties' candidates have scored the coveted top spot on the ballot paper, which sees Brayne coming 10th on the list of 11 in Nepean. The Companions and Pets Party's Joy Miller enjoys being the first of the 11 candidates, with Liberal Sam Groth coming fifth.
In Mornington, independent Kate Lardner is first on the ballot paper, with Liberal Chris Crewther third and Labor's Georgia Fowler seventh.
In Hastings, the Animal Justice Party's Tyson Jack has scored the top spot, followed by the Greens Paul Saunders and Labor's Paul Mercurio. Liberal Briony Hutton is seventh.
While candidates and their teams make themselves known in their own individual ways, what is notable and certainly higher profile than most candidates' campaigns, is the electoral involvement of Mornington Peninsula Shire Council.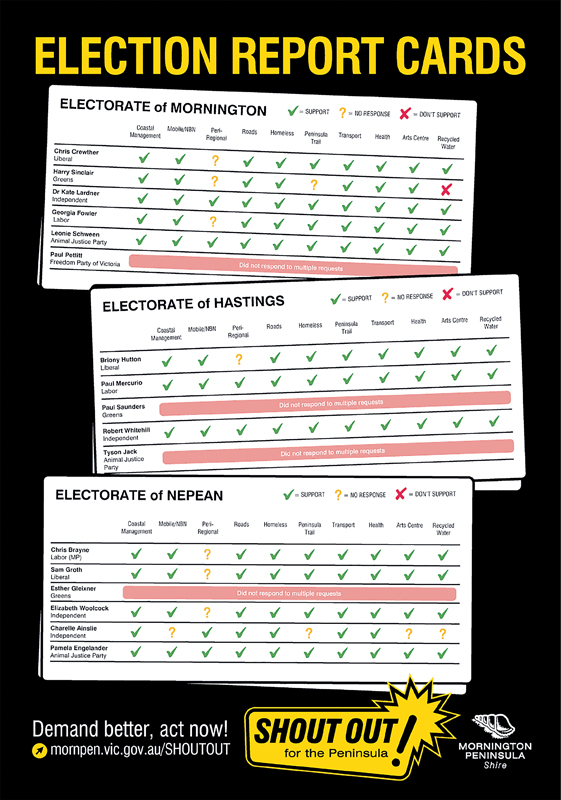 Mornington candidates as they appear on the ballot paper:
Kate Lardner, independent
Leonie Schween, Animal Justice Party
Chris Crewther, Liberal
Ross Hayward, Family First Victoria
Paul Pettit, Freedom Party of Victoria
Jane Agirtan, independent
Harry Sinclair, Australian Greens
Georgia Fowler, Labor
Following a fledgling foray into activist politics during the May federal election, the shire has taken its "advocacy", or lobbying, well beyond listing candidates' promises on its website.
Its Shout Out campaign goes beyond the pledge tracker introduced for the May poll. While the online pledge tracker lists the dollar value of candidates' pledges and promises, the shire has been running print advertisements and sent candidates a questionnaire about their attitudes towards some issues that do not require spending commitments.
The "report card" issued by the shire based on candidates' responses showed the major parties – except in Hastings where Cr Paul Mercurio is standing for Labor – as being unwilling to back the shire's proposal to be classed peri-regional instead of the current metropolitan or regional. Liberal candidate in Hastings, Briony Hutton, was previously executive officer of the business lobby group Committee for Mornington Peninsula, which wants the peninsula classed regional.
The shire's questionnaire – distributed before all candidates were known – went to six candidates in Nepean and Mornington and five in Hastings.
Three of the 17 chose not to participate: Freedom Party of Victoria candidate Paul Pettitt in Mornington; Paul Saunders, Greens and Tyson Jack, Animal Justice Party in Hastings; and Esther Gleixner, Greens, Nepean.
As for the pledge tracker, on Tuesday 8 November it showed the Liberal candidates promising to spend more than $1.3 billion if their party wins government, compared to Labor's $12.7 million. The Liberals' promise included $746m on an electric train service, including new stations outside the Hastings electorate, from Frankston to Baxter.