By Barry Irving
R J Rowley Reserve was the venue for the running of the 47th Rye Gift on Saturday 14 January.
After a two year covid hiatus, competitors and supporters of athletics turned up in numbers to watch this iconic Mornington Peninsula event.
The Rye Cricket Club provided a sumptuous sponsors lunch that was enjoyed by all.
Rye sports and Social Club President Gary Gillies welcomed the sponsors and guests thanking the sponsors once again for getting behind the event despite a tough couple of years.
Major sponsor Bendigo Bank Community Bank Southern Peninsula board chairman Vin Cheers spoke of the bank's commitment to local clubs and associations adding the bank was proud to support the gift with a $15,000 sponsorship.
Other speakers representing local and state government were councillors Sarah Race, Antonella Celli and Sam Groth MP Member for Nepean.
The event is run under the very professional team from the VAL (Victorian Athletics League).
Competitors travel from across all Victoria to this the first event on the VAL calendar.
It was a hot start to this year's competition with temperatures approaching 30 degrees, made a little more bearable by a light easterly breeze.
The kids enjoyed face painting and a jumping castle, while for adults a beverage tent and a variety of hot food was available all day. A bookmaker was on site for those fancied to pick a winner.
In a first since 2014 Rye won both of the junior and the senior footballers relays cheered on by a noisy parochial crowd.
The two feature events on the day were the 120 metre Women's Rye Gift and Men's Rye gift.
Both were fiercely contested with 54 women competing in seven heats plus semi-final to finalise the eight finalists that included two Olympians.
The men's event also drew a large entry with 80 competitors over ten heats and semi-finals to reach the last eight.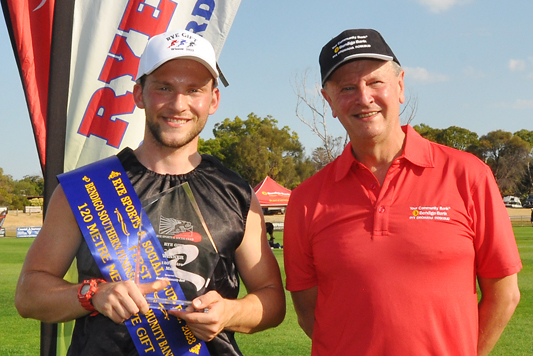 Results for the men's 120m Rye Gift:
1st Nicholas Antonino H'cap 8.25 completed time 12.447
2nd Jackson Bennett H'cap 4.5 completed time 12.503
3rd Maki Loukeris H'cap 7.5 completed time 12.553
In what proved to be a first for the Rye Gift and highlight of the day, Bella Pasquali won the Womens Gift. Seventeen-year-old Bella is the daughter of Anna Deery, winner of the gift in 2003, 2004 and 2005. Unfortunately Anna was not able to be present to witness her daughter's historic win.
Results for the Womens 120m Rye Gift:
1st Bella Pasquali H'cap 7.25 completed time 13.852
2nd Halle Martin H'cap 11.75 completed time 14.065
3rd Kiara Reddingius H'cap 4.00 completed time 14.125
Missed the gift this year? Mark it in your diary for the second Saturday in January 2024!