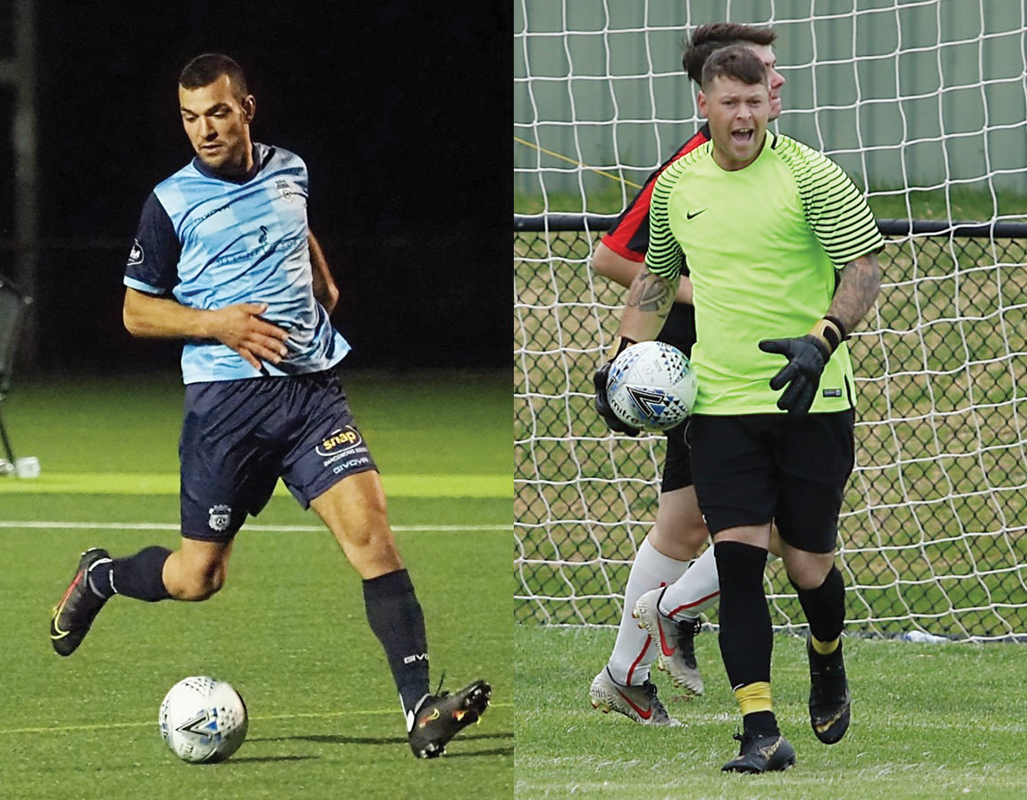 SOCCER
MARINOS Panayi quit Frankston Pines last week and captain Ryan Ratcliffe is trialling with Casey Comets.
And Rosebud has secured the goalkeeper it sought by luring former Langwarrin, Peninsula Strikers and Knox City custodian Colin McCormack out of premature retirement.
State 5 club Rosebud was delighted to secure McCormack after losing Hayden Hicks to Seaford United.
Rosebud coach Paul Truman had been trying out two younger keepers and was keen to sign an experienced gloveman.
"Signing Colin is a big plus for us," Truman said.
"Having an experienced keeper is so important if we're to build a really competitive side."
McCormack, 32, stopped playing after the 2018 season due to work and family commitments.
Panayi left Pines citing complaints about a lack of a physio, no goalkeeping training and the seniors and reserves not training separately.
Senior coach Trevor Johnson refused to get involved in "a tit-for-tat exchange" while president Lee Davies stressed the need to consider any issues "within the context of the fact that we are an organisation run by volunteers."
In a busy week of player movement Pines goalkeeper Thomas Hull flew back to England on Saturday due to a family illness while defender Daniel Taylor has joined Baxter.
But rumours that other Pines players – Joe O'Connor, Keegan Grealy and Calum Batey – could also be on the move proved unfounded and Johnston was given a forceful endorsement from O'Connor.
"We back Trev at the end of the day and we think the club can have another progressive season," O'Connor said.
And Pines have their own recruitment drive underway with the Monterey Reserve club planning an ambitious move for a senior assistant and some new signings.
If successful it is bound to turn heads.
Meanwhile Mornington has signed Satoshi Kurakawa and Mehdi Sarwari.
Kurakawa, 24, a defender signed from Caroline Springs George Cross, was on the books of Japanese club EV Internacional Fukuoka before joining Georgies last year.
Midfielder Sarwari, 25, was signed from Richmond and includes Melbourne City, Oakleigh Cannons, Langwarrin and Northcote on his CV.
Mornington hosted NPL2 outfit Dandenong City on Saturday morning going down 3-2.
Scottish import Rory Currie scored both goals for the home side to continue an impressive strike rate since his recent arrival.
In NPL2 news Langwarrin had a 5-3 win over Boroondara at Lawton Park last weekend.
Sloppy defending saw the home side go 2-0 down in the first 10 minutes but goals from Josh Varga and Tommy Youngs had scores locked at 2-2 at half-time.
Within 15 minutes of the restart Langy led 4-2 through Brad Blumenthal and a now mandatory Archie Macphee goal.
Blumenthal made it 5-2 with 15 minutes to go before Boroondara scored from a corner in the last 30 seconds.
In State 2 news Peninsula Strikers won their friendly against NPL3 outfit Beaumaris 1-0 at Centenary Park on Saturday.
Beaumaris had the best chance of the first half but Strikers' keeper Ben Caballero made a fine low save.
The game was more open in the second period and Strikers struck the decisive blow.
Andy McIntyre switched the ball wide to Huss Chehimi who rolled his defender then played a sharp pass inside the box to Riley Anderton.
The New Zealand striker took a touch then slammed a low left-footed drive into the far corner for the winner.
Beaumaris hit the woodwork and had other chances to score but Strikers – marshalled superbly at the back by Steve Elliott – stood firm.
Skye United took on State 2 North West side Altona East at Monterey Reserve on Saturday and ran out a convincing 2-0 winner.
A sweetly struck Harrison Michaelis shot and a fine finish from Jason Nowakowski capped off a solid team display.
In State 4 Somerville Eagles defeated Mentone 3-1 at Knox Regional Centre on Saturday.
Somerville went 1-0 down early after claims for a foul on Hamish Budgen were ignored leaving prolific Mentone scorer Marcus Spivey one-on-one with Somerville keeper Nathan Brown and the striker made no mistake.
Josh Simmons levelled with a powerful header following a Conor McFall free-kick and later in the first half a slick passing movement saw McFall's shot rebound to Tom Simmons who gave the Eagles a half-time lead.
In the 60th minute a nice passage of play down the right and a smart flick inside the box found Reilly Saffin who placed his shot past the Mentone keeper to complete the scoreline.
State 4 rival Baxter lost 4-2 to State 3 outfit Noble Park at Baxter Park on Saturday.
Impressive South African Dylan Murchie scored both goals for Baxter who had five first teamers unavailable.
On Sunday Baxter confirmed the signings of Tristan Stass and Noah Green from Frankston Pines.
Another State 4 local, Chelsea, lost 5-0 away to Casey Panthers last weekend with all the goals coming in the second half.
As we went to press Chelsea was waiting for council approval to host its Australia Cup away tie against St Kilda at Edithvale Recreation Reserve on Friday night.
Check Chelsea's facebook page for confirmation.
In State 5 Seaford United finished a productive week by winning both friendly matches and scoring 19 goals and conceding just one.
Paul Williams' men won 4-0 at home last Tuesday against Brandon Park reserves with Abraham Lueth (2), Andrew Packer and Luke Murray on target.
On Saturday North Seaford Reserve was the venue for a goal tsunami as the local side swept aside Officer winning 15-1.
Seaford's scorers were Josh Vega (4), Khalil Bahrami (2), Abraham Lueth (2), Blake Hicks, Luke Murray, Jonas Harrasser, Esmat Ahmadi, Johnny Castillo, Callum Norton and Luca Rudolph.
On Thursday Rosebud beat Skye United 2-1 at Olympic Park with Noah Musso scoring both Rosebud goals and Lewis Gibson scoring for Skye.
The draw for the first preliminary round of the Australia Cup was held last week and six local clubs will be participating this weekend:
FRIDAY (10 February)
St Kilda v Chelsea, Edithvale Recreation Reserve, 8.30pm.
SATURDAY (11 February)
Latrobe University v Seaford Utd, Latrobe University, venue & KO TBC; Mount Martha v Tullamarine, Monterey Reserve, 3pm; Reservoir Utd v Mentone, Latrobe University, 2pm; Keilor Wolves v Aspendale, Green Gully Reserve (pitch 4), 3pm.
SUNDAY (12 February)
Glen Eira v Baxter, Baxter Park, 3pm.
Here are this week's pre-season friendlies:
WEDNESDAY (8 February)
Beaumaris v Skye Utd, Beaumaris College, 7.30pm; Rosebud v Somerville Eagles, Olympic Park,6pm & 8pm.
THURSDAY (9 February)
Langwarrin v Doveton, Lawton Park, 7.30pm seniors & U21s.
SATURDAY (11 February)
Doveton v Mornington, Waratah Reserve, 11am seniors & 1pm reserves; Chisholm v Skye Utd, Jack Edwards Reserve, 10am & 12 noon; Geelong Rangers v Peninsula Strikers, Myers Reserve, 1pm & 3pm; Frankston Pines v Brighton, Monterey Reserve, 10am seniors & 12 noon reserves; St Kevin's Old Boys v Somerville Eagles, Egan Lee Reserve, 1pm & 3pm.