Dim view of drastic prune
This picture, below, is an example of Mornington Peninsula Shire's and its arborists incredibly caring approach to tree management.
Sadly, Balnarring Beach koalas and residents have lost their battle to save this 70 to 100-year-old manna gum.
On Tuesday (28 March) morning council contractors and a platoon of police blockaded Balnarring Beach Road and proceeded to destroy another of the peninsulas koala food trees.
Residents had given alternatives to destroying this tree, but the shire chose to ignore them all. Vale Manny the manna gum.
Rupert Steiner, Balnarring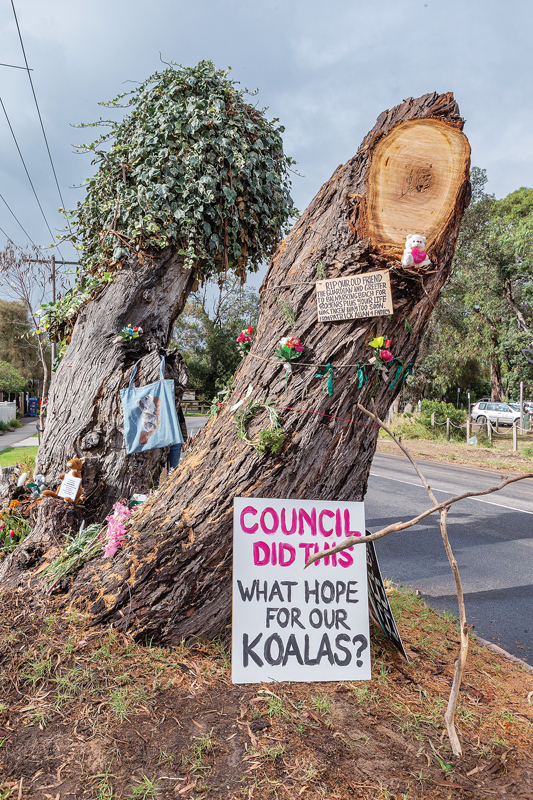 ---
Koala habitat lost
I am absolutely disgusted with Mornington Peninsula Shire Council after they cut down the manna gum on Balnarring Beach Road. Who sanctioned this action? Whoever it was, they should lose their job.
Council makes a big noise about sustainability and protecting the environment when its actions do the opposite.
It can now be pleased that it has taken down a tree that provided habitat and food for koalas. Will council be happy when it drives the koalas to extinction because their habitat has been destroyed? There should be consequences for this dreadful action.
Wendy Gown, Shoreham
---
Times have changed
The letters on Hastings development bring back memories of my State Rivers days when we looked after Mornington Peninsula's water supply, swamps, Frankston's Kanaook Creek (which was getting polluted from adjoining properties' drainage) and installed the walling at the mouth to stop erosion.
Arguments over Hastings industrial development proposals and effect on the mangroves was in full swing, particularly when a strip of land was acquired with a view to extending the railway line for Hastings industry. I remember visiting the mill producing steel sheets, which must have been in the 1970s or 1980s.
On the need for more reliable power, I remember hearing a talk and photos on the big wind power towers in the sea off Denmark (I think) and wonder if similar towers could be erected in Western Port.
It seems odd that we sell coal and gas overseas while trying to restrict the availability to our own population which has had gas appliances installed for years. General Monash would be horrified to think that the brown coal power he helped establish at Yallourn when starting the State Electricity Commission with technical information he grabbed during WW1 when he was leading troops into Germany and aware of their brown coal plants.
It is problem when you get old and can remember how things were.
Keith Murley, Blairgowrie
---
Clifftop hazard
One of the more nerve shredding short trips to be had on the Mornington Peninsula is to follow the 781 bus north on the cliff road [the Esplanade] between Ellerina Road and Lempriere Avenue. With patches of unmanaged erosion right up to the bitumen, watching the tyres of a multi-tonne bus mere inches away, is cause for sharp intakes of breath.
Stabilising tracts of verge foliage have been further hammered by tourist parking over summer, posing the question, when will VicRoads and Mornington Peninsula Shire collaborate to protect these parts with bollards, and declaration of No Parking?
David Martin, Mount Martha
---
Hydrogen a bad deal
An important point overlooked about Japan's intention to spend $2.35 billion exporting hydrogen from Hastings is the source of the hydrogen ("Power struggle over port" The News 28/3/23). The hydrogen would be produced from brown coal or natural gas which, during production, releases carbon dioxide. This means that the Japanese get to use the clean hydrogen and we get to keep the climate damaging carbon dioxide. Not really that much of a deal.
Dr Ross Hudson, Mount Martha
---
Happy to help
It was great to read the article about the need for more volunteer drivers to help Peninsula Transport Assist (PTA) to provide service to everyone who needs it ("Drivers needed to help others get out and about" The News 28/3/23).
I have been one of those volunteer drivers for five years and can attest to the wonderful service PTA provides to those without transport on the Mornington Peninsula and in Frankston.
Many of our clients are already stressed out when they find they suddenly need transport to a hospital or a specialist because they have had a "bad" diagnosis. Knowing they can get to the appointment and home without worry, even if they are confined to a wheelchair, makes a big difference to them.
Sometimes I have driven people home after they get the bad news. Tears may flow, but having someone from outside the family who will listen and try to understand can be of enormous help. Other clients have been taken to the ballet in Melbourne, art shows, concerts at Frankston Arts Centre, you name it, we go there.
One day you may need transport. Don't forget many of us find we are off the road for a few weeks due to an eye operation or a hip or knee replacement. Aging spareth no man – or woman.
Jack Wheeler, Mornington
---
Bonus better spent
Last week my household, like all others across Victoria, took from our letterbox a bright orange postcard. The Victorian government is giving us a $250 "power saving bonus". Again.
All we have to do is go online, make a simple application, and the money is ours. No matter if we're not struggling to pay the bill, or even if we're the wealthiest family in the state. It's a giveaway.
This would all be very exciting if I hadn't, just the week before, read The Guardian's article Victoria's social housing stock grows by just 74 dwellings in four years despite huge waiting list. It seems that even though the state government should be well into its heavily publicised Big Housing Build, only 74 desperate families have been taken off a list of tens of thousands who are waiting for a home.
Perhaps many of us who have a roof above us and electricity at hand, might think the $250 could be better spent?
David Hunt, Frankston
---
Containing costs
Though the price depends on the size of the home, many shipping container homes work out to be half the price per square foot of a conventional home ("Containing the housing crisis" The News 14/3/23). The average price of a very basic shipping container home begins at about $15,000 for a new container with a simple fit-out and ranges to about $70,000 for a two bedroom.
Typically, a cargo-worthy 20 foot container in Australia can cost you anywhere between US$1600 and US$2000. And a cargo-worthy 40ft container will cost around US $2500.
A new 40ft dry container will cost somewhere between $2500 to $4500, whereas a new 40ft high cube (HC) container will cost you around $2500 to $6000.
According to HomeAdvisor, converting a shipping container into a tiny home costs about $19,600.
Depending on the size, structure and design, a shipping container homes' price could range from $15,000 for sale as new with a basic fit-out, to around $50,000 for a 12 metre two-bedroom container.
Joe Lenzo, Safety Beach
---
Letters – 300 words maximum and including full name, address and contact number – can be sent to The News, PO Box 588, Hastings 3915 or emailed to: team@mpnews.com.au