BALNARRING Beach came to a standstill last Tuesday (28 March) when police held up traffic for Mornington Peninsula Shire Council workers to cut down a tree.
The shire said the 70 to 100-year-old manna gum was leaning over Balnarring Beach Road and was a traffic hazard.
Residents who have been fighting to save the tree showed their anger at its axing by gathering alongside the remnants of its trunk and hanging signs condemning its loss.
"We leave far more dangerous large pine trees reaching their lifespan on 80 to 100 kilometre an hour roadside that often fall across roads risking lives, but remove a healthy koala manna gum in a 40 kilometre speed area that actually helped slow traffic to the existing speed zone," Cr David Gill said.
"The face of our semi-rural municipality is rapidly changing to meet urban expectations because the state government applies the Melbourne planning scheme and out of date road regulations to our scenic Mornington Peninsula.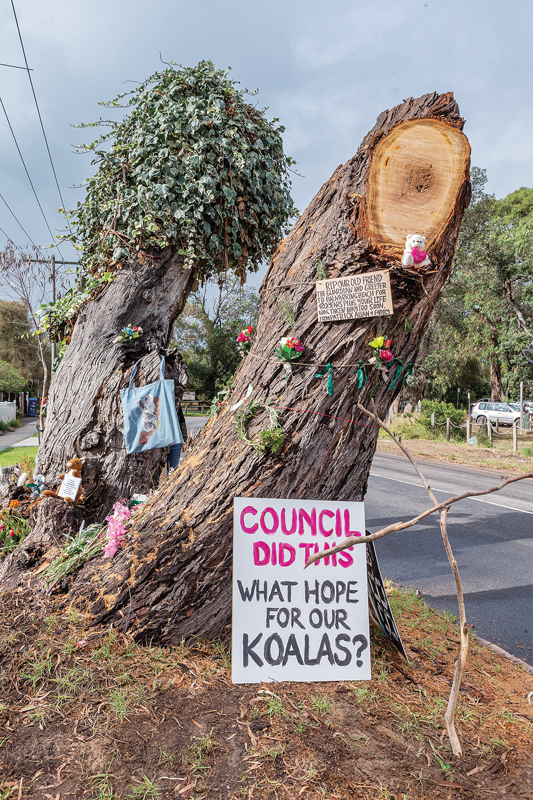 "We will not fully understand what we are losing until it is gone."
Susie Beveridge, a former councillor and candidate for the Watson Ward seat won last month by Kate Roper, accused the council of being "underhanded" and cutting the tree down when Gill was "effectively shut away in a council meeting".
Beveridge said the shire's claim of the tree being too close to the road had been "exposed to be a bit of a furphy" as there was room on the road for vehicles to pass the leaning tree.
"Many horse floats travelling to Balnarring Beach don't seem to have an issue with moving over slightly to give the tree a berth," she said.
"Residents and the ward councillor David Gill had fought to save this particular tree. it's lean had not increased at all over the years; it had survived the earthquake and the tremendous windstorms that swept through, uprooting many healthier specimens.
"This tree had stood strong, until the chainsaws came."