SUMMER may be just around the corner, but users of Sunnyside Beach North, Mount Eliza fear they are being left out in the cold by Mornington Peninsula Shire Council.
The beach is renowned for being the only one on Port Phillip where public nudity is legal, but the shire has been accused of ignoring safety in making the beach difficult to access and is about to introduce paid parking.
Sunnyside, an isolated beach between Mount Eliza and Mornington, is one of three peninsula foreshore parking areas chosen for this summer's paid parking trial ("Permanent paid parking to depend on trial results" The News 15/6/23).
The other two parking areas are Schnapper Point, Mornington and around Flinders pier, both near towns and businesses.
Michael James, the Victorian representative on the Australian Naturist Federation, said "many people" believed Sunnyside was earmarked for paid parking in an attempt to dissuade people from using the clothing optional beach.
"We would expect this to be vigorously denied, but we are not convinced that it was not a factor," he said. "Many of the users of Sunnyside North beach are pensioners or those on very low incomes who just want a low-cost day at the only naturist beach in Melbourne."
It will cost $6.20 an hour or $19.50 all day to park at Sunnyside from 8am to 8pm.
Peninsula residents can apply for parking permits.
James, who has been going to Sunnyside North for about 30 years, said questions were yet to be answered about "the real reasons" that had been behind the unsuccessful campaign to revoke the clothing optional status of Sunnyside North.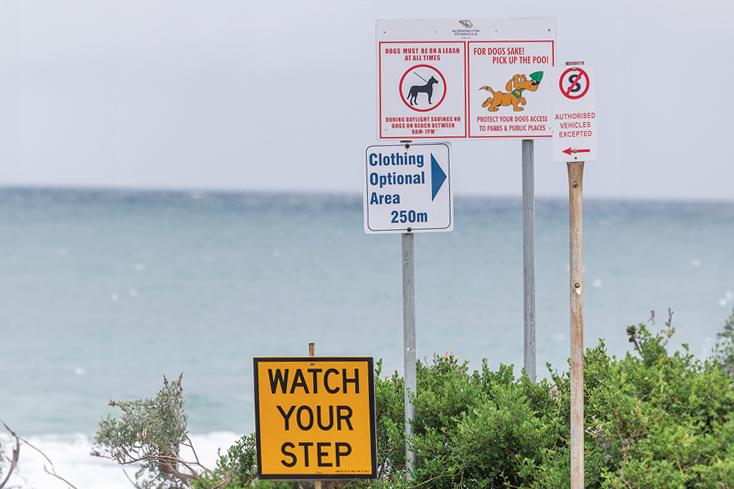 Although the track leading from the car park to optional clothing section of the beach had been poorly maintained and a sign remained on the rocks (despite his notifying council) it was the paid parking trial "that will force some regular visitors away".
"There is not even one other clothing optional beach to choose from. The next closest is Pt Impossible near Torquay and is 176 kilometres each way from Sunnyside North clothing optional beach. A four or five hour round trip, travel time only. Hardly practical nor good for the environment.
"There was to be increased maintenance, much better signage, and camera surveillance of the car park area, not associated with the paid parking trial," James said. "Beach access was to be considered for upgrade if possible. With a report back on progress of these issues 12 months after the council meeting which kept the beach clothing optional, late last year.
James said there was no evidence "to a regular beach goer of any progress in any of these areas, but of course, it could still be in the planning stage by [the shire]".
He said emails to councillors had drawn replies from Cr David Gill, who "commented that he appreciated my points and that he was concerned about why this area was chosen for a paid parking trial".
"Cr Antonella Celi thanked me for raising my concerns about maintenance at Sunnyside and advised that this will be referred to officers to look into the issues that I have raised."
The shire's major project coordination team leader Marcus Harris, in a report to council's 30 May public meeting, said the three sites had been chosen because "they ranked highest when considering key factors such as cost of implementation, the range of business rules that can be tested, technology considerations, and potential to improve vehicle turnover".
A table attached to his report showed that Safety Beach, Rye and Sorrento had been considered in the initial car park "evaluation".
Sunnyside was ranked lowest when it came to "diversity of user groups", but its aggregate score was ahead of the three beaches not chosen for the trial.
"All three pilot locations are best suited to the set-up of vehicle identification (VID) cameras … [which] use licence plate recognition (LPR) technology to detect vehicle number plates and then identify vehicles that have not paid and do not have a permit or have overstayed the parking time limit," Harris said.
The mayor Cr Steve Holland said on Thursday that the "visitor paid parking pilot" would "better manage high demand for foreshore parking and help pay for maintaining and improving our foreshore infrastructure".
"We are working on the final details and will have more to say in the coming weeks about when the Pilot will start and how residents can apply for ePermits," he said.
"Infrastructure changes at each car park will include new parking signs and licence plate recognition cameras."