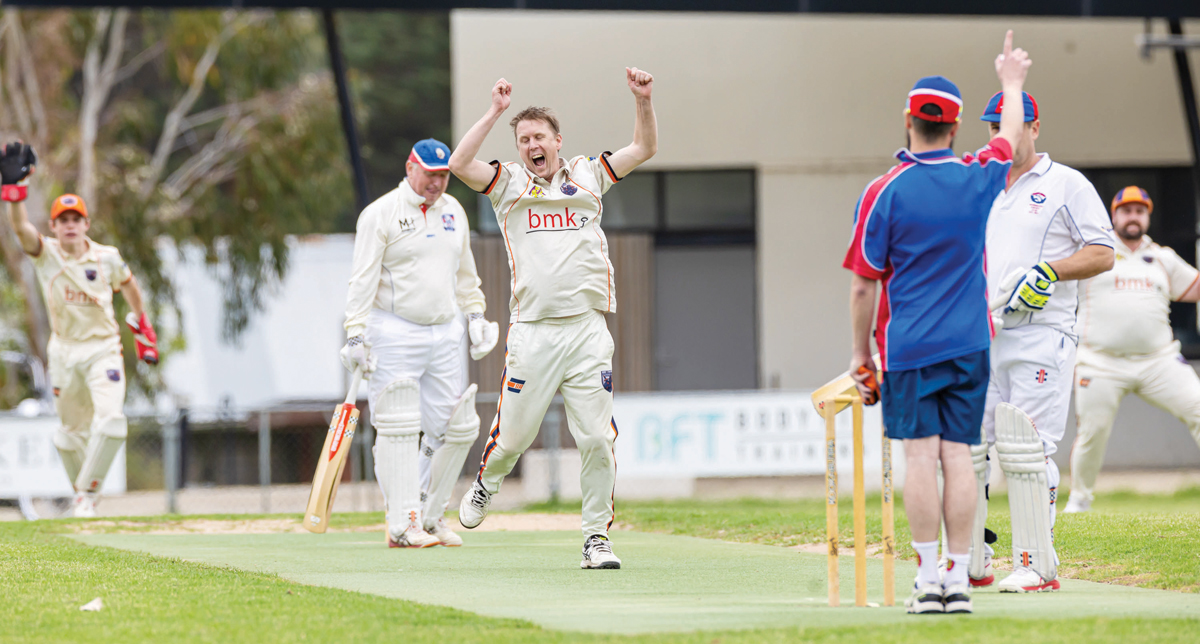 CRICKET
PROVINCIAL
A MASSIVE 132 run opening stand between Aiden McKenna and Thomas Matson has put Long Island in a strong position against Old Peninsula.
McKenna and Matson batted for most of the day. McKenna scored 70 from 161 deliveries, and Matson scored 92 from 199.
A late knock of 33 from 29 by Chris Hay helped Long Island reach a final total of 6/260 from their 80 overs. Play restarts at Ballam Park this Saturday.
At Pat Rollo Reserve, Sorrento will have to fight hard to defend their total.
Sorrento are taking on Pines in two-day action. The Sharks batted first, and were bowled out for just 112 after 66 overs.
Nicholas Wilcox impressed early. He took two wickets and ran out one more for final figures of 2/18.
With 13 overs left to play, Pines looked to make a dent in their target. Some impressive bowling has thrown a spanner in the works.
Jake Wood and Luke Kranzbuhler finished the day with figures of 3/18 from six overs and 2/0 from one over respectively.
Pines will start day two at 5/51. Victory is in their sights, but some more good bowling could cost them the win.
At Lloyd Park, Langwarrin set Heatherhill a target of 235 to chase down on Saturday. Red Hill scored 161 at Overport Park before being bowled out by Baden Powell. In response, Baden Powell scored 0/28 before stumps was called.
PENINSULA
A CENTURY from Thusith Silva was the day one highlight of Moorooduc's match against Baxter last Saturday.
Moorooduc elected to bat first, which paid off. Opener Silva smashed 102 runs, including 14 boundaries.
Madushanka Perera also contributed 43 runs to the total. Moorooduc was bowled out for 241 just before stumps.
Somerville are on track for a home win against Mornington.
Mornington was bowled out for 137 runs on Saturday. The damage would have been worse if captain Zac Garnet hadn't scored a half-century.
Jacob Evans bowled well, and wiped out the tail. He took 3/18 from 16 overs.
Somerville scored 0/60 before stumps, putting them in the box seat for victory.
Seaford Tigers will need to score 186 runs to beat Dromana this Saturday. Mt Eliza needs to score 105 runs to beat Rosebud with 10 wickets in hand.
DISTRICT
SEAFORD have set Flinders a difficult target to chase down.
Seaford chose to bat first after winning the toss. At 4/50 they looked in trouble, but a massive innings by Jacob Foxwell saved the day.
Foxwell smashed 108 runs from 167 balls. His batting partner Scott Manders also played his part – Manders scored 45 from 110.
Foxwell's wicket was the last to fall. Seaford was bowled out for 230 just before stumps.
Matthew Gale was brilliant with ball in hand for Flinders. He took 5/58, including the wickets of Manders, Dil Pageni, and Aaron Bardwell.
Carrum have set Crib Point a target of 254 to score to win.
Liam Hulett was the star of day one. He smashed 109 runs for Carrum, helping them to a final total of 7/253.
Delacombe Park stumbled before stumps on Saturday. Chasing 136 to beat Main Ridge, they lost three wickets in nine overs. They will start day two on 3/21.
SUB DISTRICT
SOME impressive bowling restricted Hastings to a score of just 96 runs on Saturday.
Hastings faced Boneo at Hastings Park on Saturday. Boneo made short work of their opponents, sending them packing for 96 after 64 overs.
Boneo scored 1/29 before stumps, putting victory firmly in their sights.
Mt Martha have set Pearcedale a mammoth target to chase down to win. Mt Martha scored 302 runs on Saturday. Tootagrook also face a tall task – Skye set them a target of 256 to score to win. Tyabb scored 7/265 on day one against Frankston YCW.
A half-century from skipper Zach Clements Green helped Ballam Park score a final total of 204 against Rye last weekend. Rye scored 1/13 in response before stumps.