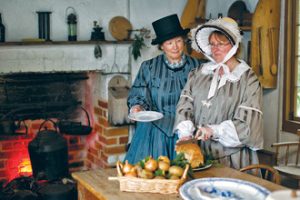 MORNINGTON Peninsula's oldest house is in danger of closing unless more volunteers are found to help run the historical property.
The National Trust has appealed for assistance to keep McCrae Homestead open to the public.
McCrae Homestead manager Sharon Bowen said peninsula residents could "keep alive our pioneer heritage".
"There is an urgent need for more people to assist in guiding visitors, housekeeping and maintenance of the house, visitor centre and gardens," she said.
Volunteers are asked to give two half-days each month.
Built in 1844 on Arthur's Seat Run, the largest lease in the fledgling Port Phillip colony, the homestead is Victoria's oldest original house and the only original pioneer property on the peninsula that is open to the public.
The historical value of the property is enhanced by the diaries, journals, music books and paintings left by the homestead's designer and original resident, Georgiana McCrae.
A volunteer information session will be held at McCrae Homestead, 11 Beverley Rd, McCrae, on Saturday 27 October at 1.30pm. Details: 5986 1017.
GEORGIANA Huntley Gordon, daughter of the 5th Duke of Gordon, was already an accomplished artist and well-educated young woman when she married Andrew McCrae, a solicitor of Edinburgh, in 1830.
The couple lived in London before deciding to follow Andrew's mother and brother, who had emigrated to Sydney. In 1839, just three years after Melbourne was founded, Andrew landed in Port Phillip colony. Georgiana and their four children followed the next year and they settled in a small house in Lonsdale St.
It could not have been more remote from her well-to-do life in London – in distance, amenity and fashion.
Melbourne had no made roads and the few declared thoroughfares were dotted with stumps that, being encountered by carriage wheels, frequently caused passengers to be violently ejected. They were dry and dusty ways in summer, impassable quagmires in winter.
There were few permanent buildings, but lots of tents.
Social life was very limited, especially for women, and Andrew struggled to make a success of his legal business. In this environment, Georgiana had two more children and continued painting with distinction, although she was prevented from pursuing it as a career by Andrew's family, who considered any profession, let along painting, unfit for a lady.
McCrae decided to try his hand at farming and in 1844 obtained the lease of Arthur's Seat Run, 8300 hectares that took in what is now Safety Beach, Dromana, McCrae, Arthurs Seat, Red Hill, Red Hill South and Main Ridge.
Georgiana designed the homestead and it was built by Andrew, his sons, their tutor and other men, who lived in timber huts. The principal builder was Henry Tuck who later took up Manton's lease in Western Port.
The property was three days' journey from Melbourne by horse and wagon or two days by boat. The nearest neighbours were at Cape Schanck and Mt Martha
Stores came from Melbourne by sailing vessel and were unloaded on the beach this is now McCrae.
Georgiana continued painting, played the piano, entertained visitors when they passed by, planted a garden and orchard, and generally set to and created a home for her family. She gave birth to two more children while at Arthur's Seat Run.
In 1851, Andrew could no longer afford to operate the lease and the family returned to Melbourne.
The house was owned by the Burrell family for 70 years and Arthur's Seat Run was steadily reduced by subdivision until just 40 hectares were sold off in 1929 after Kate Burrell died.
From 1930 to 1950 McCrae Homestead had several owners until Georgiana's grandson George McCrae purchased the property in 1961 and set about restoring it to be a museum to his grandparents.
On his death in 1970, it was sold to the National Trust and opened to the public after being restored as near as possible to its original form.
The house is only one of two drop slab timber pioneer dwellings in Victoria and stands just as Georgiana envisaged it.
Visitors to McCrae Homestead and Museum in Beverley Rd, McCrae, get a vivid glimpse into the family life of a pioneer past that can scarcely be imagined.
The homestead is open from midday to 4pm each weekend.