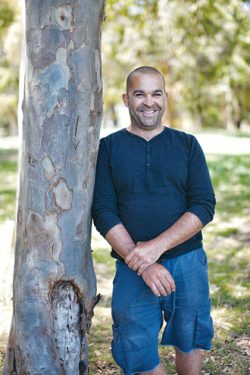 MORNINGTON Peninsula Shire has its first Aboriginal cultural heritage adviser – Adam Edwards Magennis.
Mr Magennis, 37, a Boonwurrung man, has just become a qualified archaeologist after studying for three years full time at La Trobe University.
He will advise government and developers, devise cultural heritage management plans, and join 22 other Aboriginal archaeologists and the new Aboriginal Archaeologists Association, founded earlier this year.
Mr Magennis has now set his sights on an honours degree, which will take two years part-time. He already has an idea for his thesis – a comparison between two of the great historical places on the peninsula, Coolart Homestead in Somers and The Briars Park in Mt Martha.
It has been an intense journey for Mr Magennis who was forced to confront his "low opinion of archaeologist" after eight years working as a cultural heritage and community development officer.
"I've seen lots of bad outcomes due to archaeology reports that lacked comprehensive detail," he said.
He is believed to be the first Aboriginal archaeologist in Victoria and the first working in local government.
Mr Magennis lives in Mornington with his wife of seven years, Kylie, and their five-year-old daughter and three-year-old son.
Attending university, working for the shire and playing an active part in the Aboriginal community in the southeast and on the peninsula has seen him spend far less time with his family than before the course started.
"It's been challenging physically and emotionally, that's for sure," he said.
One challenge was sitting in class and looking at images of dead ancestors.
"La Trobe has a massive artefacts collection; to most people it's just stuff in a box, but to me it was a profound experience."
Mr Magennis grew up in Bayswater North and attended Ringwood Secondary College from years 7-10 and Box Hill Tech for year 11, where he studied graphic communications in 1991, the first year of VCE in Victoria.
He became a qualified stonemason and bricklayer in 1995, and worked at various sites around the eastern suburbs. He was only the third Aboriginal man in Victoria to become a qualified bricklayer.
His La Trobe course has included instruction from some of Australia's leading academics including Dr Anita Smith, Professor David Frankel and Dr David Johnson.
He has delved into historical archaeology, Pleistocene archaeology (which ended 10,000 years ago), Victorian Aboriginal archaeology and archaeological theory.
Mr Magennis talks about cultural landscape theory, archaeological assessment based on a broad analysis of things like soil types, topography and watercourses.
"It takes into account social, symbolic, ecological and geological values," he said. "It is a system that captured my imagination and interest.
"Archaeology is the lead discipline that brings in other elements."
Intuition plays a major role in archaeology, he said.
"If you understand country and how the natural systems function, you can do a better job."
Mr Magennis said there were 800 registered Aboriginal sites on the peninsula. Many are near water, but many have been destroyed since Europeans arrived on the peninsula in the 1830s.
The most stunning artefact he has ever uncovered on the peninsula was an axe made for a two-year-old boy, found at Cape Schanck.
"Being qualified means I now have a legislative voice," he said, "instead of just a consultative voice.
Adam Magennis is offering to record or repatriate Aboriginal artefacts held by peninsula residents. "I'm not intending to reclaim artefacts, but have been involved in two repatriations and there may be other people who want to do the same. At the least there may be people who are happy to have their collections recorded for posterity." Call Mornington Peninsula Shire's community development department on 5950 1685 for details.