A YOUNG motorcyclist remains in a serious but stable condition in the Alfred Hospital after colliding with a car on Boes Rd, Tyabb, on Monday last week.
The accident occurred near Valencia Rise, south of the Mornington-Tyabb and Boes roads roundabout, about 3.45pm.
The rider, a 21-year-old Langwarrin man, was on an early model Yamaha 250cc with red P-plates when he hit a Ford sedan, almost going through the car's windscreen and setting off the vehicle's airbags.
A couple from Bittern was in the car and police said they were in shock after the accident.
Police allege the rider veered on to the opposite side of the road while travelling southbound.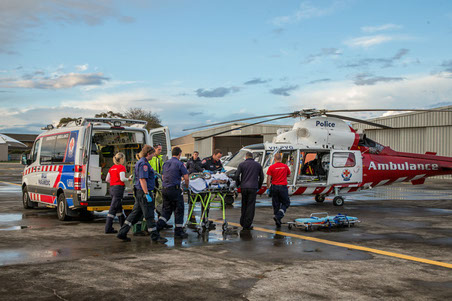 The rider was flown by helicopter from Tyabb airfield, opposite the accident site, about 5.30pm.
Peter Bernardi, president of Peninsula Aero Club, which owns the airfield, said the air ambulance came in low due to cloud.
"We received a complaint from a nearby resident about a low-flying aircraft within 10 minutes of the helicopter landing," he said.
"The person making the complaint didn't realise there had been a bad accident in the area."
Mr Bernardi said time and height restrictions at Tyabb airfield did not apply to emergency aircraft.