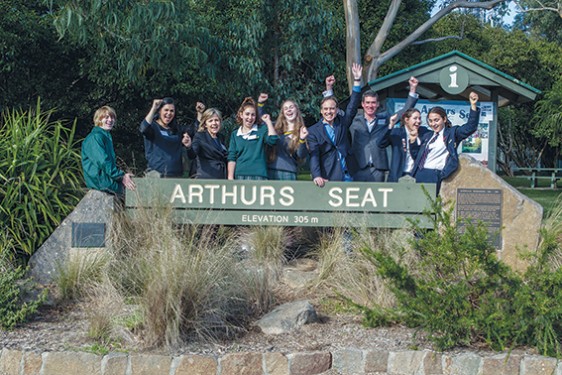 MORE than 2000 participants are expected to enter this year's 6.7km Arthurs Seat Challenge in November. The challenge to climb to the top of the Arthurs Seat summit is a fundraiser to support a reduction in road trauma for young people and to raise money for the Fit to Drive road safety program.
Since the introduction of the Graduated Licensing System, there has been a 23 per cent fall in deaths on our roads. Nevertheless, young people are still over-represented in road crashes and fatalities despite comprising just a small portion of licensed drivers.
Young drivers aged between 18-25 years are involved in nearly one third of all casualty crashes, with road accidents killing more young people than any other single cause.
Fit to Drive (F2D) is a locally developed program that now reaches over 30,000 Year 11 students each year across Victoria. F2D is a community program that concentrates on personal safety and responsibility to make young drivers safer on the roads.
It actively encourages and empowers young people as road users to look after themselves and their friends by recognising and overcoming risky situations.
The Arthurs Seat Challenge campaign officially commenced with the event launch held on Wednesday 21 May at Arthurs Hotel. Sponsors including Bluescope Steel, Bendigo Bank and Eastlink, the member for Flinders Greg Hunt and principals and students from secondary colleges who take part in the Fit to Drive Program.
Student representatives shared the powerful impact that the F2D workshops have had on them as young road users, as well as the significance of the Arthurs Seat Challenge as a fun and meaningful community event.
Registrations are open now via www.arthursseatchallenge.com.au for the Arthurs Seat Challenge held on Sunday 9 November.