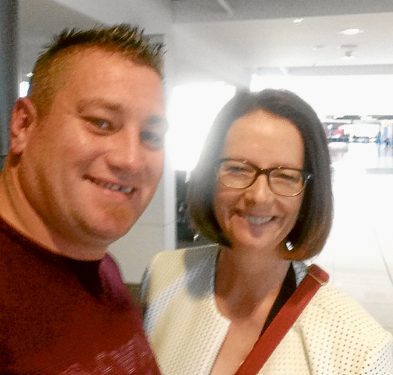 WESTERN Port's latest business tenant is a man with a colourful and celebrity studded past.
Anthony Swords, managing director of Gatto Corporate Solutions, has leased office space at 12 High St, Hastings and will open for business this week ('Gatto's mate gets ready to collect', The News 3/2/15).
Gatto Corporate Solutions and its affiliated Victorian Racing Collections are primarily debt collection firms linked to underworld figure Mick Gatto, although the former head of the notorious Carlton Crew, the criminal gang brought to TV screens in the Underbelly series, does not have a current stake in the businesses.
Mr Swords says Mr Gatto is his "mentor".
The businessman has headed up Gatto Corporate Solutions since mid-2011 and the Hastings office is a "satellite office" for the company.
The company's website states: "So you read the papers, heard the name, perhaps even watched a TV series, in turn you have googled the name Gatto. Perhaps you have been told 'get Gatto to solve your problems' but who is Gatto? If your business has a problem, our business has the solution. Gatto Corporate Solutions Pty Ltd is a professional business solutions company specialising in collecting money, mediations and pre litigation."
Years before he became Gatto Corporate Solution's sole shareholder, Mr Swords was a bodyguard for several celebrities between 2000 and 2007.
"I had the Australian Idol contract for a couple of years so looked after Shannon Noll and Guy Sebastian," he said.
Richard Branson, Elton John and "anyone who came into Victoria at the time when I was working" were also flanked by Mr Swords.
"I worked on The Footy Show for four years for Channel 9 so I did all their personal protection when the stars would come in."
Perhaps the biggest "celebrity" Mr Swords has met is Her Majesty Queen Elizabeth II.
He said he attended a function in the UK last year and "the Queen stopped and said hello to me".
"My mother was Scottish and she'd roll over in her grave if I didn't ask for Scotland back so I did."
Early last year, the Herald Sun reported Mr Swords had allegedly threatened the wife of the agent of former AFL Sydney Swans star Warwick Capper.
Dandenong Magistrates' Court ordered Mr Swords "to undergo anger management counselling and do 150 hours of community service".
"Which Scotsman hasn't?" Mr Swords said. "You raise your voice in Australia and you get sent down for anger management."
He said it was "thrown out" and he ultimately did not have to attend anger management classes.
Mr Swords was reportedly trying to recover disputed money related to the sale of a sex tape starring Capper.
The High St office space, opposite Hastings Library, was leased by Harcourts real estate agent Jason Dowler.
Mr Dowler did not wish to comment about the lease "for privacy reasons" but said the landlord had approved the two-year lease application when it was put to him. Harcourts' Hastings office is located next door to Gatto Corporate Solution's new High St premises.
– Last week's article 'Gatto's mate gets ready to collect' (The News 3/2/15) stated the office was leased by Century 21 real estate agent Chris Watt. This is not the case. Mr Watt has had no business dealings with Gatto Corporate Solutions or Victorian Racing Collections.
First published in the Western Port News