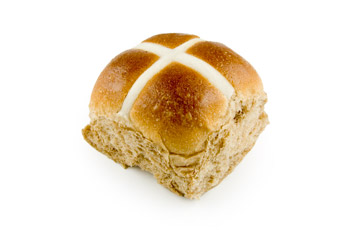 Neville Thompster looks forward to Easter every year, and it's not because of chocolate.
"Ever since I've been knee-high to a grasshopper, I've never been able to get enough of hot cross buns" said Mr Thomster.
Available only in the run up to Easter, he looks forward to a couple of weeks of bliss when he can munch on the spiced fruit buns.
Now Mr Thompster is calling on consumer protection laws to be tightened after disaster struck at a recent trip to the supermarket.
"I was in a hurry, I admit. I grabbed a pack of hot cross buns and rushed out through the 12 items or less checkout and headed for home," said Mr Thompster.
It wasn't until he sunk his teeth into the first bun that he realized what had happened.
"I had accidentally purchased 'fruit free' hot cross buns".
The disappointment was crushing, and now Mr Thompster thinks the experience has robbed him of one of his most pleasurable Easter pastimes.
"I really feel like I have been let down. There was nobody at the checkout to warn me I had picked up fruit free buns, and indeed, they were right next to where the traditional hot cross buns were. It is an easy mistake to make."
Attempts at conciliation with the supermarket in question failed when they refused to take the tattered bag containing five hot cross buns back.
"It's a bloody disgrace," said Mr Thompster. "Just because I finished the one off, they wouldn't give me a refund."
The last few years have seen an explosion of hot cross bun varieties, and Mr Thomster has decided enough is enough, and is lobbying the government to bring in stricter laws to protect consumers.
"It is ridiculous," said Mr Thompster.
"There are fruit free, gluten free, chocolate chip, mini sized varieties… the list is endless."
"What was wrong with the original hot cross buns? Why do we need all these varieties?"
Mr Thomster thinks society is changing, and not for the better. He wants things to go back to the way they were.
"Do you remember when you were a kid and there was just one kind of Tim Tams?"
"I welcomed double-coat Tim Tams with open arms, but now there are more varieties of Tim Tams at the supermarket than I've had showers in my life. Just back off and leave things alone!"
Mr Thomster has taken begun to lobby local politicians, and is waiting for a call back from Consumer Affairs. He is calling on others upset by the explosion of hot cross bun varieties to call their local politicians and voice their concerns.
"Let's face it. The issue is hot right now. We're cross. Let's tell them… keep their hands off our buns!"