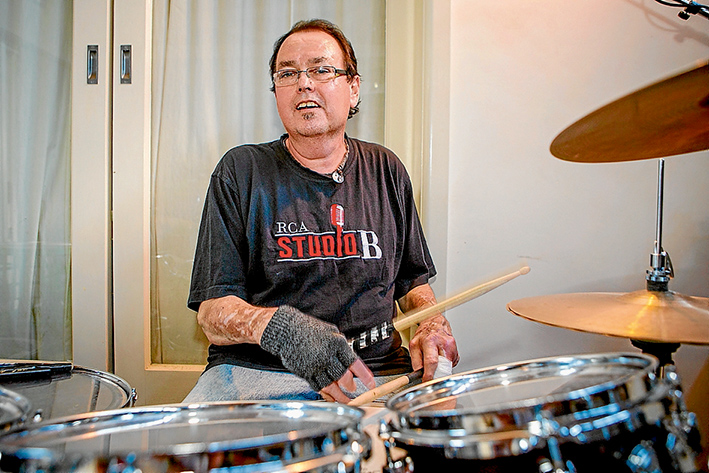 THE Big O has survived the Big C. Entertainer-at-large John Wells, who regularly performs at venues around the peninsula as Roy Orbison in a tribute show, was stopped in his tracks by a throat cancer diagnosis four years ago.
The singer, guitarist and drummer said when he was told he was not expected to live more than three months when diagnosed with stage 4 throat cancer.
"I was told I'd never sing again … and I've kind of beaten the odds a bit."
After spending about a year recuperating after surgery, radiotherapy and chemo Wells decided to get back on the road part-time and team up again with his Drawcard Entertainment co-founder Norbert Graetzer.
Wells, a non-smoker, thinks passive smoking from the years playing pubs and clubs may be to blame for his throat cancer and is glad smoking in enclosed venues is now banned.
"We didn't know any different back then," he said.
Wells said the first troubling sign something was amiss came when a sore throat was followed about four months later by a lump forming on his neck.
"They took the cancer out … it was right on my vocal chords."
The 50-year-old Chelsea resident praised staff at The Alfred for their "amazing" work.
In recent months Wells has been in and out of hospital due to a recurring Golden Staph infection.
"I've lost the use of one of my hands but I'm one of the lucky ones," he said.
Wells is focused on extending his three decades and counting career in the entertainment business.
"Everything that Drawcard does raises money for somebody. We're all about helping others. It's pretty rewarding."
John Wells will perform at The Australian Eagles and Little River Band Tribute Show at Longbeach RSL, Chelsea on Friday 15 May.
See drawcardentertainment.com.au for details.