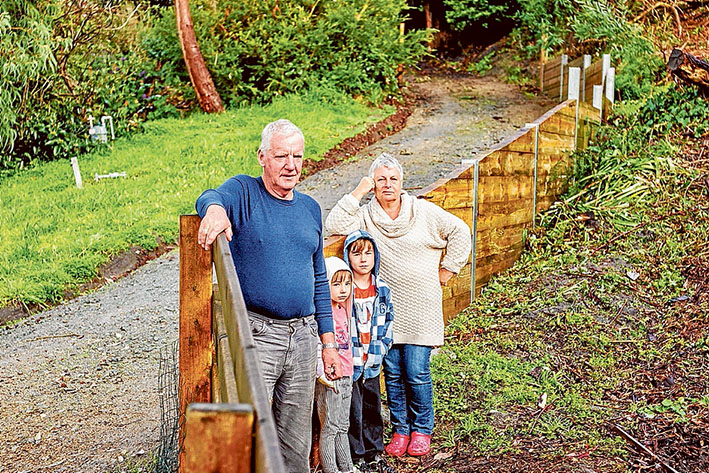 A BATTLE is raging in Mt Martha over a retaining wall that blocks access to a road reserve.
The wall was erected in December between Potts Lane and Grandview Terrace.  The News was unable to contact the owner of the property last week.
John and Carole Van Der Helm, of Potts Lane, say the wall should be removed and have organised a petition to present to Mornington Peninsula Shire. Last week it had 50 signatures.
The petition says: "We, the undersigned, request the Mornington Peninsula Shire Council to remove the retaining wall … which blocks the road reserve between Potts Lane and Grandview Terrace.
"We further ask that this road reserve be improved to enable pedestrian traffic by use of signage and bollards."
The Van Der Helms are frustrated at the length of time the shire is taking to have the wall removed. "We were told it would be taken down two weeks ago," Ms Van Der Helm said. "Yet nothing has been done. We feel we are not getting anywhere. No one [from the council] is speaking to us.
"We are only asking for a pathway [to be restored]. Some people are even climbing over the wall."
She said regular walkers coming up from the Mt Martha marina, along Bruce Rd and down Potts Lane were being inconvenienced, as were bus passengers coming up Ellerina Rd to the stop at the end of Potts Lane. "Their road is blocked," she said.
It is believed a council officer gave verbal approval for a partial retaining wall, but the 1.7 metre timber structure far surpasses that envisaged. This is the nub of the dispute.
The shire's sustainable infrastructure director Alison Leighton said: "The shire is aware of the structure within the road reserve and is currently working with affected property owners to provide a resolution to this issue and to provide appropriate pedestrian access in this area."
Cr David Gibb, who has discussed the wall with the Van Der Helms, said: "In all neighbourhood disputes the council seeks a pathway where all parties can live amicably in the community after the event."
The Van Der Helms say council clearing works around the reserve have made the site dangerous.
"There's a sheer drop down one side that was not there before."