THE Labor state government and Arthurs Seat Skylift have signed a 50-year lease for the gondola chairlift, Environment Minister Lisa Neville announced on Monday last week.
Mornington Peninsula Shire Council approved the gondola in June 2014 by one vote and in December the state planning tribunal VCAT rejected a challenge to the council's decision by citizen lobby group Save Our Seat (SOS).
There are just two more hurdles to vault before construction can start – shire council approval of a second batch of conditions in the planning permit, expected to be dealt with next month, and a new VCAT challenge by SOS over the council's recent approval of the gondola colour called "Pantone Process Blue".
Agreement on lease terms comes nearly five years after the Brumby Labor government selected Skylift to replace the original chairlift, built in 1960 by an Arthurs Seat resident, engineer Dr Vladimir Hayek, who sold it in 1979 to a Dromana company.
It was closed by WorkSafe on 16 May 2006 after the last of a series of incidents, the worst of which happened on 3 January 2003 when one of eight pylons collapsed due to corrosion and fatigue in two anchor bolts, putting about a dozen people in hospital and stranding many of the 50 people aboard the two-person open seats.
On Tuesday last week, Skylift CEO Hans Brugman told Jon Faine on ABC Radio the gondola would be "up and running before Christmas" 2016 after a "12-month build".
The lease includes land for top and bottom gondola stations and car parking, the corridor up the mountain, and "airspace" where the gondola will pass over Arthurs Seat Rd.
The government had to amended the National Parks Act for the lease. Coalition Environment Minister Ryan Smith introduced the amendment to Parliament in October 2011. This shows Skylift has the support of both major political parties.
Labor government minister Lisa Neville said Skylift would "construct a $16 million, all-weather, all-abilities access gondola with new top and bottom stations and associated facilities".
She said Parks Victoria would spend $1.5 million on "public space upgrades to complement the Skylift project". This would "improve vehicle and pedestrian safety, car parking and visitor facilities across the whole precinct".
On radio last week, Kylie Greer of SOS corrected mainstream media reports, including the ABC, that Skylift had just been granted its permit. "It's the lease that's just been signed," she told Mr Faine. Ms Greer conceded there was now little chance of stopping Skylift but SOS would continue to fight to protect Arthurs Seat. More than 100 significant trees would be sacrificed, she said. Gondolas would be "signwriter's blue". "The old chairlift was a demur little thing. It's a bit like taking Puffing Billy out of service and replacing it with a monorail," she said.
Mr Faine asked if there was a touch of NIMBY (Not In My Back Yard) in SOS's opposition. "I work in town [Melbourne] and speak to a lot of people. I feel like we're acting on behalf of Victorians," she said.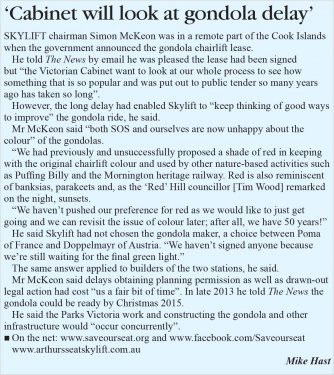 The chairlift could have been replaced by something that fitted with the environment, blended with it, she said. "It's an overdevelopment, like putting Luna Park or Chadstone on the hill [Arthurs Seat]."
Later, Ms Greer said that the government by signing the lease had "accepted bright, commercial blue gondolas scarring the Arthurs Seat escarpment" and "accepted the unresolved bushfire risks to patrons and residents, who will be unable to escape from the ridge in a bushfire emergency".
"It is shameful Parks Victoria and the state government have not gone with a more environmentally sensitive approach to revitalising such an important part of Victoria's heritage. Eco-tourism is the way of the future, not electricity-driven, high infrastructure-based developments."
"CFA management has supported the development, but local fire brigades, which know the bushfire risks intimately, have been excluded from the emergency fire planning relating to this development."
Hans Brunner told Jon Faine that Skylift took bushfire risk "very seriously".
"We've been working very closely with senior officers of CFA, Vic Police, Mornington Peninsula Shire Council, Parks Victoria and the Department of Environment, Land, Water & Planning to develop a thorough and robust plan around all that," he said.
Asked about the contentious blue colour, Mr Brugman said: "Our preferred colour was originally red, based on the colour of the original chairlift built in 1960. The council didn't particularly like that colour and gave us three colour palettes to choose from – blue, green and grey – and we chose blue."
Faine: Why?
Brugman: We felt it had an environmental attachment with the colour of the ocean, the bay and the sky.
Faine: As opposed to green for the trees?
Brugman: We're not trying to camouflage the lift. I certainly don't want people to turn up and say "Where is it?". It's also about trying to find a colour that we thought worked. So we chose blue.
First published in the Southern Peninsula News – 28 July 2015