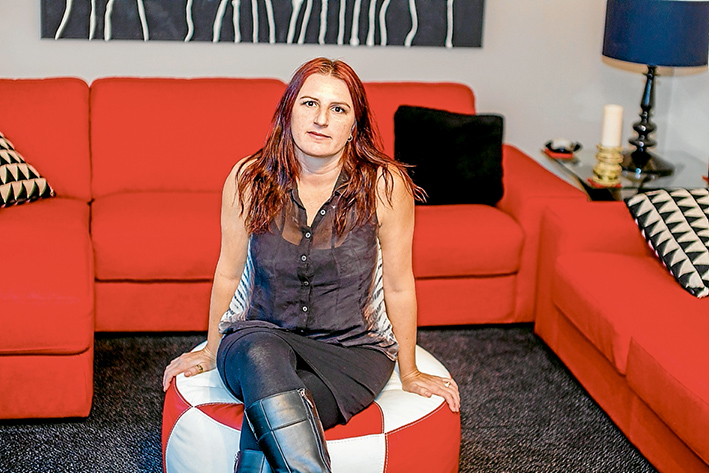 ITS very name means those diagnosed with borderline personality disorder (BPD) can face criticism and families can also be stigmatised.
The word 'borderline' tends to make many think there is not really anything wrong with someone diagnosed with BPD and an individual's 'personality' is often judged by others.
In fact, the 'borderline' aspect refers to the disorder being on the borderline of psychosis and neurosis and the causes of BPD are not yet fully understood.
For those facing life with the mental disorder the road to recovery can be paved with criticism and others not taking the condition seriously.
BPD sufferers often self-harm, engage in impulsive "self-sabotaging" behaviour, suffer relationship problems and can be at risk of suicide in extreme cases.
A new support group for Frankston and Mornington Peninsula families aims to battle the stigma and offer help to families who are affected by BPD.
Anne Reeve, the founder of National Education Alliance BPD in Australia, says it may be preferable to call the mental disorder "emotional dysregulation" since BPD is an inability to regulate emotions.
NEA BPD is a US based organisation and Ms Reeves says the group are world leaders in research, education and specialist programs around BPD.
"Families suffer from no direction in Australia. BPD mostly emerges in late childhood and early adolescence," she said.
"It's controversial to diagnose BPD in Australia for someone under the age of 20 because it's believed your personality doesn't form until you're 25 but it's important to get an early diagnosis. If you get an early diagnosis you can get appropriate treatment.
"Unfortunately the name borderline personality disorder is a name that invokes fear in the hearts of everyone … there's a huge stigma."
The Family Connections program, hosted over 12 weeks early next month by Peninsula Health in Frankston, is based on dialectical behaviour therapy to recognise and change destructive patterns of behaviour to offer BPD sufferers and their families a way to cope with the mental illness.
Mind Australia family practitioner Kristine Clements, who will head up the Frankston program, knows all too well the stigma associated with BPD, having struggled with her daughter's disorder.
"The system does tend to blame families. Those with BPD don't respond to most therapies or medication and get put in the troublemaker basket."
The Langwarrin resident says being unable to regulate emotions means BDP sufferers have "an inability not to react to an emotion. Whatever they feel is 'times 10'."
Ms Clements says family members should understand "it's not their fault but with certain information they can improve the quality of life for themselves and their families."
"The idea of the course is families come to improve their own ability to manage what's happening and with that there's a flow-on effect," she said.
She said parents are not to blame.
"You might be treating all your children the same way because you don't know and you're upsetting the child with BPD and exacerbating the situation.
"Families who have been involved in causing harm to a child are not the families who come to our course. We all, as parents, unwittingly do things that can be really invalidating for someone with a BPD."
The Family Connections program is designed specifically to support family members and help them understand the disorder and the chaos when the illness impacts on those closest to a BPD sufferer.
Ms Reeve said families should speak to a GP about BPD and ask for a referral to a specialist.
"There are treatments now that can cure about 70 per cent of people with borderline personality disorder so the really important message is there is hope you can lead a normal and fulfilling life if you're diagnosed with BPD."
Family Connections classes will be held at Peninsula Health, 4 Spray St, Frankston from 1 September on 12 consecutive Tuesday evenings, 6-8pm.
See bpdaustralia.com or call Anne Reeve on 0408 561 983 for further program information and booking details. The program is free.