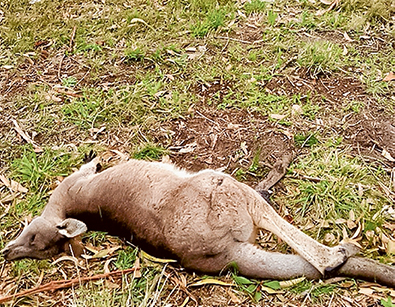 MORE than 70 kangaroos have been hit and killed by vehicles on Mornington Peninsula roads this year, says animal activist Craig Thomson.
Mr Thomson, secretary of Animalia Wildlife Shelter, said roos were being forced on to road reserves by property owners building "9-foot [3-metre] kangaroo-proof fences, especially in the Tuerong to Cape Schanck area".
"The fences limit their ability to move across the land," he said.
"Kangaroos on the peninsula are an isolated population and we could loose them forever if we don't protect them."
He said most roos killed were eastern greys, the dominant species in the region.
"This is an extraordinarily large number of animals to be killed in a short period of time. It is a miracle that no motorists or passengers have been killed yet."
He said it was often thought that large numbers of roos being killed on roads was the sign of an expanding kangaroo population but this was not the case on the peninsula.
"We are clearing too much vegetation including areas for market gardens."
He said there had been reports of roos entering people's front yards more frequently. One woman in Cape Schanck was now keeping her gate closed all the time as she was worried about roos accidentally harming her children and pets.
"Habitat loss is pushing kangaroos on to roadside verges," Mr Thomson said.
"Many verges are on narrow roads with high speed limits so it is only a matter of time before someone is killed, while we continue to loose our biodiversity and a tourist drawcard."
A shire spokesman said the decline of the kangaroo population was due to a number of factors including "specialised boundary exclusion fencing including electric fences", pastoral land being replaced by intensive horticulture such as vegetable growing, and increased traffic volumes.
"Threats to kangaroo populations from development are ever-present around the edge of Melbourne and beyond to the peninsula."
Construction of so-called "kangaroo exclusion fences" does not require a planning permit.