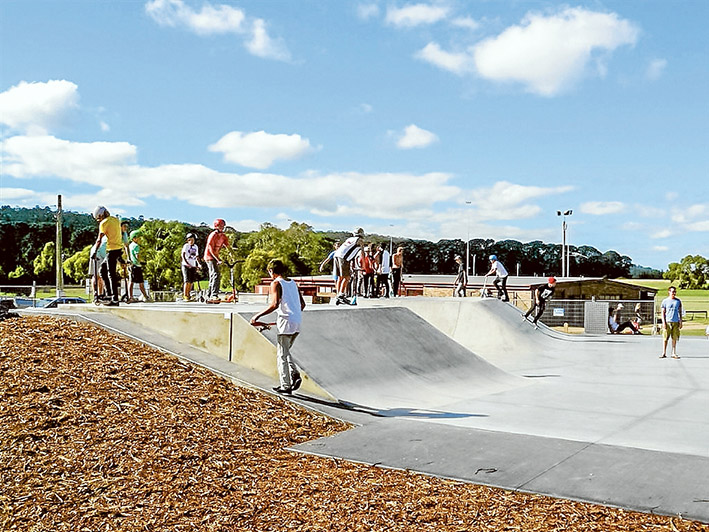 WORK on the long-awaited shared path down the steep southern slope of Mt Eliza to Emil Madsen Reserve is set to begin next month.
The nearly two-kilometre Wooralla Drive path from Tower Rd to the reserve will cost $500,000 plus an unspecified amount for a crossing of the tourist railway line at the bottom of the hill.
The rail crossing is likely to add a significant amount to the project. It will be done under a different contract and must meet VicTrack requirements for a normal suburban rail line even though tourist trains only run three times a month.
The path will allow walkers, bike riders and skaters to safely travel between the village and the reserve, and on to other tracks in the area.
The path was promised when the shire proposed building the skate park, which was opened in March 2012 with floodlights turned on nine months later. The project cost $430,000.
The reserve is also home to three ovals for football and cricket, a pavilion, a leash-free area and playground.
The path will be brown exposed aggregate concrete, and have raised timber boardwalks at various sections, a footbridge over Balcombe Creek, and the railway crossing.
Briars Ward councillor and mayor Bev Colomb said the path would be completed by late March 2016.
Her colleagues Anne Shaw and Andrew Dixon said it would be welcomed by the community.
There's a lot on offer at the reserve, and the pathway will enable safer passage for pedestrians. This vital piece of infrastructure finally completes the Mt Eliza skate park project, they said.
"Accessing the reserve on foot has been a dangerous pursuit until now, so I'm stoked that locals and visitors alike will finally be able to get there safely without jumping in the car," Cr Dixon said.
He said that Maw Civil of Dromana would build the path. "Peace of mind for parents and drivers as skaters and riders will no longer have to cruise down the 'black length' of one of the steepest and busiest roads in town."
Cr Dixon praised shire officers, his council colleagues, former Mt Eliza councillor Leigh Eustace, and "all you residents and users out there – for not staying quiet, and for your patience".