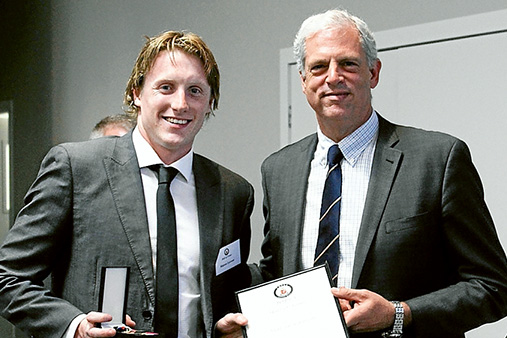 PROFESSORS, politicians, presenters, Olympians, comedians, footballers and one of the nation's top "spies" were among 38 people inducted into the inaugural Hall of Fame of the Peninsula School on Saturday last week.
The hall of fame has been created by the alumni association of the school in Mt Eliza, The Old Peninsula School Association, TOPSA.
More than 120 people packed the H A Macdonald Pavilion at the school in Wooralla Drive to celebrate. They included three of the four principals who have led the school since it opened in 1961 – Harry Macdonald, Ray Hille and Stuart Johnston. Founding principal Rev Dr Dudley Clarke died in 2011 at age 90.
Well-known inductees included federal Environment Minister Greg Hunt, Victorian MP Edward O'Donohue, former state MP and Attorney-General Rob Hulls, Australian Human Rights Commissioner Tim Wilson (son of Linda Morris and stepson of Mornington MP David Morris), Olympians Matson Lawson and Dale Stevenson, AFL stars Stewart Loewe and Nathan Jones, comedians Mick Molloy and Sammy J, and Channel Seven newsreader Peter Mitchell.
And the spymaster? Nick Warner, Director-General of ASIS, the Australian Secret Intelligence Service, who famously gave the first public speech about the service in 2012.
Also inducted were the school's first doctor, Harold Armstrong (class of 1966), and first Rhodes scholar, Michael Garner (1977).
Two women were inducted – Australian Army captain Courtney Ames (class of 2002) and Kara Richards (2005). Capt Ames was dux of her year at the Defence Force Academy in 2005 and dux at Royal Military College Duntroon in 2006, was among the first women to qualify in a specialist artillery role, and was appointed one of Governor-General Quentin Bryce's three women aides-de-camp in 2013. Ms Richards was a top level netballer, a member of under-age Australian squads, Australian Institute of Sport scholarship winner, and member of Victorian Fury, Melbourne Vixens and Adelaide Thunder.
The school went co-ed in 1995.
TOPSA president Greg Sugars OAM said the hall of fame recognised and celebrated the achievements of inspiring alumni of the school. "By promoting their extraordinary success stories, other alumni and current students can be motivated and inspired to push the boundaries and realise their own dreams," he said.
Principal Stuart Johnston said the honour roll represented "a living history of our school".
More than 7500 students have attended the school.
Hall of fame inductees:
Sciences: Dr Harold Armstrong, Prof David Bogle, Dr Chris Kimber, Dr Adrian Oates and Prof Michael Sandiford.
Arts: Emeritus Prof Richard Freadman, Sam McMillan (Sammy J), Mick Molloy, Mark Pennell, Lachlan Redd, James Rees and Dr Richard Vaudrey.
Sport: Robert Bedford, Mitch Frey, Sam Griffiths, David Hille, Adam Hoyle, Nathan Jones, John Kilborn, Matson Lawson, Stewart Loewe, the late John McCarthy, Bryce McGain, Ian Peebles, Kara Richards, Dale Stevenson, Nathan Taylor and Brett Zeuschner.
Community and public service: Capt Courtney Ames, Cr David Gibb, Rob Hulls, Greg Hunt, Edward O'Donohue, Nick Warner PSM AO and Tim Wilson.
Commerce and industry: Warwick Bray, Graeme Brooke, Michael Garner, Prof Ian Macdonald, Stephen Mills and Peter Mitchell.
Services to the school: Stephen Brennan, the late Rev Dr Dudley Clarke OBE, Rick Grimley, Ray Hille OAM, Rev John Leaver AO, Harry Macdonald OAM, Roderick McKillop, Neil Taylor and Steven Wiltshire.
Mike Hast, a former student at Peninsula School.