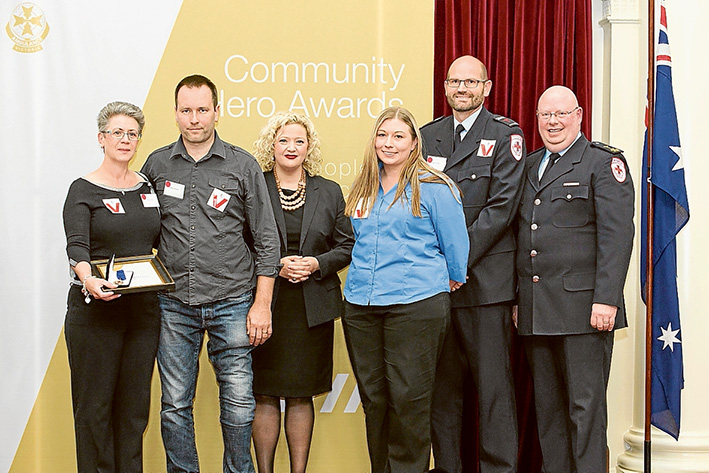 A MT MARTHA woman who came to the aid of a fellow motorcyclist seriously injured in a collision was honoured for her bravery at Parliament House last week.
The rider lost his leg, but Pamela Boyle's actions in stemming his blood loss – using her husband's belt as a tourniquet – almost certainly saved his life.
She was among 13 Victorians to receive awards out of 155 nominations. Ambulance Services minister Jill Hennessy presented them with Community Hero medals and certificates in the ceremony which was also attended by the patients  they helped in their time of need.
Ms Boyle was riding with her husband and friends in a regular motorbike group near Alexandra in April last year when one, riding ahead, failed to take a bend, crashed into a tree and was flung over an electric fence into a paddock.
"We learned from one of the others in the party that he had lost his leg," she recalled last week. "My husband ran over and was taking his shirt off to assist but I saw his belt and realised it would be of better use.
"We were getting zapped by the wires but I managed to crawl through the fence with the belt and we took off his leather gear off. It was all a bit gruesome.
"He was conscious all the way through; I looked after his lower body while my husband talked to him all through it. It was very traumatic."
Ms Boyle said she next met the injured rider in rehabilitation "and was amazed when I saw what the surgeons had been able to do".
Then, seeing him for only the second time since the accident at the awards ceremony, she realised the value of her actions: "To see what we did and that he was still able to be around for his family as a husband and a father, made me very proud."
Ms Boyle was nominated by Advanced Life Support Paramedic, Heather Munro.
Ambulance Victoria Acting CEO Tony Walker said the injured rider had returned to work and his wife and two children were "incredibly grateful" to Ms Boyle for her lifesaving actions.
"A medical emergency can occur anywhere and often when we least expect it. How we react to that emergency can depend on our willingness to step beyond our own fear and place our own comfort and safety at risk to reach out and help another human being in distress.
"Each of the Community Heroes we celebrate here today, aged from as young as five, have done just that. These everyday Victorians have stepped in to help a friend, family member or stranger in a time of great need. Their actions are clearly heroic."