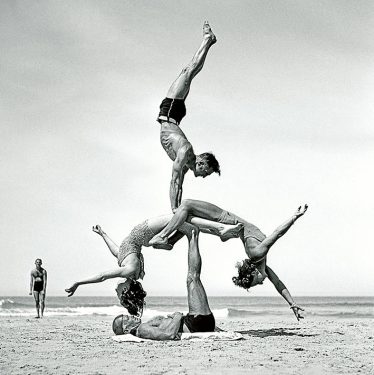 On the Beach considers the place of the beach within Australian life by bringing together paintings and photographs by some of Australia's acclaimed Modernists with works by contemporary artists. The exhibition considers the ways in which people relate to the beach, its place in understandings of national identity and its history as a contested site.
On the Beach features works by Arthur Boyd, Gordon Bennett, Daniel Boyd, Max Dupain, Charles Meere, Tracey Moffatt, David Moore, Sidney Nolan, Polixeni Papapetrou, John Perceval, Scott Redford, Jeffrey Smart, Albert Tucker, Guan Wei and Anne Zahalka.
The exhibition also features a series of photographs by George Caddy showing the lost art of beachobatics. From 1936 to 1941 a group of acrobatic men and women from a gymnastic club would gather on Bondi Beach wearing the most daring costumes of the day, and form their sun-tanned bodies into complex human pyramids. On Thursday 18 February Paul Caddy will talk about how he discovered a box of his father's photographs that have become legendary images.
During summer, Mornington Peninsula Regional Gallery has a great line-up of school holidays activities for children of all ages. Drop in any time during the exhibition to contribute to our fabulous On the beach community creation. MPRG is also running January school holiday workshops for 8–16 year olds and is hosting the National Gallery of Victoria kids on tour program. Children can enjoy activities for the Andy Warhol | Ai Weiwei and Hermannsburg Potters exhibitions, 16–26 January. Visit: www.mprg.mornpen.vic.gov.au/events to find out what is happening, when!
Twenty one schools across the Mornington Peninsula have participated in the 3rd annual Friends Art Award 'Life's a Beach'. Winners are on display at MRPG and commended entries are displayed in libraries in Hastings, Mornington and Rosebud, Bendigo Bank, Mount Eliza, and selected cafes in Mount Eliza and Sorrento. Sponsored by Hanks Orthodontics, Mount Eliza.
A Mornington Peninsula Regional Gallery exhibition – 11 December 2015 – 28 February 2016
Location: Civic Reserve, Dunns Road, Mornington
Gallery Hours: Tuesday–Sunday 10am–5pm 
Exhibition admission fees: $4 adults / $2 concession
General information: 03 5975 4395 www.mprg.mornpen.vic.gov.au