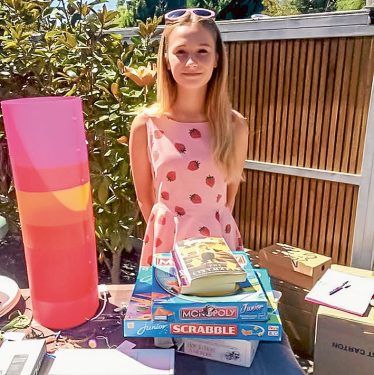 MT ELIZA girl Lily Ford's garage sale raised $275 for an orphanage in Nepal last week.
Out went games, books, clothes, toys and furniture – and all sorts of knick-knacks that bargain hunters find so irresistible.
But the sale had more significance for Lily than just raising money for a worthy cause.
The charity it supported was the special interest of Frankie Davison, her teacher at Toorak College, who tragically died with her husband Liam when the ill-fated Malaysian Airlines flight MH-17 was shot down over The Ukraine in July 2014.
Lily and the whole school simply loved Frankie: her zest for life, her genuine good nature, her passion for her craft and her creativity in teaching it.
Lily's links go even deeper. Last year she was awarded Toorak College's Frankie Davison Award for the student who demonstrates excellence in English and Humanities – Frankie's subjects.
"I was thrilled when I heard that I had won the Frankie Davison Award. Everyone adored her and her passion for teaching," Lily said.
The Year 10 student recently met Frankie's mother, Maggie, and was touched by how moved the older woman was when discussing her late daughter.
That gave her the motivation to hold the garage sale. "It was so wonderful to meet Frankie's mum in person and show her some of my written work," she said.
"That's when I had the idea of organising a garage sale and donating the money to the Annapurna orphanage where she had spent some time."