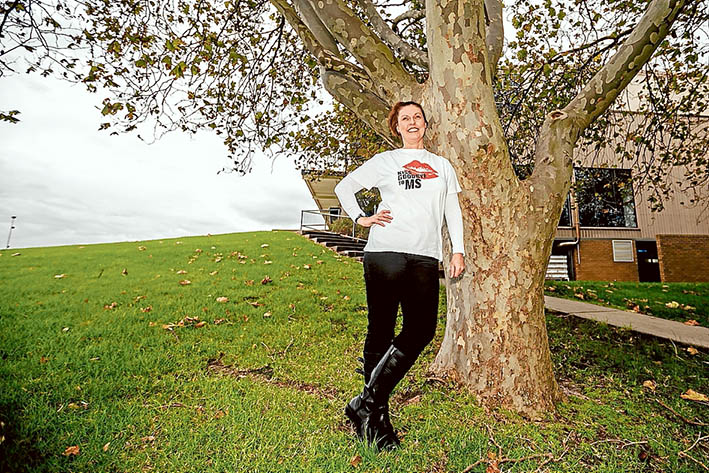 FORMER police officer Donna Bradley-Robinson was forced to quit the force when her multiple sclerosis symptoms increasingly made her job impossible.
Ms Bradley-Robinson, a Frankston resident, was diagnosed with MS in 1994 at the age of 29 after experiencing symptoms since she was 16.
Since retiring as a police officer in 2010 she has dedicated herself to raising the profile of the often invisible disease.
With an average age of diagnosis of 30, MS is largely a young woman's disease – that randomly attacks nerve fibres in the brain and spinal cord – for which there is currently no cure. The progress, severity and symptoms are different for everyone. Symptoms range from tingling and numbness to paralysis and blindness.
Ms Bradley-Robinson is hosting a charity event called The Scarlet Cup at Mornington Racecourse this month featuring live and silent auctions, a Calcutta Horse Race, major raffle draw and a Fashions on the Field competition.
Channel 9 Postcards TV show presenter Brodie Harper will be MC for the day.
The Scarlet Cup will raise funds for the MS Ambassador program, MS Support Services, MS Connect programs, and new MS research projects.
MS Research Australia CEO Dr Matthew Miles praised Ms Bradley-Robinson's hard work and enthusiasm.
"Our Kiss Goodbye to MS campaign, through the help of wonderful fundraisers like Donna raises vital funds for research into MS. These funds are directed to research projects that are investigating better treatment options, the cause and a cure for MS."
Ms Bradley-Robinson said she is managing her MS symptoms after undergoing a new form of treatment to try to keep the disease in check.
"The best way I can describe how I feel is that I've been surrounded by fog for the past 35 years and suddenly the sun has risen and it's a perfect day," she said. "I have never known what it feels like not be exhausted on a daily basis."
The Scarlet Cup is being held at the Mornington Peninsula Racecourse on Sunday 29 May, midday to 5pm. See thescarletcup.com.au or call Donna Bradley-Robinson on 0404 491 119. Tickets $100 per person.
Tax-deductible donations can also be made via the website.
First published in the Mornington News – 17 May 2016
Correction 17/5/2016: MS Research Australia CEO is not Robyn Hunter as published, it is Dr Matthew Miles.