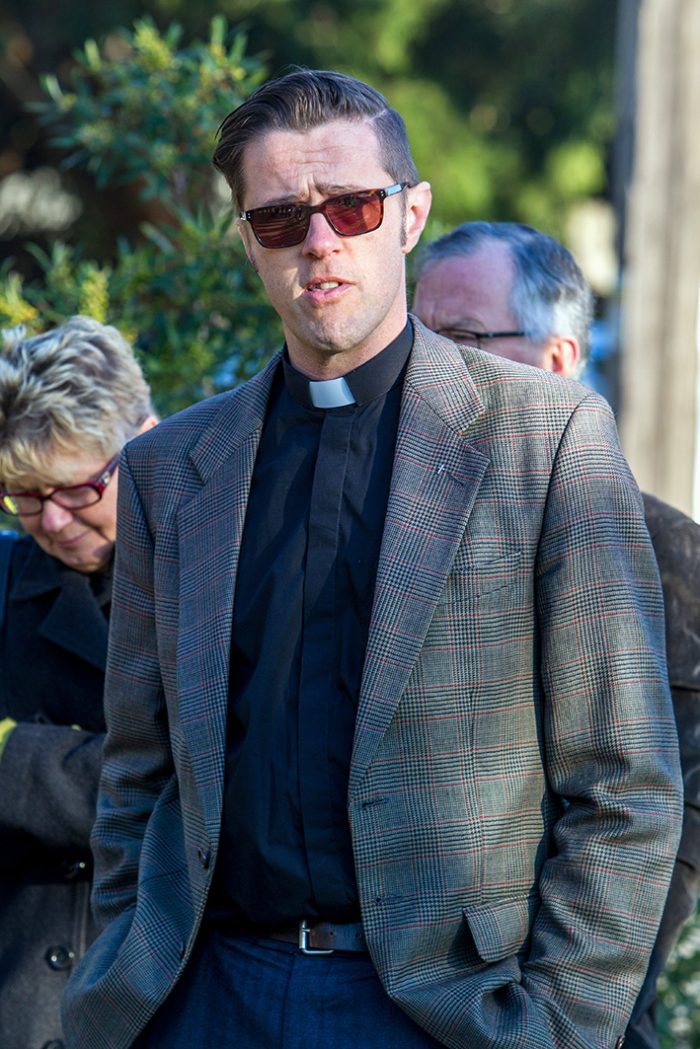 Seven protesters arrested during an eight-hour sit-in at the office of Flinders MP Greg Hunt have been let off without penalty.
Appearing at Frankston Magistrates' Court on Tuesday after singing hymns and saying prayers in a small park behind Frankston police station, the group chose to have their say in court rather than accepting a "diversion" – something below the scale of a good behaviour bond.
One of the seven, Baptist minister Simon Reeves, was not offered a diversion because of three previous court appearances for the same charge of trespass.
He had no convictions or criminal record but had previously faced courts after protesting against Australia's military involvement in Afghanistan and Iraq.
His six co-defendants held a quick meeting inside the foyer of the Frankston court and decided that "we did the action together and we'll stick together".
The six, although admitting their trespass, were not fined and had no criminal conviction recorded.
Mr Reeves refused the offer of a good behaviour bond and was fined $500.
Their court appearance also enabled each of the group – mainly volunteers youth workers and members of the Love Makes A Way movement – to make a short statement condemning and calling for an end to Australia's treatment of refugees and asylum seekers.
Led by Mount Eliza Uniting Church minister the Rev Cameron McAdam, all members of the group admitted to magistrate Dominic Lennon that they refused to leave Mr Hunt's office on 6 May last year.
The seven were among about 20 people occupying the MP's Hastings office demanding an end to refugee and asylum seeker children being held in Australia's offshore detention centres.
Although Mr Hunt was absent during their occupation of his office they spoke with him several times over the phone but decided to stay when he could not give them the guarantees they wanted.
Police eventually took over and led the protesters out of the office and later charged the seven: the Rev McAdam, Mr Reeves, husband and wife Joel and Kristen Furneaux, Jake Doleschal, Tim Johnston and Dean Moroney.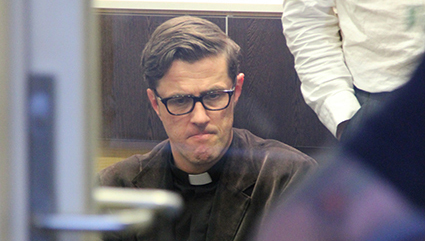 Mr Hunt and his office have been a regular target of protests in the past few years, many connected with his job as Environment Minister.
Some protests have been colourful, with activists dressed as marine animals calling for greater action to save the Great Barrier Reef.
One involved women dressed as angels clambering onto the office roof, an action apparently not appreciated by Mr Hunt or his staff, although some observers felt having angels above their workplace could be a good thing.
Another demonstration involving a bag of coal being carried into the office saw Mr Hunt allege his staff had been frightened and intimidated. Something that was quickly denied by the men who delivered the coal. No charges were laid.
And in one of the most recent events, police – federal and state – frisked a delegation of 15 grandmothers before they were allowed to meet with Mr Hunt. Mr Hunt later wrote a letter to this newspaper saying he had not called for the police action.
On Tuesday, none of the seven said they regretted their decision to occupy Mr Hunt's office and would keep trying to persuade politicians of all parties to close the offshore detention centres.
They were heartened that the numbers of incarcerated children, refugees and asylum seekers had dropped since they first began protesting and reiterated that trespassing was "an act of last resort".
The series of similar protests throughout Australia organised by Loves Makes A Way have seen the arrest of 174 Christian leaders.
The Rev McAdam told the gathering before the court hearing and repeated to the magistrate, that he could not "look my own four-year-old child in the eye" if he did not protest at the actions of the federal government.
And, although Tuesday's court proceedings offered a guaranteed photo opportunity in the middle of a record-length federal election campaign, there was not a politician in sight.