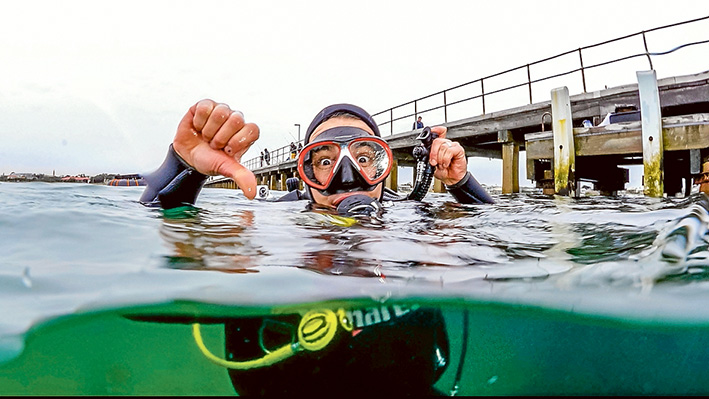 A CHANCE encounter between a group of scuba divers and a yacht club operations manager may have ecological benefits for Port Phillip Bay's marine life.
Dive2U's Nicole Morton, a company which does dive training, marine science education and scientific diving and support, was taking a filmmaker from Old Pal Productions out to see the world famous spider crabs near Blairgowrie pier.
"We got chatting with the yacht squadron's operations manager, David Opie, better known as 'Soapy', who told us that the north-south trending wave wall had been destroyed by teredo navalis – or shipworm – and was no longer protecting the marina which had to be replaced," Ms Morton said.
"We were shocked to hear this news as Blairgowrie pier is a hot spot and important habitat for marine life.
"As well as the yearly spider crab migration and frequent whale sightings, the pier is home to critters like banjo sharks, octopus, cuttlefish, and nudibranchs – and the wave wall is no exception. It is covered in sponge and ascidian life, is an important marine habitat and a photographers' dream."
Ms Morton said members of the group "started racking our brains, trying to come up with ideas to save the marine life that call the wall home".
An artificial reef perhaps? "That night I couldn't sleep," she said. "There had to be a way …
"At 4:30am, the night before heading down to the squadron to talk about the wall, it came to me," she said. "Couldn't we just cut the sponges and ascidians off the old wall and glue them to the new wall as it is being replaced?
"It turns out the answer is 'yes'," she said.
The group pitched the idea to the squadron and Ægir Divers – the commercial divers undertaking the replacement work – and mapped out a plan of attack.
"We would work on weekends to clear 15 metres of wall the divers were set to replace, and then stick the sponges and ascidians to the wall that had already been replaced," Ms Morton said.
"We jumped – literally – straight in to start trying some adhesive products and work out our methodology."
The group quickly worked out that the project was "very big" with more than 300 square metres of wave wall being replaced.
"If we relocate at the density of our feasibility study (10 sponges or ascidians per individual plank) that equates to more than 5500 individual sponges and ascidians," Ms Morton said. "As far as we're aware, this is the world's largest relocation effort of its type.
"The wonderful thing about this project, and I'll quote Kade Mills from VNPA's ReefWatch, is that 'there are no bad guys in this project'.
And it's true. More often than not, these projects follow a David-and-Goliath-story plot. But this time it hasn't. The community has really come together to back it."
Blairgowrie Yacht Squadron and Ægir Divers are backing the project, Ms Morton said, while Aqua Blue, which distributes an adhesive being trialled, is donating glue to get it started. Also, Aussie Erosion, which distributes natural fibre products, will supply netting, and VSAG, Australia's oldest dive club, has invited Dive2U to talk about the project –and even ran a raffle to help raise funds.
All this is occurred inside two weeks of making the project public.
"It has turned into more than just relocating sponges and ascidians under Blairgowrie pier," Ms Morton said. "It is a wonderful example of the community coming together and supporting one another.
"More often than not these projects only occur out of necessity – or if someone stands to make a profit. But Operation Sponge is creating a paradigm shift in this mentality.
"The project is gaining national attention and support. People are already starting to envisage how they could implement this sort out project in their local waters."
The results will, hopefully, help more projects like this gain traction.
First published in the Southern Peninsula News – 2 August 2016