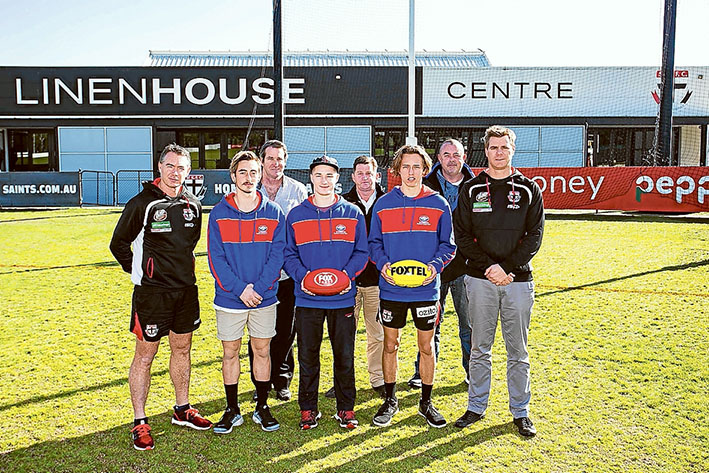 MORNINGTON Football and Netball Club players enjoyed a half day's "experience" with the Saints last week as winners of the FOX Footy Club Rewards program.
Eight Bulldogs players, who sit third on the Peninsula Football Netball League ladder, visited St Kilda Football Club's Seaford headquarters for a behind-the-scenes view with senior coach Alan Richardson and his assistants.
The aim of the rewards program is to support grassroots sport and recognise local football clubs and recognise the benefits they deliver to their community.
The Mornington club has had a long partnership with the Salvation Army: it donates $1 from each club membership to the Red Shield Appeal, as well as undertaking individual fundraising throughout the season.
The Bulldogs also support Biala Peninsula by helping run a small program for children with special needs on a Saturday morning.
The program teaches the kids AFL skills and the values of playing team sport. This season and last, almost all Bulldogs players came early on home game days to help run drills with the kids.
National ambassador for the program and former Saints captain Danny Frawley said the program, in its second year, continued to reward local clubs with opportunities to learn from the AFL's elite.
"Local sporting clubs are at the heart of local communities all over Australia and it is fantastic to have organisations such as Foxtel continue to invest at the level where it all begins for so many our AFL players.
"Hopefully, the experiences they undertake as part of the program ensures they continue to grow and develop as a football club and as a strong hold presence in their local community."
St Kilda's Richardson, who began his coaching career with East Burwood in the Eastern Football League, said local football clubs were the backbone of the community.
"Grassroots clubs have an enormous role to play for their local town and its members, so we're delighted to host the Mornington Football and Netball Club in recognition of their community support.
"By giving them behind-the-scenes access to St Kilda Football Club and our coaching staff, we hope that they can take away a greater understanding of game analysis and an insight into the professionalism and culture that shapes an AFL club environment."